President Joe Biden authorized a $600 million fund in climate spending as he campaigned for the 2024 presidential election.
Let's analyze the news and read what the President added more to his spending.
Joe Biden Announce $600 Million in Climate Spending
United States President Joe Biden announced $600 million in climate spending on Monday as he ramps up his effort for the 2024 presidential nomination in the San Francisco area this week.
According to the news, the President took time from his campaigning schedule on Monday and went to the Lucy Evans Baylands Nature Interpretive Center and Preserve in Palo Alto, California, with Newsom and other officials.
Biden walked through the coastal wetland area and reportedly announced $600 million investments for projects concerning climate change to help coastal communities around the country fight the climate crisis.
Also, See: Articles Of Impeachment To Be Filed Against President Joe Biden
The officials said Biden's climate and infrastructure bills funded the investment. They included $575 million for the National Oceanic & Atmospheric Administration to fund community-level projects that prepare communities and ecosystems for sea level rise, floods, and strong storms.
While making the announcement at a wetland near Palo Alto, which was once a community, Biden said, " We are investing in the people and the places that have been hit the hardest but who are also on the front lines of leading us forward. Americans coast to coast are already busy preparing for and living through weather extremes."
Biden's announcement also included a $67 million investment for California to modify its electric grid to reduce the effect of extreme weather conditions such as forest fires.
Also, See: Biden is abusing executive authority to pursue his environmental agenda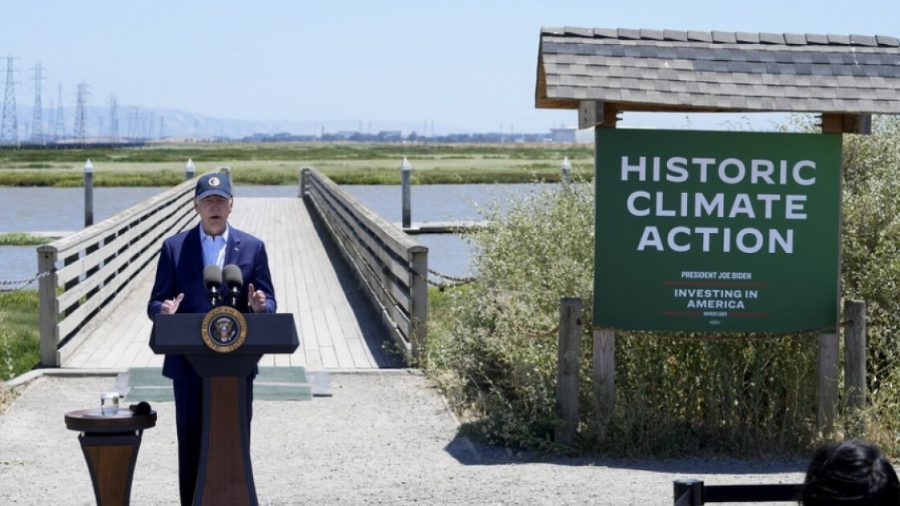 In a public statement, the Biden administration noted, "The funding will support innovative coastal strength and adaptation solutions, such as building natural infrastructure, planning and preparing for community-led relocation, while protecting public access to coastal natural resources, that protect communities and ecosystems from sea level rise, hurricanes, tidal flooding, storm surge, and other severe climate impacts."
Also, See: Joe Biden Classified Documents – Found at Biden's Home and Office Explained
The announcement of $600 million is not the President's first investment in the climate. Last August, Biden approved a $430 billion bill known as the biggest climate package in United States history.
Climate has always been Biden's top political agenda, and tackling climate change was one of the primary aspects on which the President competed against former President Donald Trump during the 2020 U.S. presidential elections.
Also, See: Trump Would Crush Sleepy Joe Biden In Anticipated 2024 Rematch!
The President's visit to California can help him raise campaign money from tech and climate donors as he attempts to raise over a billion dollars for his reelection battle, and his new investment has led to strategic foundations for 2024.

Subscribe to Email Updates :