MetroPCS offers a Bring Your Own Phone program that allows you to use its network without buying a new phone or even changing your current phone number.
This article covers detailed information about the same, including other details such as eligibility, the application process, benefits, and more.
So, without any further ado, let's get started –
MetroPCS Bring Your Own Phone Program
BYOP program by MetroPCS allows you to bring your eligible phone to the MetroPCS network, use their most affordable services with several MetroPCS BYOP plans, and enjoy the countries' best MetroPCS network coverage. MetroPCS BYOP service lets you easily switch your carrier to the MetroPCS network.
The program lets you activate your unlocked GSM-compatible phones on the MetroPCS network and allow you to enjoy the complete services offered by MetroPCS.
Benefits Of MetroPCS Bring Your Own Phone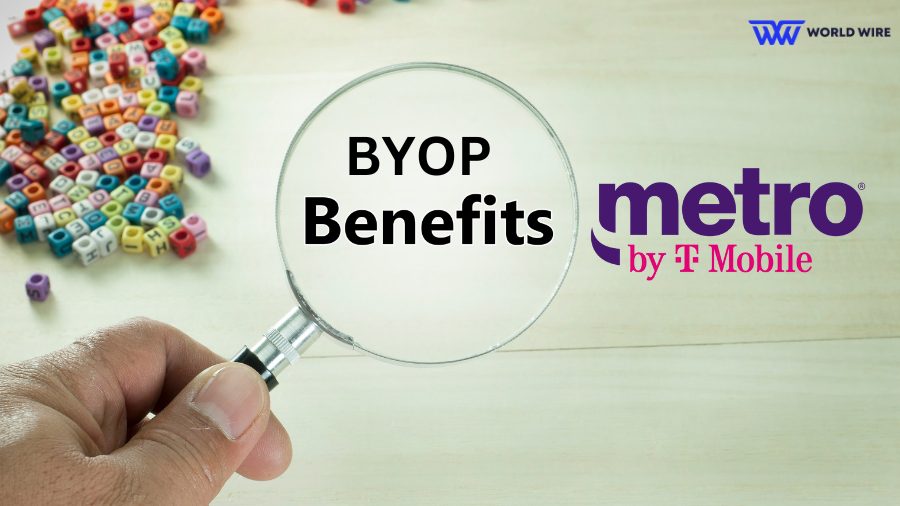 MetroPCS BYOP program offers you the following benefits –
You can enjoy T-Mobile's reliable network as T-Mobile owns MetroPCS
With MetroPCS, you have ample plan options at affordable prices. Starting from $30.
The provider also lets its eligible customers apply for a free tablet with MetroPCS 
MetroPCS offers many budget-friendly, cheaper plans compared to T-Mobile plans.
MetroPCS data-saving features prevent you from overage usage of the internet.
You experience the least network connection with MetroPCS.
Not just new, the company also offers many MetroPCS phone deals for existing customers.
Why should I opt for MetroPCS Bring Your Own Phone service?
You can enjoy several benefits when you opt for MetroPCS Bring Your Own Phone service.
These benefits are –
MetroPCS BYOP program lets you enjoy unlimited monthly service at an affordable price.
MetroPCS BYOP service is useful for those who purchase a subsidized phone. Such individuals will get unlimited service without paying for a new phone.
MetroPCS provides an opportunity to have the phone you wish with pocket-friendly MetroPCS services.
Can I Upgrade My MetroPCS phone?
Yes. You can upgrade your MetroPCS phone with a new one to enjoy a reliable network and faster connectivity. You can visit the nearest MetroPCS retail store or their official website and get a suitable phone based on your needs to upgrade your MetroPCS device.
You can check the available devices mentioned on the company's website or trade in your old device by visiting https://www.metrobyt-mobile.com/trade-in.
Some MetroPCS phones available for upgrade are free iPhone 11, Motorola E5 Plus, and Samsung Galaxy A20.
Which technology MetroPCS uses – GSM or CDMA?
T-Mobile owns MetroPCS, and therefore, it uses the T-Mobile network to offer services to its customers.
Since T-Mobile is a GSM network carrier, MetroPCS also uses GSM technology.
How to use the MetroPCS Bring Your Own Device Program?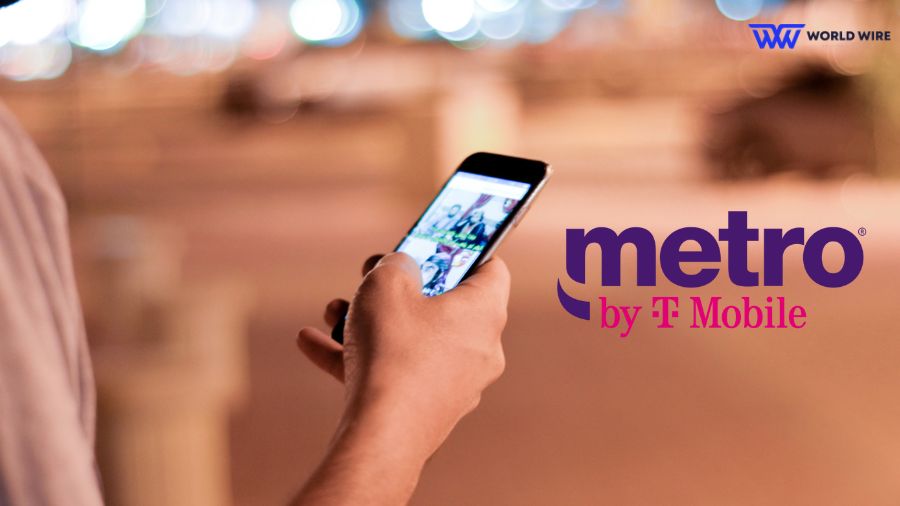 MetroPCS BYOP service allows you to use your phone from another carrier on the MetroPCS network. All the devices operating on GSM and compatible with the T-Mobile network can be used on the MetroPCS network.
You can enroll in MetroPCS BYOP program by following the steps below –
Check the Compatibility of Your Device
The first step is to check whether the phone you have works on GSM and is compatible with the MetroPCS network.
Follow the given steps to check the compatibility of your device.
Open the MetroPCS website on your Desktop.
Click on the "Phone & Devices" option and select the "Bring Your Own Phone" icon.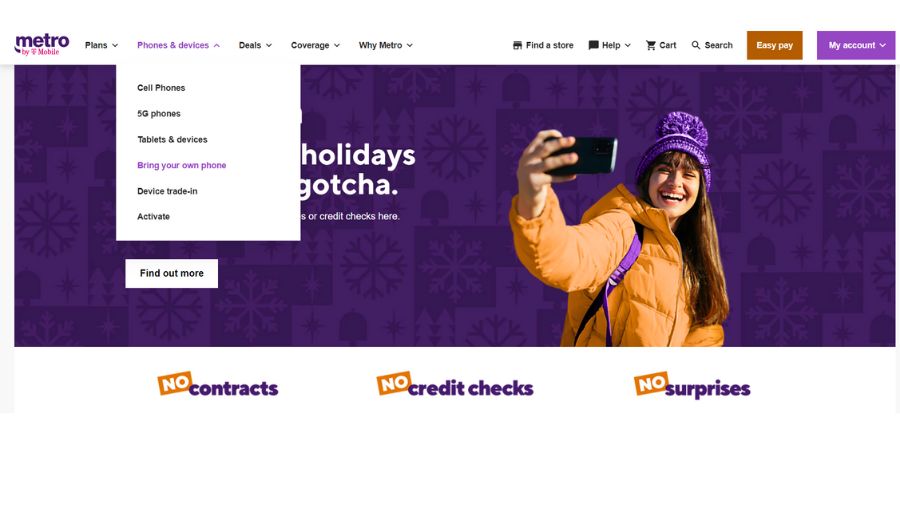 Scroll down and select the "Check Compatibility" option.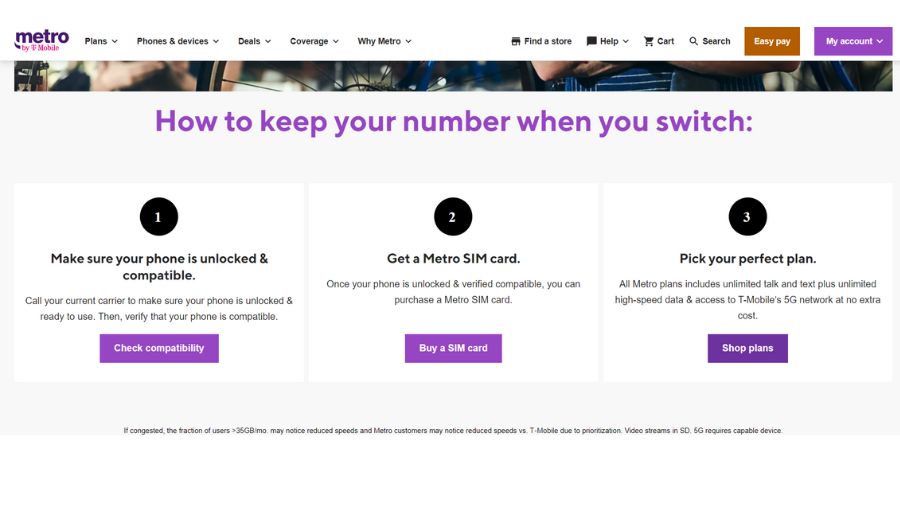 Enter your IMEI number and click "Next."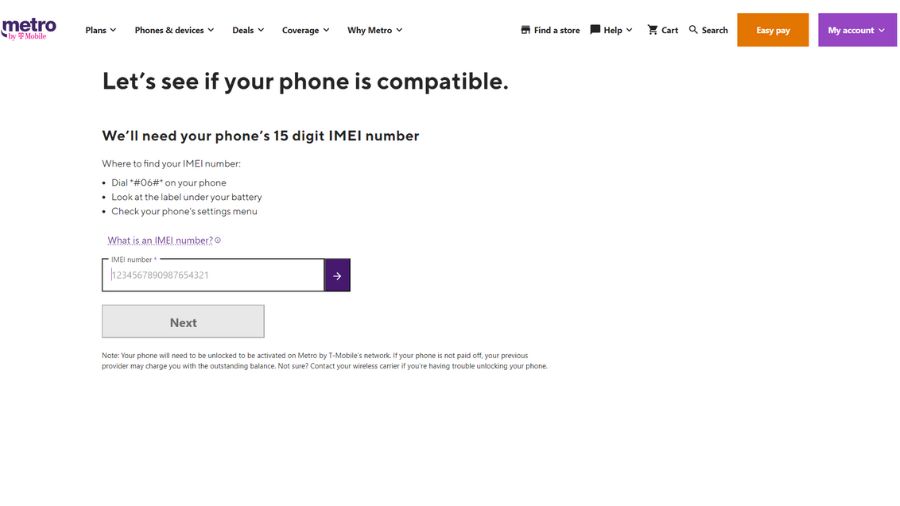 Now, Follow the on-screen prompts.
MetroPCS will inform you if your device is compatible or not, but if you're having any trouble, contact MetroPCS Customer Care Service at 1-888-863-8768.
Ensure Your Phone is Unlocked
MetroPCS compatibility and an unlocked device are prerequisites for enjoying the benefits of the MetroPCS Bring Your Own Phone program.
Therefore, even if your device passes the compatibility test, you must ensure your current device is unlocked. If your device is locked, you should contact your previous carrier and get it unlocked.
Your carrier will unlock your device if locked, but only if your phone is eligible and you have no due payment.
Get the MetroPCS (Metro by T-Mobile) SIM card
Once you ensure your phone is MetroPCS compatible and unlocked by your past carrier, you can use MetroPCS BYOP service. Now, you will have to purchase a MetroPCS SIM.
You can have one by visiting the MetroPCS store, or you can get it online. You can also consider keeping your current number by telling customer support executives that you want to port your current number to MetroPCS.
Select the MetroPCS BYOP plan
After you have a SIM, it is time to select a suitable MetroPCS BYOP plan. The carrier offers several BYOP plans. You can choose the most suitable and reasonable plans according to your need, depending on the type of usage and connection.
Activate your phone
Once you select a MetroPCS BYOP plan, the last step is activating your phone. We have already covered a detailed guide on how to activate a MetroPCS phone. You can follow that guide to activate your phone.
That's it. Once your phone is activated, you can start enjoying MetroPCS services.
FAQs
How do I pay Monthly bills at MetroPCS?
You can pay MetroPCS monthly bills online by visiting https://www.metrobyt-mobile.com/guestpay/landing or any retail MetroPCS store near you.
Can I bring my own phone to MetroPCS?
Yes. You can bring your phone to MetroPCS using their BYOP service.
Can I change my MetroPCS plan?
Yes. You can upgrade your MetroPCS plan by visiting your nearest Metro by T-Mobile store or by calling its customer service at 1-888-8768.
Can I port my number from my previous carrier if I bring my phone?
Yes. If you bring your phone to MetroPCS, you can port your number. However, you must be free of any contractual restrictions with your current carrier to do this.

Subscribe to Email Updates :