Fox News informed that Florida Governor Ron DeSantis and his California counterpart Gavin Newsom will face off in November.
Here are the details of the news.
Ron DeSantis and Gavin Newsom to square off in November debate.
In a strange move, 2024 Republican Presidential candidate and Florida Governor Ron DeSantis agreed to debate with a Democratic California Governor Gavin Newsom in November, as announced by Fox News on Monday.
The network said, "This will mark the first time the two prominent governors will face off in a debate."
DeSantis posted on X, confirming the news, "I look forward to the opportunity to debate Gavin Newsom over our very different visions for the future of our country."
Also, read the news "2nd Republican Debate: What to Watch for Tonight"
The first-of-its-kind governors' face-off from both parties will be hosted by the Fox News host Sean Hannity on November 30, 2023. The scheduled 90-minute debate will take place in Georgia. However, Fox Network has stated that the exact address of the debate location is yet to be determined.
Newsom was elected Governor in 2019, and both the Governors were reelected in 2022. Newsom has been speculated to run for the United States President despite him indicating that he has no plans to bid for the Presidential election.
The California Governor endorsed President Joe Biden in his 2024 election campaign and helped him in fundraising. Yet Newsom is seen as a potential candidate in case of some unlikely situations when Biden could not continue his run.
Also, read the news "Carlson Believes 'Our System Is Collapsing In Real Time' in New Interview"
Moreover, he is also regarded as a leading candidate for the 2028 Democratic primary.
DeSantis campaign spokesperson Andrew Romeo has applauded DeSantis and has indirectly targeted Newsom by comparing Florida and California, citing California's failure to handle several issues.
He noted, "The contrast of California's failures to Florida's success demonstrates that Ron DeSantis is right: decline is merely a choice."
Romeo further added, "Whether Newsom or Biden is the Democratic nominee in 2024, they both offer the same failed and dangerous ideology for America that helped get us in this mess. We look forward to putting Ron DeSantis' record of success up against it."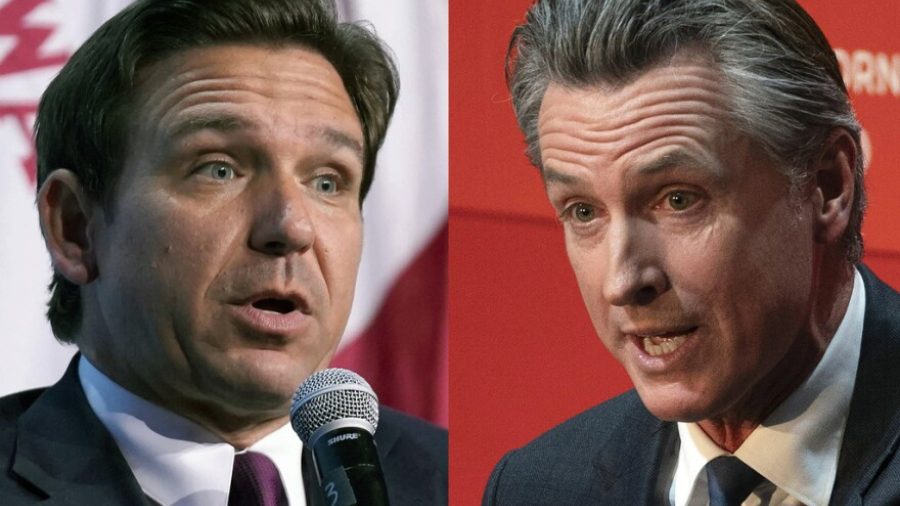 Also, read the news "Gavin Newsom says Ron DeSantis is 'fundamentally authoritarian'"
In contrast, Newsom spokesperson Nathan Click chose not to criticize anyone and has instead demanded a real debate with no audience.
He said, "We have agreed to the debate provided there is no cheering section, no hype videos, or any of the other crutches DeSantis requested. We want a real debate, not a circus." However, Fox News has not clarified whether there would be an audience.
Newsom had invited DeSantis to a debate earlier, but the Florida Governor accepted the challenge in August. The two governors have clashed over migration policy since the beginning of the year.
The dispute intensified after Florida sent two flights of migrants to California, following which Newsom called for criminal and civil investigations, labeling DeSantis as a "small, pathetic man."
Also, read the news "Biden Says UAW Should Fight for 40% Pay Raise in Michigan Strike Visit"
On the other hand, the Florida Governor blames California for its policies that he believes have resulted in illegal migration.
DeSantis has been ranked second after former president Donald Trump with 33% potential GOP votes, followed by entrepreneur Vivek Ramaswamy with 24% of votes.
According to the recent poll report, "Among the 10 declared Republican candidates, only former Vice President Mike Pence (42%) and former New Jersey Governor Chris Christie (51%) have higher unfavorable scores than DeSantis.
Being a strong Presidential contender, DeSantis was not expected to debate with someone who is not even on the list for the 2024 election.
Signup For Our Newsletter