On Tuesday, President Joe Biden visited auto workers on a picket line in Michigan. The day before Donald Trump, the Republican front-runner for president, addresses auto workers in Michigan, Biden made his trip to striking workers. He supported their demand for a 40% wage rise and said they deserved "a lot more" than they now receive.
Biden says UAW should fight for 40% pay raise in Michigan strike visit.
Even while unions only represent a small portion of American workers, the unusual back-to-back events underline the significance of union support in the 2024 presidential election.
Biden visited a General Motors (GM.N) parts distribution center in Belleville, Michigan, and joined the large group of protesters there.
Must Read – 5 things to watch in the second Republican debate
Biden referred to a 2009 government bailout of American automakers and remarked, "Companies were in trouble, now they're doing incredibly well. And guess what? You should be doing incredibly well, too." Then, through a megaphone, Biden shouted, "Stick with it."
He stated, "You deserve what you've earned. And you've earned a helluva lot more than what you're getting paid now."
When asked if he agreed with the union's demand for a 40% raise—a sum corresponding to CEO pay increases over four years—Biden said, "Yes. I think they should be able to bargain for that."
Check Out Other Headlines – Trump to Deliver Major Announcement in Michigan, Speculation Swirls Around 2024 Run
UAW President Shawn Fain received Biden at the airport. He spoke with the president about the union's worries regarding the switch to electric vehicles and gave him a black UAW baseball cap.
Fain referred to Biden's visit as a "historic moment in time," he charged CEOs with taking off profits while leaving workers to "fight for scraps." Fain stated, "Thank you, Mr. President, for coming to stand up with us. "We know the president will do right by the working class."
After speaking, Biden gave fist bumps to the audience and took photographs with them while being flanked by Secret Service officials.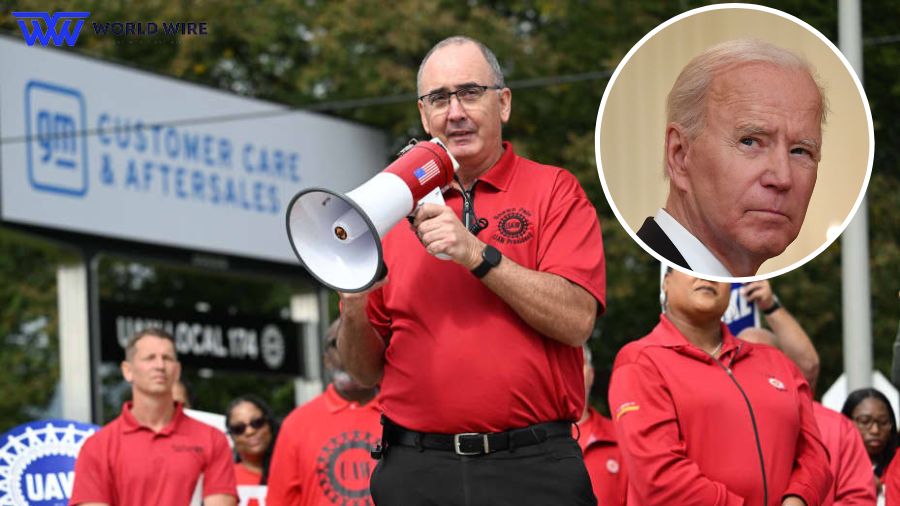 On Wednesday, Trump will speak to hundreds of workers at a meeting at an auto supplier in a Detroit suburb. According to an AFL-CIO official, the supplier, Drake Enterprises, is a non-union manufacturer.
According to sources from the auto industry, Biden's backing for a 40% wage rise may make it more difficult for UAW to strike a settlement. The media's attention is on Biden and Trump this week, so they claimed that the talks had yet to advance.
Read Latest News – Trump to Rally Supporters in Michigan Ahead of 2024 Run
Elon Musk, CEO of Tesla (TSLA.O), commented on social media platform X, formerly known as Twitter, and claimed that the 40% raise and shorter work hours are a "sure way" to send the companies "bankrupt."
Republicans think Biden's plan to electrify America's fleet of vehicles—which includes pouring billions of dollars in tax rebates into EV production—is unpopular with auto workers.
What's More – Haley and Vivek as GOP presidential aspirants head for second debate
In a statement on Tuesday, Trump accused Biden of "stabbing" autoworkers in the back. He claimed the U.S. auto sector will "annihilate" under Biden's EV mandate, costing "thousands of autoworkers their jobs."
According to a source, neither the union nor Fain will attend the event during Trump's visit. Both contenders are anticipated to refine their platforms to gain the support of Michigan voters in 2024.

Subscribe to Email Updates :