Gavin Newsom, the Democratic governor of California, said on Sunday that Ron DeSantis is "fundamentally authoritarian" but that Donald Trump's desire for "vengeance" posed an even greater threat to democracy.
Gavin Newsom says Ron DeSantis is 'fundamentally authoritarian'
During an interview on NBC's Meet the Press, which was Chuck Todd's final episode as host, Newsom attacked the top two contenders for the 2024 Republican presidential nomination.
Also, Read – Donald Trump Challenges Joe Biden and Rupert Murdoch to Mental Acuity Tests
Newsom stated, "I worry about democracy. I worry about the fetishness for autocracy that we're seeing not just from Trump, but around the world, and notably across this country."
He continued, "I've made the point about DeSantis that I think he's functionally authoritarian. I'm worried more, in many respects, about Trumpism, which transcends well beyond his term and time in tenure."
Check Out Other Headlines – AOC calls on Adams to 'do better' on immigration
Newsom continued, "The vengeance in Donald Trump's heart right now is more of a threat."
The governor, who is viewed as a rising star in the Democratic party and a potential presidential candidate, was referring to the former president's frequently expressed threats to seek "revenge" on political foes he holds responsible for the numerous criminal charges brought against him if he wins back the White House.
READ MORE – 'Heartless': Ramaswamy's comments on deporting children of undocumented immigrants condemned
Newsom indicated he would cooperate with Trump's administration for the sake of the residents of California if Trump were to win the general election in 2024.
Newsom said to Todd, who is stepping down as Meet the Press host after almost a decade, "At the end of the day, these are the cards that are dealt. I want to do the best for the people I represent, 40 million Americans who happen to live in California.
What's More – California lawmakers say 'no' to book bans
"Many support him. I'm not going to oppose someone just to oppose them – I don't come into a relationship with closed fists but an open hand. I call balls and strikes, and few people were more aggressive at calling balls and strikes against Donald Trump. I called California the most un-Trump state in America, and I hold to that."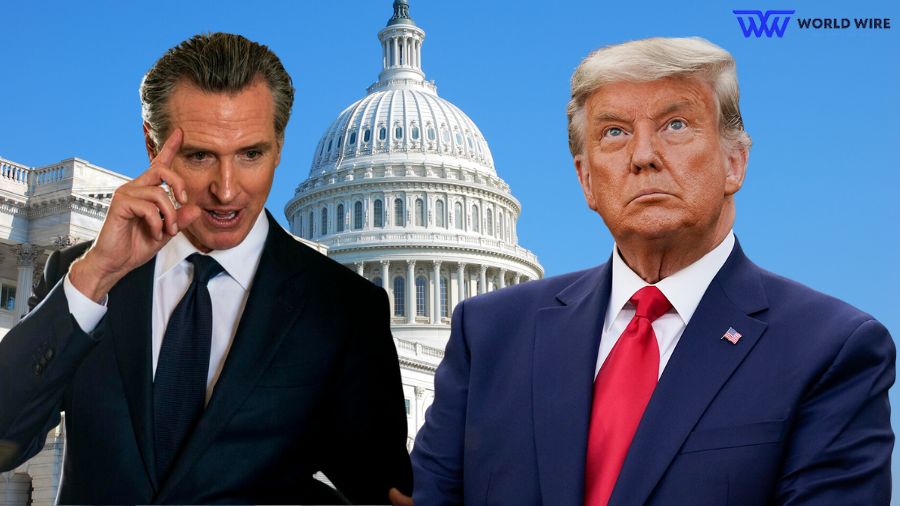 However, Newsom reserved his harshest criticism for DeSantis, Florida's right-wing Republican governor, with whom he has regularly clashed. He criticized DeSantis' "partisanship," which was most recently on display when he turned down Joe Biden's visit to the state in the aftermath of Hurricane Idalia. He disagreed with the Florida governor's plans to relax lockdowns and ban mask mandates.
Must Read – Hasan grills Ramaswamy on past criticism of Trump, Jan. 6
About Governor DeSantis' snub of the president, Newsom said, "I don't like the partisanship. And I thought it was demonstrably displayed by what I thought was a very weak exercise by Governor DeSantis,"
A Fox TV debate between Newsom and DeSantis has been scheduled this fall. According to Newsom, a logistical impasse may soon resolve itself.
READ MORE – DA Willis fires back at Jordan's 'unlawful' inquiry into Trump investigation
The debate was a "two-on-one" discussion because the California governor declared he was okay with right-wing Fox star Sean Hannity moderating it. However, Newsom claimed he is unsatisfied with the suggested location and sizable public audience.
He added, "They wanted thousands of people and [to] make it a performance. I wasn't interested in that. We were pretty clear on that. [But] we're getting closer,"
Read Latest News Headlines – DeSantis slams audience member for 'disgusting' remarks about Jacksonville shooting
The interview also touched on possible candidates for the Democratic party if Joe Biden, who would be 81 on election day, decides not to run for president in 2024.
Newsom said he doesn't anticipate it happening, but he won't be the candidate if it does.
Additionally, Newsom was asked about the future of 90-year-old veteran senator from California Dianne Feinstein, whose recent health concerns have forced her to take extended breaks from the chamber and sparked calls for her resignation.
Want to Read More – Dem. Lawmaker's Trip to Latin America Funded by Soros' Open Society Foundations
As he did when elevating Alex Padilla, California's secretary of state, to the Senate when Harris became Biden's running mate in 2020, he declined to be drawn on whether he would pick a replacement.

Subscribe to Email Updates :