On Monday, the former President's team announced that he would visit New Hampshire the following week to make remarks in the state's first GOP primary.
Donald J. Trump, the 45th President of the United States of America, will speak in Manchester, New Hampshire, on Thursday, April 27, 2023, at 4:00 p.m.It will be his first trip to the Granite State since he appeared at a gathering for the state GOP in late January.
The last time Trump visited New Hampshire was in January when he spoke as the keynoter at a fundraiser for the New Hampshire Republican State Committee.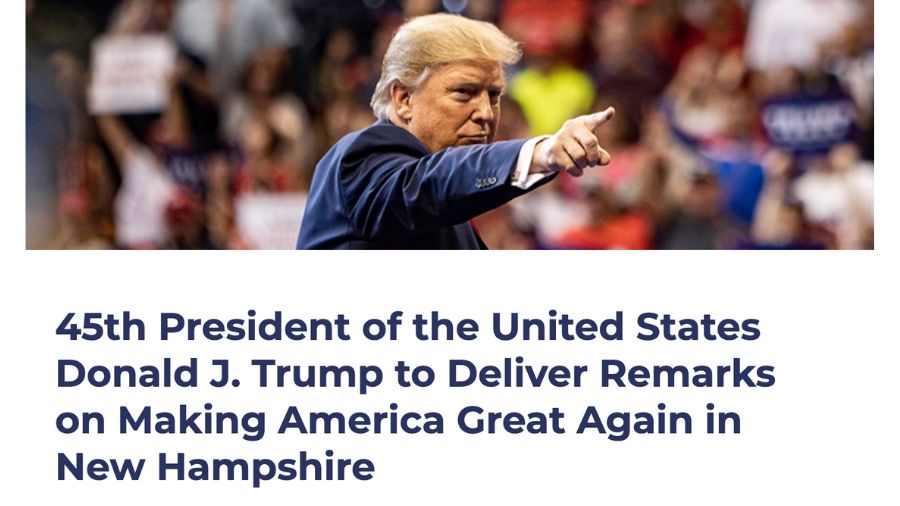 Additionally, it will be one of the first political gatherings Trump attended following his arrest in New York City earlier this month on suspicion of participating in a hush money conspiracy to conceal an alleged affair during the 2016 presidential campaign.
Trump gave a speech last week in Indianapolis during the annual meeting of the National Rifle Association.
According to a survey conducted earlier this month by the Saint Anselm College Survey Centre for the New Hampshire Institute of Politics, 42% of prospective GOP primary voters support Trump. With 29 percent of the vote, Florida Governor Ron DeSantis (R) came in second, followed by Chris Sununu (R) of New Hampshire with 14 percent in the third.
With 10 months until New Hampshire's first-in-the-nation February primary, Trump is the front-runner in the Republican race.
DeSantis, who is yet to announce his run for President, also visited New Hampshire for the first time this election cycle last week. DeSantis benefited personally from his trip last week, particularly his choice to engage the Manchester crowd and make a surprise stop at the Airport Diner. Chris Sununu, the third leading contender in the line, praised him.
The venue choice instantly sparked rumors among NHGOP insiders that Trump was appearing in response to DeSantis' victory. Trump supporters are thrilled to see him back in New Hampshire, where he won his first-ever election.
Many other people are to visit the Granite State in the upcoming days. Chris Christie, a former governor of New Jersey, will be in the Granite State on Thursday and Friday.
Nikki Haley, Trump's U.N. ambassador, will visit Bedford, Henniker, and Laconia from April 26 to 28, while her former employer, Trump, will be in Manchester. Mike Pence will also be in the Granite State for two days, which could be a clue that he plans to run for President.
In the field of probable contenders for the Republican primary, Trump continues to be in strong favor of winning. The tickets for Trump's event are free and are distributed on a first-come, first-served basis.

Subscribe to Email Updates :