Get ready to watch President Trump at New Hampshire annual meeting LIVE this Saturday!
Former president Donald Trump will return to New Hampshire this Saturday to address the annual meeting of the Republican Party as keynote speaker in an attempt to kick-start his campaign for a 2024 presidential run ahead of the official campaign rally in South Carolina scheduled later this month. 
"We are excited to welcome President Trump back to the Granite State to be the keynote speaker at our 2023 Annual Meeting. President Trump has long been a strong defender of New Hampshire's First in the Nation Primary Status and we are excited that he will join us to deliver remarks to our Members," New Hampshire Republican chairman Steve Stepanek said in a statement.
Watch President Trump At New Hampshire Annual meeting Live
The annual meeting of the Republican party will start at 10 AM on Saturday, 28th Jan, 2023. We will be adding a live stream of former president Donald Trump delivering his keynote speech at the event right here as it begins.
So stay tuned with us to watch President Trump at New Hampshire annual meeting live, and don't miss a moment of the former president's inspiring speech!
New Hampshire Annual GOP meeting details
Former president Donald Trump will headline the New Hampshire annual GOP meeting, and address hundreds of Republicans gathering to elect statewide party officials. The meeting will commence at 10 AM at Salem High School on Saturday. 
The meeting will be open only to credentialed state committee members and other invited guests due to security concerns. 
The ex-president will visit New Hampshire for the first time since his last visit to the Granite State in October of 2020 for a campaign rally. 
Former president Trump announced his candidacy for the 2024 presidential elections on November 15 last year in an official ceremony held at his private waterfront estate in Palm Beach, Florida.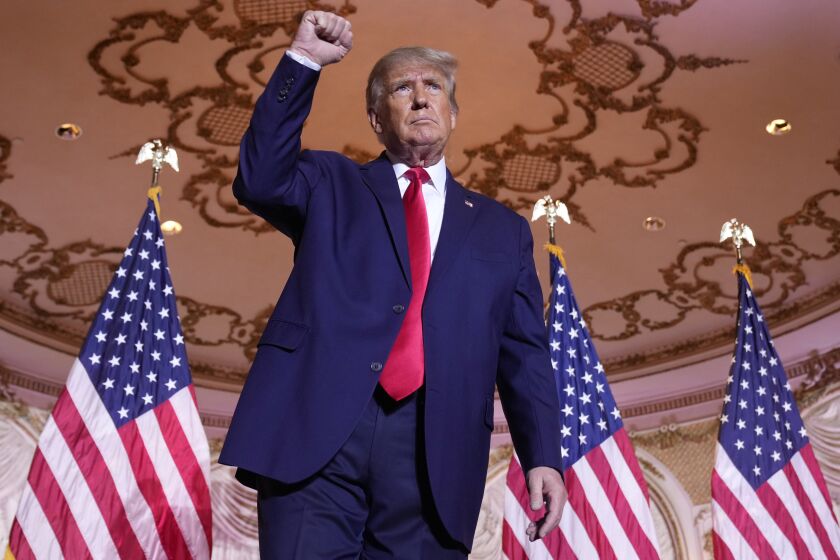 "New Hampshire sets the pace, and I like to say we're the tip of the spear," remarked Salem Deputy Majority Leader of the House, Republican state Rep. Fred Doucette. "The GOP understands that. President Trump, the only announced candidate right now on the Republican side, understands the value of that," he added. 
According to Department of Politics at Saint Anselm College professor Chris Galdieri, the former president's New Hampshire stop is highly indicative of his 2024 campaign kicking into gear. "If he's really running in 2024, then, I think he needs to pay significant attention to the New Hampshire primary. He doesn't know who else might be running; he needs people to know he's a serious candidate," he said.
The Democrats seem to agree with the right on the influence of New Hampshire on the primary season as evident by a statement released by chair of the New Hampshire Democratic Party, Ray Buckley, that read, "We believe that New Hampshire plays a very important role, and we're going to work very hard to protect that."
Galdieri also said that the former president's presence in the state could also be perceived as a warning shot for Governor Chris Sununu, who has found himself in the midst of widespread speculation for a 2024 bid. 
According to Sununu's office, the Governor has no plans to attend the annual New Hampshire GOP meeting. 
New Hampshire Democratic Party says Trump's performance in the state "

abysmal"
The New Hampshire Democratic party on Monday released a statement that deemed former president Donald Trump's performance in the state as "abysmal".
 The statement further said that "not only did he lose in New Hampshire in both previous presidential races, but all of his endorsed candidates in the Granite State lost by staggering margins in 2022."
Though former president Trump had his first ever election win in the 2016 New Hampshire primary and accelerated towards GOP nomination and eventually presidency, he lost the general election in both 2016 as well as 2020. 

Subscribe to Email Updates :