Update 24th June 2022:Android User is still on the waiting list but the PC user can access Truth Social On their PC without paying a single dollar or charges Truth Social App on  Pc is ready to let your voice be heard and share your Opinion without any worries. Share the truth All over the world using your PC. as well MAC Users can also use this update on their MAC.
Update 19th May – Truth Social can now be opened up using any Windows PC on their browsers. Truth social web app is now live and can be accessed using any kind of browser on any kind of operating system that has an internet connection. You can read the full guide on how to use the Web app of truth social below
Read the full guide on how to use the Web app of truth social
CEO of Truth Social, Devin Nunes, announced the Android app will be launched before the web app. This is due to the fact that the Android app has to go through Google Play's approval process.
TMTG (Trump Media and Technology Group) recently proposed a Truth Social social platform. 
Update – Truth Social app is now live and ready to use. Users having Ios devices can download the app from the Apple play store and set up their accounts. You can find articles about how to create an account on TruthSocial on our website.
Let's get back into the history of how Truth social started, former United States President, Donald Trump, was banned from Twitter and Facebook in 2021. This happened probably due to the United States Capitol Attack in 2021. Following this, he also launched a site called "From the Desk of Donald J. Trump."
On this site, he posted an announcement in a Short tweet format. However, this site was shut down in less than a month. The former President then decided to launch a new social media platform- Truth Social.
Truth Social for Windows
Truth Social is available on the app store. Unfortunately Truth social is not accessible through any Windows/Desktop app. There is no PC app for Truth social either.
All you can do using a desktop/Pc is visit their website which will show the screen below :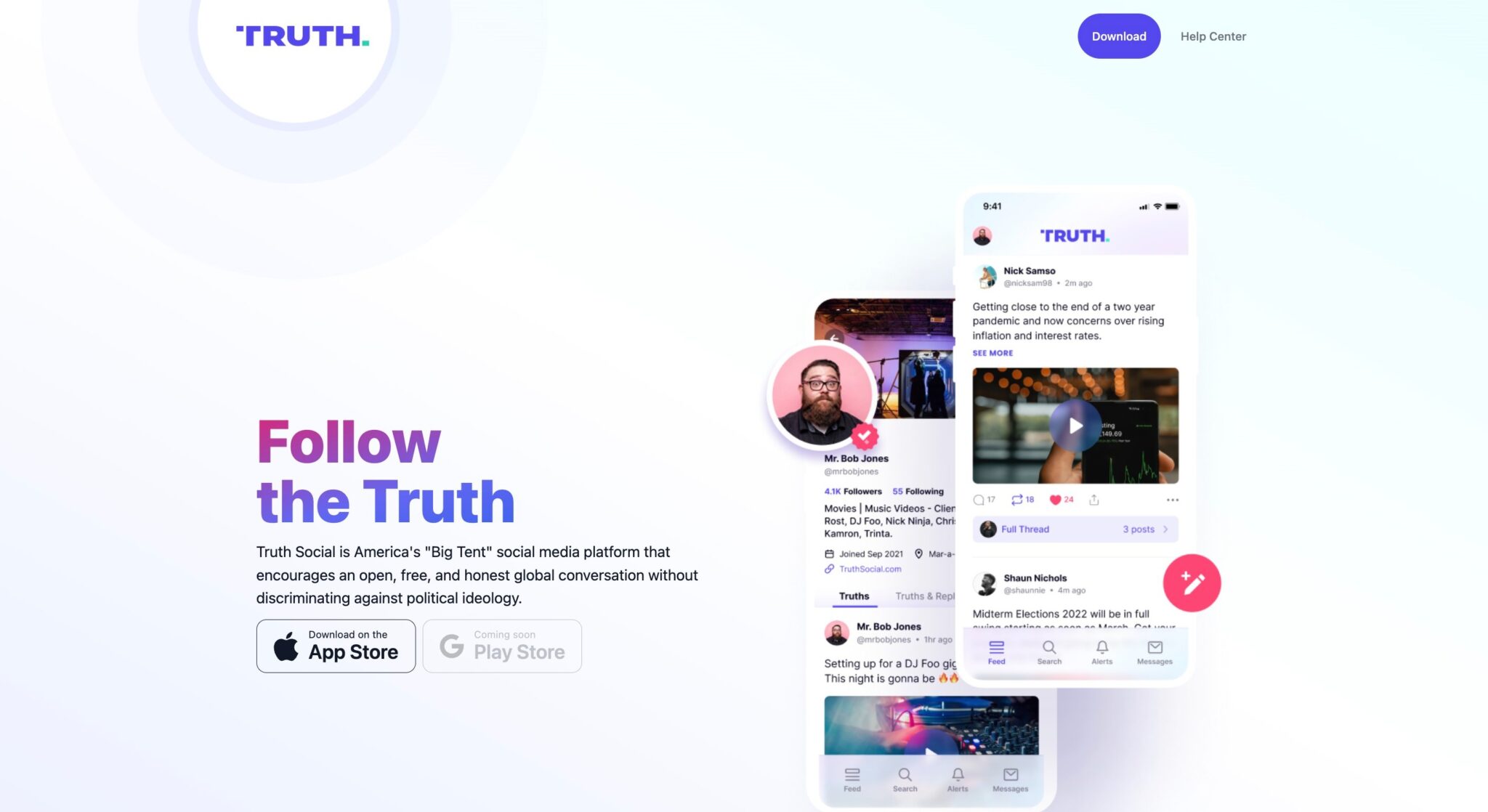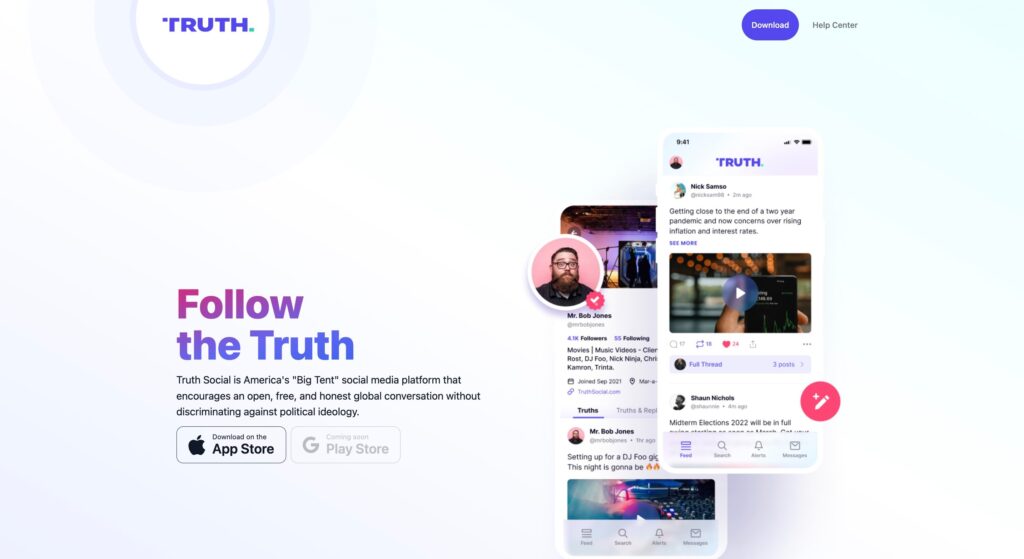 Solution: The only way to use the Truth social app on a desktop/pc is using MAC M1 devices, if your MAC M1 devices support ios apps then you can install the app and use Truth Social on your desktop.
Learn more about using iPhone apps on Mac m1
Truth Social Technology and Finance
The posts made by the users are called 'Truths.' The reposts are called 'truths.' Similarly, the news feed is called as 'Truth feed.' The idea is very similar to the social media site Twitter.
Mastodon, a free and open-source social network hosting software, is customized for Truth Social.
After announcing the launch of Truth Social, SPAC and DWAC announced a merger with TMTG. TMTG was valued at $875 million on 21 October 2021.
After the announcement of Truth Social, DWAC also saw a rise of 400%. The highly volatile stock of the company was compared to GameStop's Short Squeeze. SPACs raise funds from investors by first selling the shares to the public. They then acquire unknown private companies.
Many of the SPACs investors were unaware that their money would be used to finance Trump's company.
Truth Social Raises $1 Billion from Investors.
TMTG said that along with SPACs and PIPE, Truth Social had raised $1 billion in December 2021. The investors for the company are unidentified. The funding is expected to reach up to $3 billion, as reported by The Financial Times. According to the Digital World Stock Prices, the company is valued at $4 billion as of 3rd December 2021.
Donald Trump, in a statement, said that his company will be "in a stronger position to fight back against the tyranny of Big Tech."
Trump said in a statement, "in a stronger position to fight back against the tyranny of Big Tech." He also added, "America is ready for TRUTH Social, a platform that will not discriminate based on political ideology."
Launch of Truth Social
This website is regarded as Trump's attempt to gain his megaphone back. It was claimed to have a beta trial in November, but it missed its deadline. This highly awaited social media site is set to launch in early 2022.
Jason Miller praised the platform Truth Social and said it might affect Twitter and Facebook by lowering their market share."

Truth Social for PC / Desktop
Many people are curious as to whether or not the Truth Social app will be available for PC. However, this app is now only available for iOS users and on the Apple App Store. This means that iOS users will be able to use this app on their devices. However, if you want to download Truth Social for PC, here are some tips and tricks to help you do so. It's also worth noting that you'll need an emulator. There are a few simulators available, but we'll focus on iPadian simulators here. You can get all of the apps with this simulator.
What is Truth Social  For PC?
The TMTG Group on Sunday night released an app in the Apple App Store called Truth Social. While some users encountered errors when they attempted to sign up, others found themselves waiting on a lengthy waiting list.
Even with its buggy rollout, the Truth Social for PC app topped Apple's free app charts on Monday, beating HBO Max, TikTok, YouTube, Instagram, and Facebook.
How is the Truth app different from the rest? Described as a platform free from political discrimination, the app has no political affiliations. It has long been denied by social media companies that they intentionally censor conservative speech, noting that there are rules against inciting violence and hate speech.
How To Download Truth Social For PC / Desktop?
Here are a few steps to know how to download Truth Social on PC using an iPadian simulator.
Step 1: Go to iPadian's official website. Install the iPadian on your computer now.
Step 2: Now that you've downloaded the iPadian simulator to your computer, all you have to do is double-click it.
Step 3: After that, you must finish the installation process. Now launch the iPadian application.
Step4: From the homepage, press the app store icon.
Step5: Now, in the search box, type Truth Social into the search box. From the search results, select the Truth Social app to download and install.
Step 6: You've now completed the installation of the Truth Social app on your computer. Now you can create your account and enjoy browsing.
Truth Social App is undergoing new updates
Truth Social, Donald Trump's social media platform, will undertake "significant capacity upgrades" to improve the app's "work and reliability," which was dubbed a failure by many after its February launch was marred by numerous technical issues. The updates are planned for Friday morning from 5:00 a.m. to 7:00 a.m. ET, according to an official statement shared by the app's technical support.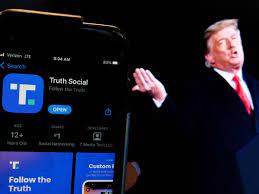 "New truths will not be able to be posted for several minutes during that window, whereas reading direct exposure will continue to stay constantly available," the statement says, before saying thank to website visitors for their "patience and understanding" as even the team continues to "refine" the app According to CNBC, on the day the app was released, Feb 21, Truth Social was among the most apps downloaded on Apple's App Store. The Truth Social rollout's waiting-in-line phase has come to an end at a convenient time.
What did Devin Nunes add about the update?
Devin Nunes, the California Governor and  member of congress turned CEO of Trump Media and Technology Group, announced on Newsmax Thursday that almost all Truth Social subscriber base with just an iPhone would then enter the Truth Social realm "in just a few days" while appearing on "The Chris Salcedo Show." Following that, subscribers from other devices will be able to access the app. There will be no more bottlenecks in beta testing. And there's no need to be concerned about corporate censorship.
Best Features of the Truth Social App
Donald Trump recently announced Truth Social Media, this social media website is available to access right now. Only the IOS version of the Truth social media app has become available for download. It is currently unavailable on Android devices. The Apple Appstore is where you can get the app. Before midnight ET, the app was downloadable. All subscribers who had signed up for just a pre-order of the truth social app had the app downloaded automatically.
Freedom of speech: The primary purpose of the Truth Social app is to provide freedom to every single person who uses it. With the launch of the truth social app and website, the aim is to let people's voices be heard.
Add and Share photos: Additionally, you can share photos and communicate with your friends, customers, and all over the world.
Set Profile Picture: Truth Social has the ability to set up the profile picture and cover picture with a custom theme color as Twitter does (Although it is not explicitly stated on the website directly that the ability to set up a custom theme color would be offered, it is rumored to be in development).
Track your followers: You can also follow other users and keep track of your followers and following count, as well as your post and like history.
Truth Feed: Truth Feed will keep you up to date on everyone you're following, whether it's a friend, family member, or organization. The truth feed is a collection of posts from all those who have followed along with videos, photos, links, and other media.
Search Function: You can use the search function to find any user on Truth Social. You have the option of viewing all of their content before deciding whether or not you would like to follow them.
Notifications: To keep you informed, the app will include a notification feature that will allow you to receive all of the updates from the people you follow.
Also read:
Trump Social Media Startup Truth Social Raises $1 Billion from Investors

Subscribe to Email Updates :