Are you looking for a detailed Verizon 5G Home Internet review guide? If yes, then you have stumbled upon the right article.
If you are someone like me who is sick of using cable internet and paying more for the internet plans, then you are at the right place,
I have heard much about the Verizon 5G Home Internet, so I tried it. Surprisingly, the performance was good; the plans started at just $35.
So, with this article, let me share my experience of switching to Verizon's 5G Home Internet and other relevant information such as reviews, availability, plans, and Installation process.
What Is Verizon 5G Home Internet? Review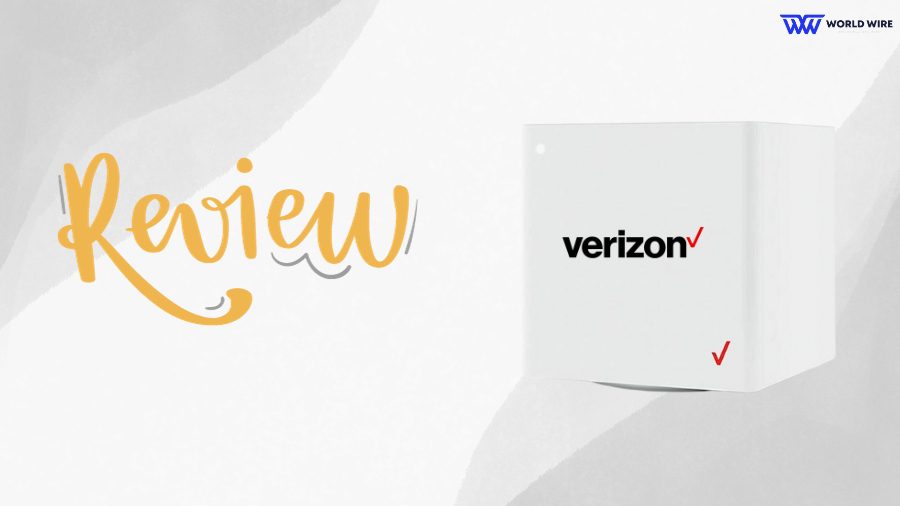 Verizon's 5G home internet is a game-changer for many households, for its gigabit speed potential or lack of data caps and contracts. The carrier has 5G ultra-wideband and is one of the novices on the residential internet block.
Nonetheless, Verizon's home internet review shows excellent perks for 5G home internet subscribers by enabling seamless streaming of videos, video chat, games, and more, thanks to their high capacity and very low lag time.
Now, what would be their key features that astonish the customers? Let's find out!
Fast speed – The 5G technology of Verizon Home Internet will give you a seamless download speed of up to 1Gbps, which is way faster when compared with traditional broadband services.
No data caps – 5G home internet is free of any data caps. It means you can use as much data as you want without paying any overage fees.
No annual contracts – Verizon Home Internet doesn't demand you to sign up for any annual contracts to use their network so that you can enjoy their service more flexibly.
No equipment charges – Verizon 5G home internet doesn't involve any equipment charges. Hence, you don't have to pay extra fees for equipment rentals or purchases. In addition, you can also get a Verizon free 5G phone, and if you are an existing customer, you can get amazing deals on Verizon iPhone Deals for Existing Customers.
No hidden fees – Verizon's Home Internet has a transparent fee structure, ensuring you pay the price you see.
Where is Verizon Home Internet Available? – Availability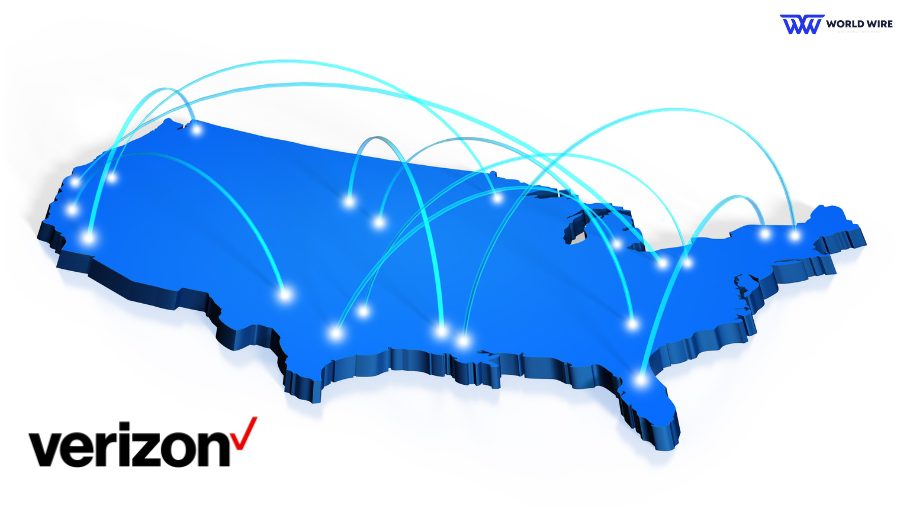 Verizon's home internet is available in specific areas where the network provider has launched their 5G ultra wideband network. Now, the promising technology is available in the below cities.
Anaheim, CA
Riverside, CA
San Diego, CA
San Francisco, CA
Los Angeles, CA
Sacramento, CA
San Jose, CA
Denver, CO
Atlanta, GA
Chicago, IL
Indianapolis, IN
Detroit, MI
Minneapolis, MN
St. Paul, MN
Dallas, TX
Houston, TX
Arlington, TX
San Antonio, TX
Salt Lake City, UT
Seattle, WA
Charlotte, NC
Greensboro, NC
Raleigh, NC
Cincinnati, OH
Cleveland, OH
Columbus, OH
Des Moines, IA
Hartford, CT
Kansas City, MO
St. Louis, MO
Las Vegas, NV
Louisville, KY
Memphis, TN
Miami, FL
Tampa, FL
Milwaukee, WI
New Orleans, LA
Omaha, NE
Phoenix, AZ
Tucson, AZ
Given its economical price tag and exquisite performance, Verizon will expand across more US cities. To ensure your locality is eligible for 5G home internet coverage, visit their official website at "https://www.verizon.com/home/internet/5g/" and enter your email address and contact number.
How Does Verizon Home Internet Work? – Services
Verizon Home Internet offers a reliable and rapid internet connection for every household across the United States. They provide internet connectivity through various modes, including cable, fiber, LTE, satellite, or fixed wireless access.
With Verizon 5G Home Internet, your home can access the 5G Internet via a complementary Wi-Fi 6 router, picking up the signal from a nearby cell tower and broadcasting it as a WiFi network.
They offer three internet services for their valuable customers: Fios, LTE, and 5G. You can choose the right one that best fits your needs and budget.
How Fast is Verizon 5G Home Internet? – Speed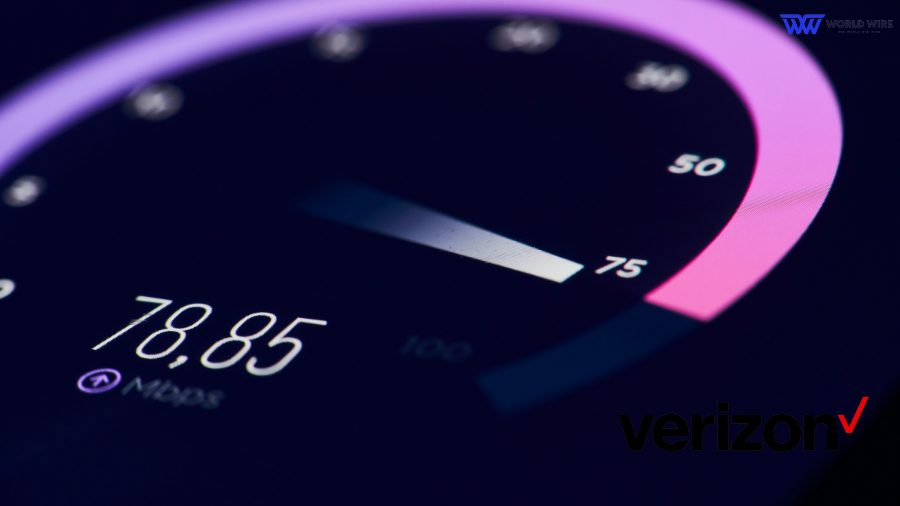 Fixed wireless networks are known for their slower wired cable or fiber connections. Nonetheless, 5G home internet connection poses challenging benefits and excellent speed compared to traditional routes.
The speed of the Verizon home internet might differ based on the signal strength and distance to the cell tower in the region.
With Verizon's Home Internet, you can enjoy the super fast service in your coverage area while streaming, gaming, and working remotely.
In the available areas, a Verizon residential connection can deliver a download speed of around 1 Gig, with a maximum download speed of approximately 300 Mbps. Moreover, similar to the traditional wired options, the upload speeds of Verizon might lag behind a bit up to 50 Mbps.
Verizon Home Internet Cost | Plan & Price
They offer a wide range of options regarding plans and pricing of Verizon 5G home internet. They include:
Verizon Fios – Verizon LTE Home is a fixed wireless internet service with a single monthly plan. You can save $10 monthly through autopay and up to 50% with chosen 5G mobile plans or add a line on Verizon to get more discount.
Verizon 5G home internet – It is a fixed wireless service that employs the expansive 5G network to deliver high-speed internet access to residential spaces in metro areas. The service is only available for selected cities and costs $35 monthly for individuals with specific mobile plans.
Here's an overview of the plan and price for Verizon's home internet, and if you are an eligible customer of Verizon Affordable Connectivity Program, you can get these plans for free.
Verizon Fios Plans
Here are the plans for Verizon Fios.
| | | |
| --- | --- | --- |
| Price | Speed | Data cap |
| $24.99/month with Auto Pay & select 5G mobile plans | 300 Mbps | Unlimited |
| $44.99/month with Auto Pay & select 5G mobile plans | 500 Mbps | Unlimited |
| $64.99/month with Auto Pay & select 5G mobile plans | 1 Gig | Unlimited |
Verizon 5G Home Internet Plans
Here are the 5G Home Internet Plans.
| | | | |
| --- | --- | --- | --- |
| Plan | Price | Download speed | Data cap |
| 5G home internet | $35 per month | 300 Mbps | Unlimited |
| 5G home internet plus | $50 per month | 500 Mbps | Unlimited |
| 5G home internet plus | $70 per month | 1 Gib | Unlimited |
Verizon Home Internet | Setup and Installation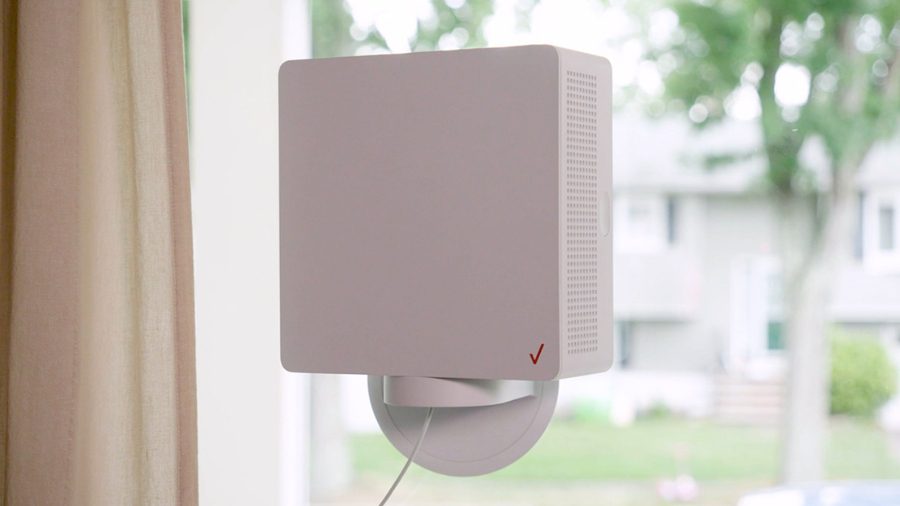 When you choose Verizon Home Internet, there will be no charge for equipment, and the installation process will be a breeze. Once you order their 5G home internet service, the provider will connect you with the required equipment.
Here are the steps you must follow to complete the installation.
First, place your router in a good location. For example, for a Verizon Fios router, you can put it at the center of the room, and for Verizon 5G Home Internet, you will receive a Wi-Fi 6 router and put it near a window.
Connect your router to the power cable and wait for it to turn on.
Once turned on, Connect your router with your Modem. You don't have to do this for the WiFi 6 router.
Finally, activate your service online or by contacting customer care.
If you need help with the installation, you can also contact Verizon and schedule a professional installation; the experts will handle the entire process. The schedule should meet the following requirements:
Availability period from Monday-Saturday (9 AM to 1 PM local time)
Installation will take around 1 hour
An individual of 18 or older should be present during the installation process
You will receive a reminder email the day before the installation.
Verizon 5G Home Internet Speed Test Results
Before starting internet service, you should use your speed test result as a baseline to reach a seamless connection throughout your journey. Verizon 5G home internet shows quick speed test loads with no noticeable waiting time involved.
The process is also user-friendly and uncluttered, unlike the competitors. The Verizon internet speeds usually measure three elements: download, upload, and latency.
Your Verizon home internet speed might become slower for various reasons, including the router, the number of devices connected to WiFi, or any other external aspects, including weather, that might impact your internet connection.
But if the speed is still far below even under normal circumstances, upgrade for a better plan, contact the network provider, or get a new free iPhone from Verizon to use the latest 5G bandwidths.
Here are the steps to measure Verizon's Internet speed.
Open My Verizon app
Click on the account tab at the bottom of the page.
Enter the password, Face ID, or fingerprint.
Now, tap Home or 5G Home at the top of the page.
Choose to Manage 5G home > Network settings > Test network speed.
Now click on the start-test at the bottom right of the page.
Ensure you are connected to the network before you perform the speed test.
The 5G ultra wideband speeds range between 300 Mbps to 1Gbps.
Now, you can view the results of your Verizon 5G home internet speed.
Verizon Router: LED Indicators Explained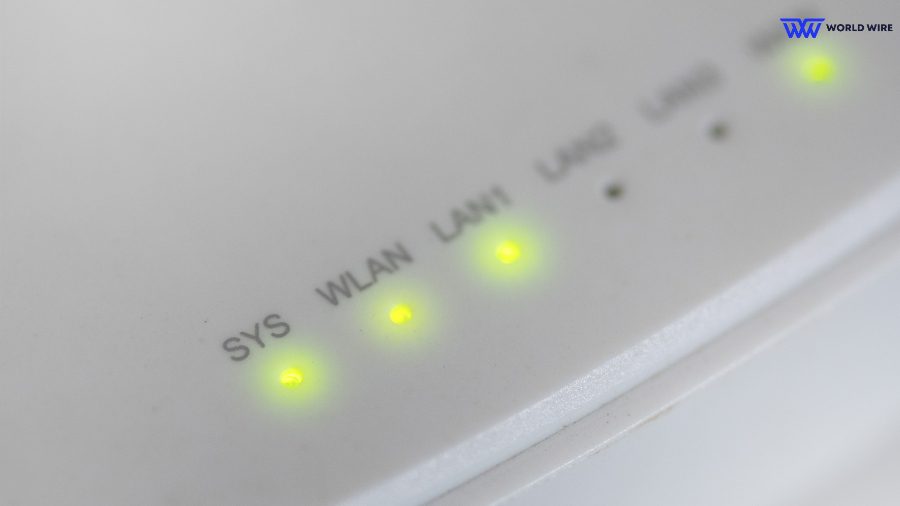 Verizon routers have been processed to determine their WiFi speed, and it has been scaled up to the next level with their tri-band technology, as the fastest WiFi speeds available.
However, new customers of Verizon's Home Internet may face "Verizon No Service All Of A Sudden" and want to check if Verizon is down in the area and may find understanding the different LED indicators challenging. Let us break it down for you!
LED
Color
Indicator

Power

Solid green
The router is turned on and is functioning normally
Solid amber
POST (Power-On-Self-Test) in progress
Off
Power is not being supplied to the router

Internet Port

Solid Green
Internet session is available
Solid amber
The traffic meter limit has been reached, and traffic is blocked.
Blinking green
Failover from Wan to Mobile Broadband
Off
There is no internet connection

LAN ports

Solid green
Local Ethernet parts have detected wired links with PCS
Blinking
Data is getting received or being transmitted
Off
No link is detected on the ports

WAN port

Solid green
Ethernet Wan Port has detected an active link
Blinking
Data is being received or transmitted

WiFi

Solid Blue
WiFi Local port is initialized
Blinking blue
Data is being received or transmitted over the WiFi link
Off
The wireless access point is turned off

4G LTE

Solid Blue
Indicates that the router is in 4G LTE Coverage
Off
No coverage is detected

Signal Quality

Solid Blue
Excellent coverage
Solid Green
Good coverage
Solid Amber
Marginal coverage
Also, check out our useful guides "How to Reset Verizon Router" and "Fix Verizon Router Blinking White Light."
What Deals Does Verizon Home Internet Offer?
With Verizon's 5G home internet, you can get bundling internet while saving money with reliable speeds and multi-year price guarantees. Here's a glimpse of deals offered by Verizon:
Discounted monthly price – When you get Verizon's home internet with your Verizon mobile service, you will be entitled to a discounted monthly price and save around $25.
Free streaming bundles – Home Internet also provides seamless streaming services for free with the associated internet and mobile plans, including AMC, The Disney Bundle, and others.
Contract buyout – Home Internet enables an early termination fee of $500 from the previous provider when you switch to a 5G home or plus provider.
Verizon Home Internet – Should You Get It? – Our Review
The mobile landscape has been buzzing about 5G, the future of wireless, while shaking up the digital world. The plug-and-play is made easy and effective with the promise of the new Verizon 5G home internet while potentially replacing your hardwired internet connection.
If you are one of those who is residing in a region lacking access to high-speed cable or fibre internet access or if you want to upgrade to a cost-effective and installation-free network, then you can readily opt for 5G home internet.
Given the digital demands of the modern era, 5G home internet is quickly garnering attention with its impressive speed, upfront pricing, and premium promotions.
In addition, the easy wireless setup of the network will get you connected to the seamless internet in minutes, making it more appealing.
The network is also backed up by excellent customer service in the Industry, where you can enjoy the internet connection as an existing Verizon mobile customer with a provident package of $35 per month, which is not typical for such enduring speed and performance.
Since it's free of the typical annoyance of pricing and contract circus-like other internet providers, you can witness why people are cutting the cord for classic internet and switching to a fixed and fabulous 5G home internet, indulging in the impressive connection!
FAQs
Is Verizon Home Internet Any Good?
Overall, Verizon's Home Internet is faster when compared to other satellite internet services and shows better download speeds than T-Mobile Home Internet. The best part about 5G home internet is its precise speed and premium performance, which might vary depending on the location.
How many devices can connect to Verizon 5G Home internet?
Fortunately, no specific number of devices for connecting to the Home Internet exists. You can connect multiple devices of large sizes in your household and enjoy unlimited, reliable, and high-speed internet connection.
Does weather affect Verizon 5G home internet?
Verizon 5G home internet is not usually interrupted by fluctuating weather conditions since the 5G network sends signals in all directions. Nonetheless, weather conditions like thunderstorms might impact Verizon's connection speed and stability, like any other wireless home internet service.
What is the rating of Verizon 5G home internet?
We evaluate Verizon's home internet review in four categories – affordability, performance, value, and customer satisfaction. With multiple sub-factors in each category, every aspect has been weighed carefully to rate the provider. As a result, 5G home internet hits an excellent score (4.8) with consistent service and brand reputation.
Is Verizon's home internet actually unlimited?
Absolutely! Verizon's Home Internet is ultra-fast internet that delivers a wireless connection to your home internet router. You can connect any device to the network to enjoy unlimited data usage with WiFi without any long-term contracts, data limits, data usage caps, and additional router charges.
Signup For Our Newsletter