Watch Trump Miami, Florida Rally Live Stream – With the 2022 General Election approaching, former United States President Donald Trump recently announced to host a "Get out and Vote Rally" in Miami, Florida, to support the Florida Republican Sen. Marco Rubio, who is running for reelection to remain in the U.S. Senate against Rep. Val Demings.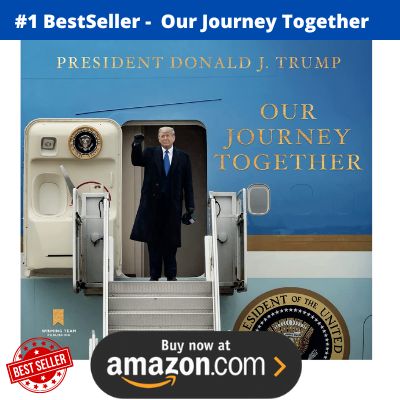 Watch Trump Miami, Florida Rally Live Stream
We will be streaming the Trump Miami, Florida rally live on November 6 for those who cannot attend but would like to watch it from the comfort of their homes. Meanwhile, join our Telegram channel and email newsletter for future updates and information.
Never Miss President Donald Trump Rally Live Stream. Subscribe with email below we will send live link in your inbox.
How to book tickets for Trump Florida Rally
If you wish to be a part of Trump's "Get Out and Vote Rally," you are required to register yourself to confirm your tickets for the rally.
Look for the steps below to book your tickets online.
Steps to Book Tickets for Trump Miami, Florida Rally
To book tickets for Trump Miami, Florida Rally –
Visit Donald Trump's official website.
Click on the Events option from the menu bar.
Click on the Save America Rally in Miami, FL, option.
You will be redirected to the page titled "Save America." This is the registration page for joining the rally.
Fill up the details mentioned on the page, like first name, last name, your email-id, etc.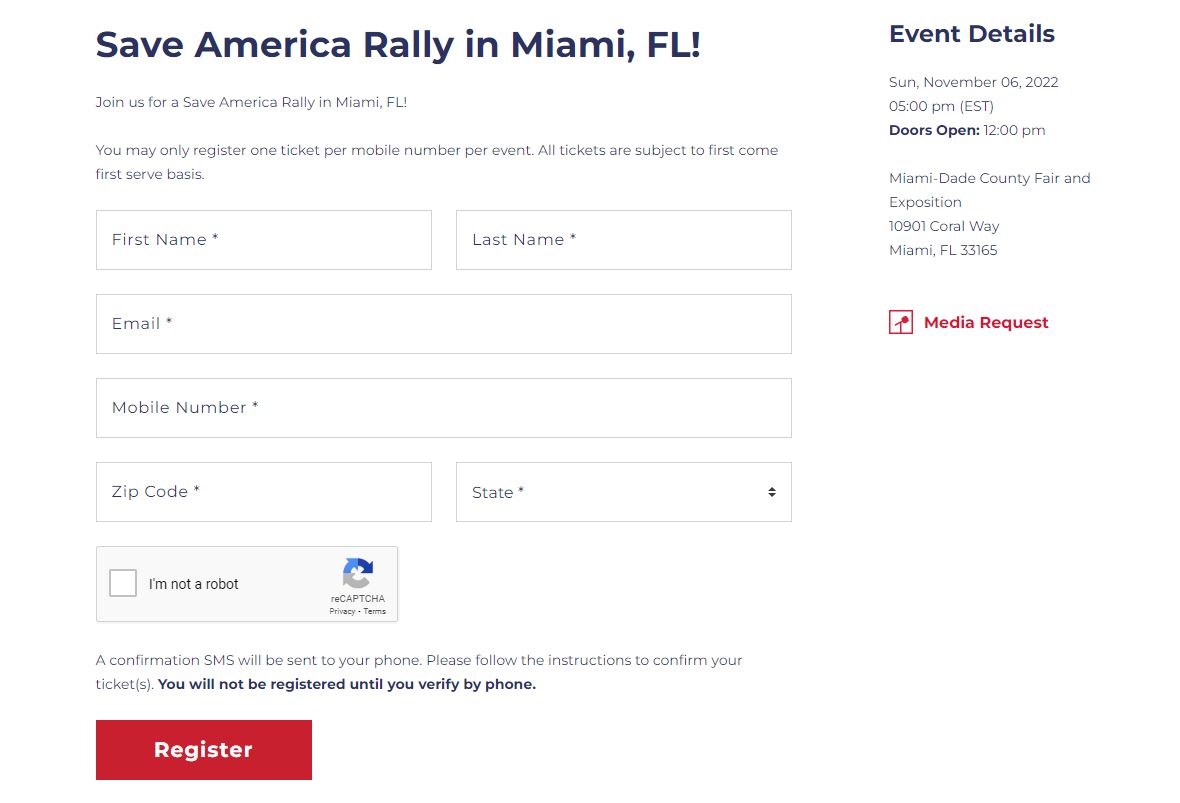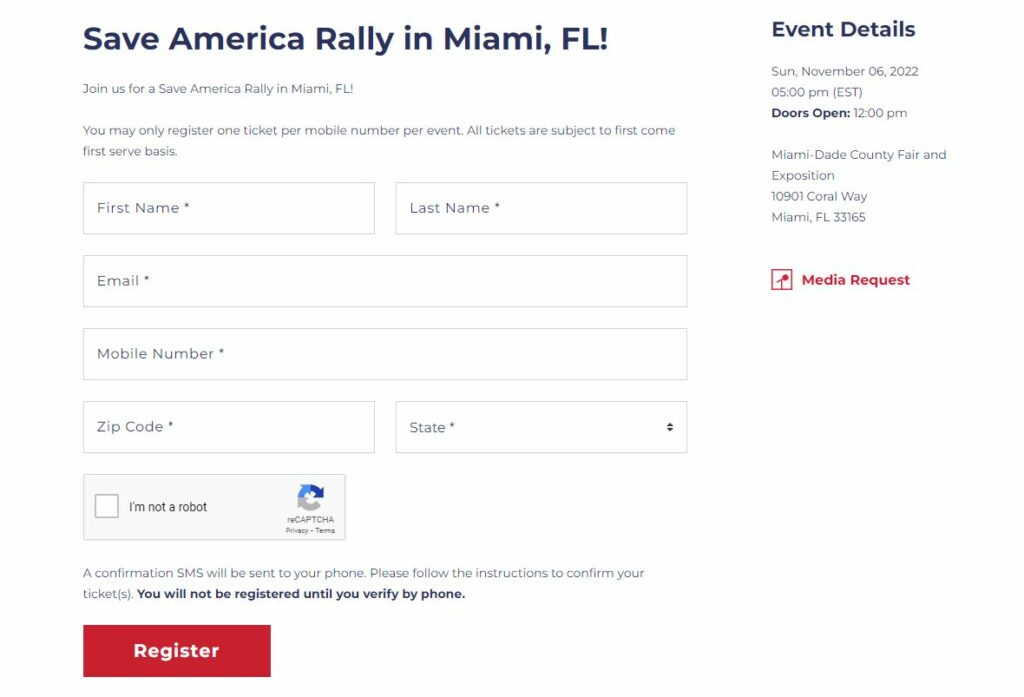 After filling out your details, click on the "Register" icon below the page.
You will receive a confirmation message on your registered mobile number and verify your number.
Once you verify your number, your tickets are booked for the rally.
Please note that you can only register one ticket per mobile number per event. Tickets for the "Save America" rally are available on a first-come, first-serve basis.
Trump Miami, Florida Rally Schedule, Timeline & Parking
When
The Trump rally in Miami is scheduled for Sunday, November 6, 2022.
The rally will begin at 5 pm with a timeline of events starting from the morning to the gathering in the evening.
The events are scheduled as follows –
8 am – Registration, parking lots, and vendor row opens
12 pm – Doors open
2 pm – Special guest speakers will deliver remarks
5 pm – Former President of the United States, Donald Trump, will deliver remarks
Where
The rally will be organized at Miami-Dade County Fair and Exposition, 10901 Coral Way.
Miami, Florida – 33165
Parking
You can easily find parking at the venue. The parking lot opens at 8 am.
Agenda of Trump Miami, Florida Rally
The upcoming Trump-Rubio rally in Miami-Dade County is especially significant because the south Florida county has been dominated by Democrats for a long but could be won by Republicans for the first time in Florida political history.
A rally two days before Election Day, November 88, 2022, by a strong man like Mr. Trump could significantly affect the polls and election results.
Trump announced the rally in a release on his "Save America" PAC. The release mentioned, "President Trump gave birth to a historic red wave for Florida in the 2018 midterms with his list of supported candidates up and down the ballot and developed the Sunshine State into the MAGA foundation it is today."
The release further thanked former President Trump and remarked that "Florida is no longer a purple state, it is America First Red State."
Upon receiving Trump's support, Rubio's campaign spokesperson said, "Senator Rubio is grateful to receive Mr. Trump's support. He looks forward to having him in Miami to assist Rubio to yield Republican victories for candidates at every level."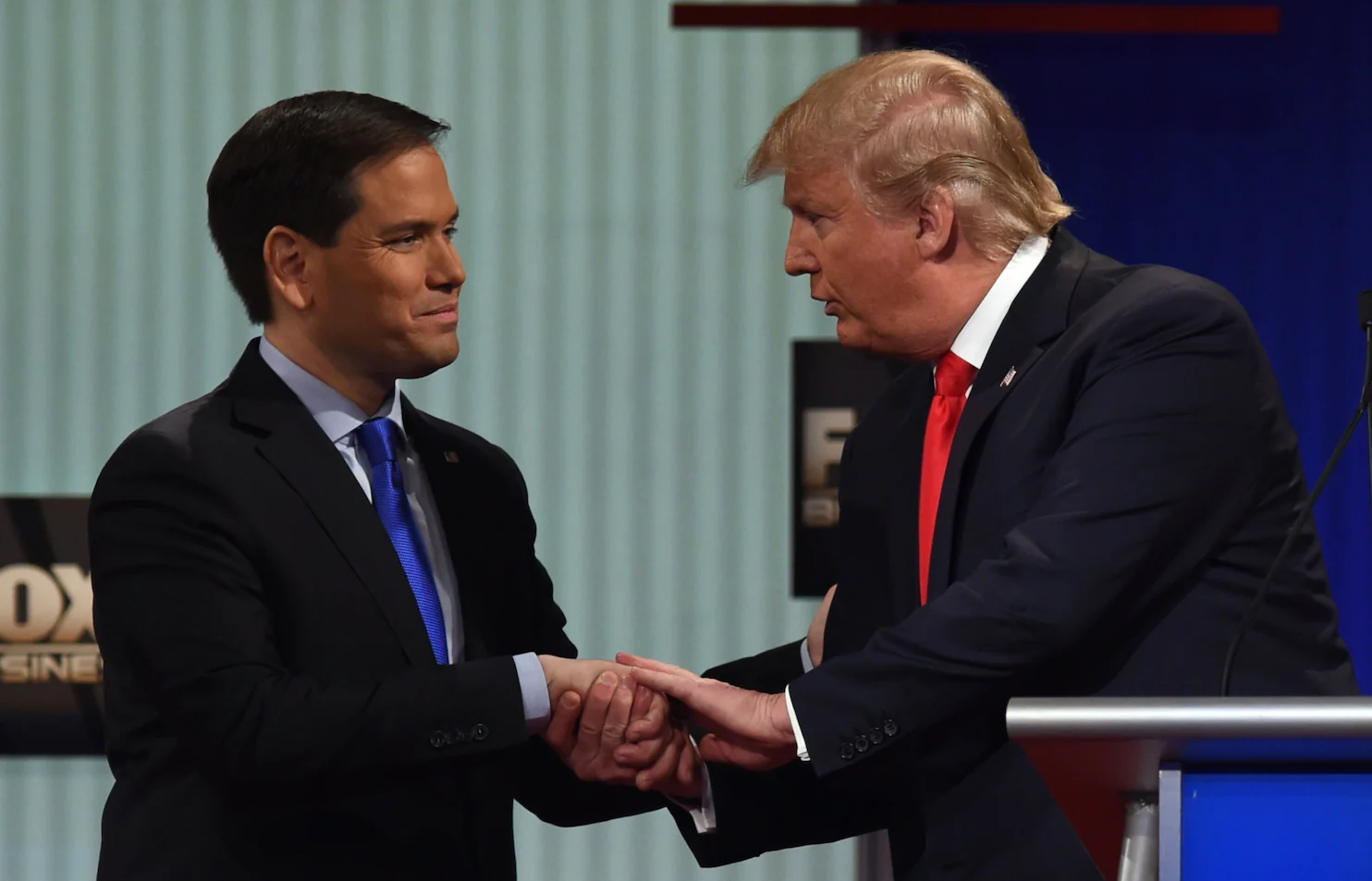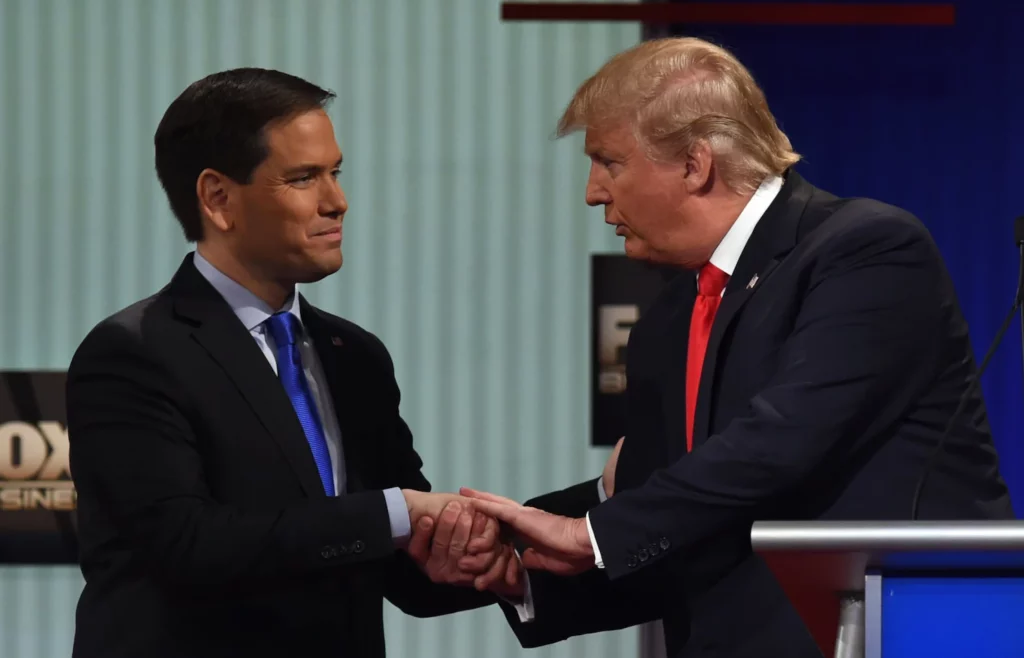 Though Republican candidates and supporters will join the rally, it will not include Republican Governor Ron DeSantis, despite running for a second term against Democrat Charlie Crist.
He was once Trump's supporter but, presently, supposed to be Trump's most tough opponent if they both run for President in 2024. Polls show Rubio and DeSantis with reasonable leads over their Democratic opponents. The polling average of 538 shows Rubio ahead by about 9 points and DeSantis ahead by roughly 11 points.
Donald Trump also hopes to rally in Iowa and Pennsylvania in the coming days to increase and encourage Republican candidates in those states.
The former President's move comes after growing rumors that DeSantis may run for the Presidential election in 2024. However, both Trump and DeSantis have not officially declared a presidential run. According to various sources, the disagreement between the two is expected to be the biggest GOP rivalry of the next election.
Speakers for Trump Miami, Florida Rally
Trump's rally would be attended by republican candidates and supporters for the upcoming midterm election on November 8.
President Joe Biden will also join the Miami rally. Mr. Biden has planned to attend a "Get out and Vote rally" on November 1 in Miami to support Val Demings, who stands against Rubio, and Crist.
However, information about other speakers at the rally has yet to be discovered.

Subscribe to Email Updates :