Former Vice President Mike Pence withdrew from the 2024 presidential contest on Saturday.
Pence is among several Republican contenders for president who declared their campaigns were over in the last few days.
While former U.S. Rep.Will Hurd announced his suspension of former U.N. Ambassador Nikki Haley as he departed the race earlier in October, conservative radio host Larry Elder and Michigan businessman Perry Johnson also endorsed Trump as they suspended their campaigns this week.
In June, Pence announced his candidature for president at an event in Iowa, where he attacked former President Donald Trump, his running mate, for his efforts to void election results after losing to President Joe Biden in the 2020 contest.
Pence told Iowans that during the Capitol insurrection on January 6, 2021, Trump—the front-runner in the election for the Republican presidential nomination in 2024—"demanded I choose between him and the Constitution."
Pence declared in Las Vegas, Nevada, during the Republican Party Jewish Coalition Conference, "It's become clear to me, this is not my time,"
Pence stated on Saturday that his team was aware that winning the Republican presidential nomination would be an "uphill battle" when he announced the suspension of his campaign.
Mike Pence remarked, "But I have no regrets." "The only thing that would have been harder than coming up short would have been if we'd never tried it all."
Although he refrained from endorsing anyone on Saturday, the former vice president urged Republicans to select a "Republican standard-bearer" capable of winning the general election in 2024 and leading the country "with civility."
Pence stated, "The debate over America's future role in the world is not confined to differences between the two parties, I believe as we prepare to choose a standard-bearer for our party, the question will not merely be who, but what Republicans will offer America in 2024. Will Republicans continue to be the party of the traditional conservatives that has defined our movement over the past 40 years? Or will our party follow the siren song of populism, unmoored to conservative principles?"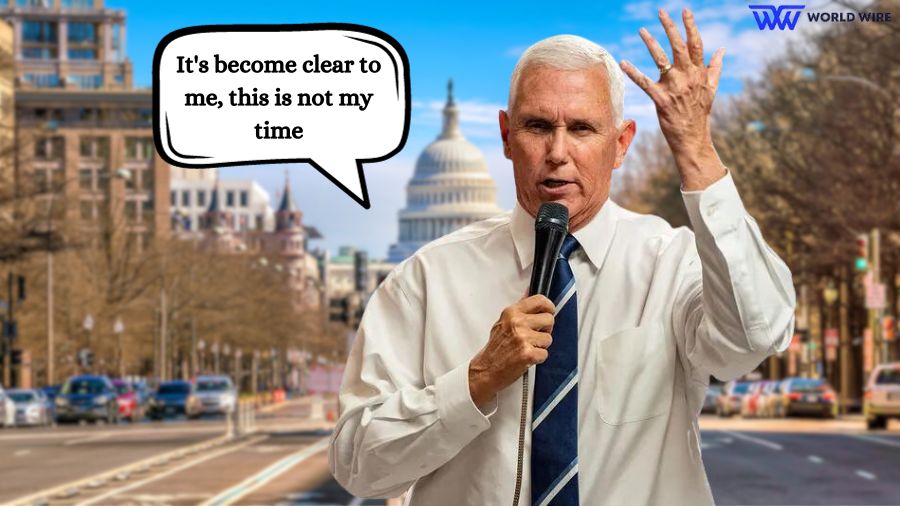 While he did not specifically address Donald Trump in his remarks, Pence expressed his pride in leading the most "pro-Israel administration in American history."
He considered "how times have changed" since Biden became president. One of the numerous presidential contenders addressing the audience at the event, the former vice president, declared that "America stands with Israel" in the fight against Hamas in Gaza.
Pence stated that Israel has "no choice but to crush Hamas" in the fight that started in early October with the militant group that controls the Gaza Strip.
For "pressuring, even threatening Israel to stay her hand" in the conflict, he criticized President Joe Biden.
According to the AP, Israel rejected appeals for a cease-fire and began a fresh ground attack in Gaza on Saturday.
After Israel cut off Gaza's supply of fuel, food, water, and electricity during the fighting, the U.N. passed a resolution on Friday asking for a truce and providing humanitarian relief to Palestinian residents living in Gaza.
According to the Palestinian health service in Gaza, 7,700 Palestinians had died in the battle as of this past Saturday. Since October 7, more than 1,400 Israelis have died, the majority of them during the Hamas attack.
Pence declared, "We should stand strong with Israel — no daylight between Israel's position and ours,"
He added, "And America should make it clear that there will be no aid delivered to Gaza until all hostages are free."
Leaders of Hamas have declared that if Israel frees all Palestinian prisoners, they will release all hostages. Israeli negotiations over the potential trade have "stalled," a spokesman for Hamas' military wing reportedly stated on Saturday, according to Reuters.
Pence stated that while some Republicans argue that the United States should choose between aiding its allies abroad and resolving its own domestic issues, the country must maintain its position as the "leader of the free world."
Pence stated, "So I urge you: embrace a generation of leaders who will continue America's commitment to leadership at home and abroad, It's never been more important. And I promise you, wherever the Lord leads in the days ahead, I will do my part to ensure that now and always America stands with Israel."
Signup For Our Newsletter