Republicans can be seen as outraged by the Biden administration allegedly selling millions of dollars worth of unused parts of the U.S.-Mexico border wall on GovPlanet, an online marketplace for surplus government supplies.
Republicans Furious as Biden Sells Unused Trump Border Wall for Millions
During his time as president, Donald Trump bragged about finishing more than 450 miles of the wall, although most included replacing existing buildings. Only 80 miles of primary and secondary barriers were constructed in regions without structures. When Biden took office in January 2021, he stated that a border wall was not an effective immigration solution and stopped its development.
Also, Read – Police Shoot and Kill Man Who Threatened Biden
Recently, GovPlanet oversaw the sale of square structural tubes worth hundreds of thousands of dollars made by Nucor Tubular and ostensibly designed for the border wall that former President Donald Trump promised to build during his 2016 campaign.
According to GovPlanet, these commodities have been sold for $497,705 since late July.
Also, read the latest news – Biden Marks Inflation Reduction Act Anniversary, 2024 Message
Newsweek was informed on Sunday morning by a USACE spokesman that the materials are being disposed of "in accordance with the Federal Acquisition Regulation; USACE has already transferred approximately $154 million worth of the roughly $260 million of bollard panels and other materials in accordance with standard excess property disposition procedures. USACE stands ready to implement a decision regarding the disposition of the remaining materials."
Republicans criticized the news of the alleged sales, believing that the Biden administration's more humane immigration policies are to blame for the surge in migrants at the border between the United States and Mexico.
Also, read other headlines – Joe Biden Keeps Focus on Economy as Trump Gets Indicted Again
However, in a fact sheet report released in March, the Biden administration emphasized its investments in border patrol and other border improvements. Additionally, experts point out that external political and economic issues greatly impact migration dynamics. According to statistics from U.S. Customs and Border Patrol, there have been 1,973,092 interactions at the U.S.-Mexico border so far in 2023.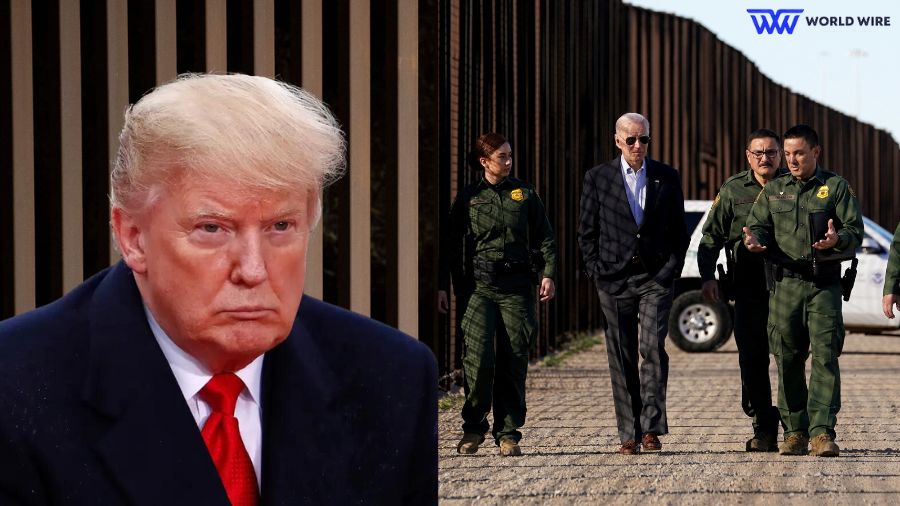 Iowa Senator Joni Ernst posted on Twitter, now known as X, "Instead of securing the border, President Joe Biden is auctioning off taxpayer-funded wall materials for pennies on the dollar. He cannot avoid Congress' accountability and must use these parts for their intended purposes. BUILD the wall and FINISH it!"
Republicans in Congress have, meantime, pushed to impose restrictions on what the Biden administration can do with surplus materials for the border wall.
Senators Ernst, Ted Cruz of Texas, and Roger Wicker of Mississippi introduced the Finish It Act in May. According to a press release from Wicker's office, the legislation would oblige the federal government to use the materials for wall construction or transfer them to state governments.
Check out other headlines – 'Will Release A Detailed Report On Georgia Election Fraud': Donald Trump After Indictment
Sen. Roger Wicker (R-Miss.), the bill's sponsor, told The Post that the sale was "outrageous, behind-the-scenes maneuvering" and that it was "a wasteful and ludicrous decision by the Biden administration that only serves as further proof they have no shame."
Sen. Tom Cotton (R-Ark. ), a co-sponsor, remarked, "Leaving the border open to terrorists while selling border security materials at a loss is Bidenomics in a nutshell."
According to a Republican-led study in March carried out by the Armed Services Committee, the federal government spends $47 million annually on warehousing border wall components.
Also, Read – Stuart Delery stepping down as Biden investigations intensify
Although Biden promised to stop building the border wall, his government has approved levee improvement projects and construction to fill gaps. The president hasn't yet taken down any of the border walls that are currently in place between the U.S. and Mexico.
Meanwhile, a GovPlanet source told the Daily Upside. This financial newsletter broke the initial story of the continued sales, "We are legally not allowed to mention these are the border wall materials, or we could lose our jobs." GovPlanet is under strong orders to keep the connection between the border wall a secret.

Subscribe to Email Updates :