President Joe Biden on Wednesday held a boisterous ceremony in the East Room of the White House to commemorate the first anniversary of the Inflation Reduction Act while outlining the actions he has taken to address climate change, create new employment, and lower healthcare costs, subjects that will be important to voters in the 2024 presidential election.
The plan was presented by Biden as a historic investment in renewable energy on Wednesday, one that would give middle-class Americans who have been left behind by the changing American economy new jobs.
Also, Read – Willis's Trump Case Goals Deemed Unrealistic by Federal Prosecutor
Biden Marks Inflation Reduction Act Anniversary, 2024 Message
Last year, the Inflation Reduction Act's celebration was a victory lap for Biden and Democrats in Congress, who overcame opposition from Republicans. Senator Chuck Schumer of New York, and Representative Nancy Pelosi of California, who worked together to pass the legislation last year, joined Vice President Joe Biden in his declaration.
The idea is to cut the country's carbon emissions by 40% from 2005 levels by 2030, and the legislation contains more than $300 billion in energy and climate initiatives funding.
Also, Read Latest News – Whistleblower tips off Bidens during Investigation, former FBI agent says
It also permits Medicare to compromise over the price of certain prescribed medicines and sets aside $64 billion to extend Affordable Care Act subsidies till 2025. While also establishing a minimum tax rate of 15% for big businesses, which is expected to bring in more than $300 billion in revenue.
According to Biden, the law has already created 170,000 new employment in the clean energy sector, with 1.5 million more likely to be generated in the following ten years.
Also, Read – Marcus East Is Out At T-Mobile; Other Layoffs May Be Coming
Biden, who pledged as a candidate to give priority to many of the topics covered by the law, the Inflation Reduction Act is an important feat compared to Biden's ambitious domestic policy proposals from 2020, which came close to never happening, it was much more limited.
Republicans have been against Biden's domestic agenda from the beginning. Joe Manchin of West Virginia and Kyrsten Sinema of Arizona were moderate Senate Democrats who opposed the president's spending proposals.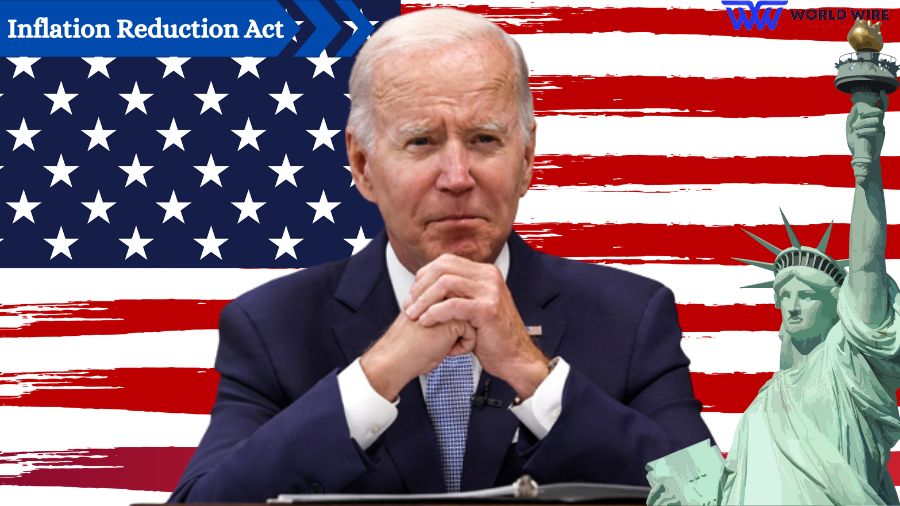 Following that, Democrats tried for months to convince Manchin and Sinema to join them in Washington. Meanwhile, Democrats enacted a stand-alone infrastructure bill in late 2021 with Republican support rather than attach it to the larger social spending packages.
Later in July 2022, Manchin stunned Washington by reaching a last-minute agreement on the Inflation Reduction Act with Senate Majority Leader Chuck Schumer.
Also, Read – Joe Biden seeks Obama's help for 2024 re-election bid against Trump.
But last year, as the midterm elections drew near, it was evident that Biden would not follow through on his campaign vow to make significant investments in the environment and healthcare.
The president hinted at the challenges in passing the law through Congress in his speech on Wednesday. The bill boosted Biden's domestic policy record before the midterm elections and the 2024 presidential race.
According to Richard Frank, a health economist at Harvard Medical School, the Affordable Care Act (ACA) financing in the Inflation Reduction Act safeguards a program that Republicans fiercely opposed, which is now a broadly accepted component of the social safety net.
While hinting that lowering drug prescription costs was a "significant accomplishment."
Many Republicans have been heavily critical of the act of Biden and have received criticism for compromising with Manchin on the energy and climate provisions in the legislation.
Read Latest News – Joe Biden Keeps Focus on Economy as Trump Gets Indicted Again
In contrast, Supporters see the Inflation Reduction Act and other laws, such as the CHIPS and Science Act and the Infrastructure law, as evidence that Biden kept his promise to break the Washington blockade and advance key initiatives.
Biden can be seen counting on these policies for people to recognize his sincerity which will determine his success in the 2024 election. However, he didn't address anything related to the upcoming election or the leading competitor Donald Trump.

Subscribe to Email Updates :