President Joe Biden, who is running against Donald Trump for the White House, is resolved to keep silent about the Republican's legal woes as the number of criminal accusations against him rises.
Here you have details of the news
Joe Biden Keeps Focus on Economy as Trump Gets Indicted Again
Biden is anticipated to keep talking about wind energy and job creation in public after Trump was charged for the fourth time with racketeering and interfering in the Georgia election.
The president, who won the 2020 election over Trump and may face him again in 2024, is traveling to Wisconsin, a swing state, to visit a factory that is flooded with orders for wind turbines and is now producing electric car charging stations, which will result in the creation of 100 new jobs.
Also, read the news "Biden $130M student debt forgiveness plan"
Olivia Dalton, a spokesperson for the White House, told reporters Tuesday on board Air Force One that the White House is "certainly not going to comment" on Trump's most recent legal issues.
In preparation for a potential rematch with Trump in 2024, who is still the front-runner for the Republican candidature, Biden is treading carefully.
Also, read the latest news, "Trump to release a report on Georgia election fraud."
Trump's inability to accept his loss to Biden in the 2020 presidential election has resulted in many accusations against him, first in federal court in August and then again on Monday in the southern state of Georgia, where he was accused of organizing a mafia-like plot to overthrow Biden's victory.
Since Trump was indicted for the first time in March in New York for hush-money payments made to adult star Stormy Daniels, 80-year-old Biden has remained silent.
The US president is aware that whatever remark he makes would be seized upon by Republican rivals as alleged evidence that he has sparked the Justice Department to immobilize his likely opponent in 2024.
Also, read the latest news, "Biden's silence on Maui wildfires defended by White House"
Since the beginning of the summer, Biden has carefully avoided reporters and their relentless inquiries about Trump. He was already not a fan of engaging with the media.
He disregards inquiries before boarding his flight or riding his bike at his Delaware beachfront residence.
Instead, the Democrat sticks to prepared speeches about his key economic initiatives, particularly the "Inflation Reduction Act" of August 2022.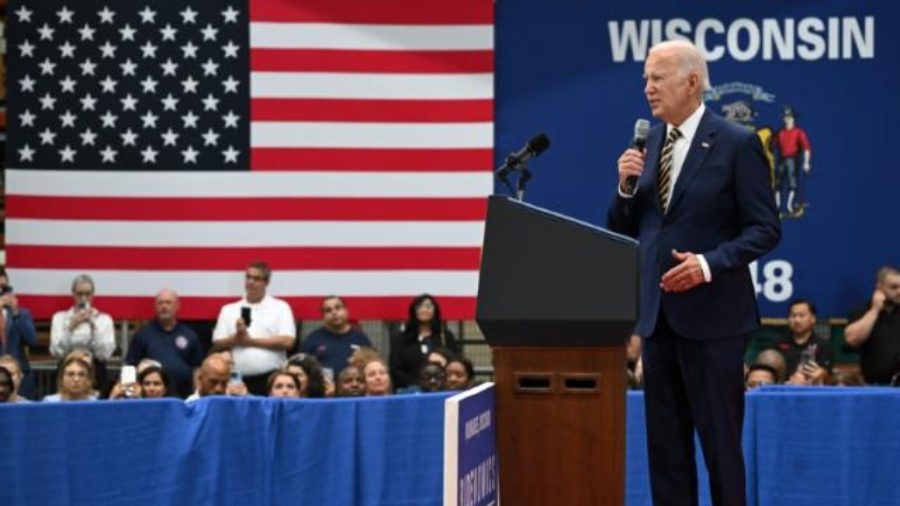 The policy's core is incentives for investment and job creation in the renewable energy sector. However, its name was intended to show Americans he was acting in response to rising prices.
Also, read the latest news "Cameras could be allowed in the courtroom for Trump's arraignment in Georgia"
According to Biden, it has already attracted $110 billion in private investment.
The White House reported on Tuesday, "In Wisconsin alone, companies have committed over $3 billion in manufacturing and clean energy investments since President Biden was sworn into office."
Biden is probably aware that he cannot block out the commotion surrounding Trump's indictments and upcoming trials for his reelection campaign in 2024.
Also, read the latest news "DeSantis falls to third place in GOP primary odds"
But he is counting on the US economy's strength, which has defied recession predictions, will eventually persuade people to support him.
Biden does not see the need to exploit Trump's legal problems to distinguish himself from the opponent.
In the same way, he says nothing about the issues his son, Hunter Biden, is experiencing. Hunter Biden might be charged with criminal tax fraud and other offenses by a special prosecutor appointed by the Justice Department just last week.
Also, read the latest news "Hunter Biden's attorney believes the special counsel will not find any new evidence."
Even while it generated a lot of media attention, Georgia's indictment of Trump quickly overpowered it.
Biden still has a tough fight ahead of him. According to opinion polls, he has a low confidence rating among voters who are put off by his age and don't fully comprehend his economic strategy. If re-elected, Biden would be 86 years old when his second term ends.
Also, read the latest news "Jesse Watters Demands Republicans Actually 'Do Something'"
The US president, who is at the pinnacle of a five-decade political career, is still betting that people will prefer his personality to Trump's and that time will be on his side.

Subscribe to Email Updates :