The mayor of New York City, Eric Adams, continued to complain this week about how unfair it is for his sanctuary city to bear the weight of the current border issue as resources and available space are being depleted.
Adams can be seen stating during a press conference, "This is a national and statewide issue that has been unjustly dropped into the lap of New York City residents. We only make up .05 of the landmass in New York state, .05, that's what we make up. Yet, we are housing over 99 percent of the migrants,"
Also, Read – Mike Pence Wasn't Aware of Trump's Declassification Order
Eric Adams Complains Migrants Have 'Unjustly' Fallen Into NYC's Lap
On Thursday, Eric Adams expressed his displeasure about the ever-increasing migrant population in the Big Apple, despite the city's self-declared status as a sanctuary city.
In 1989, New York City adopted the sanctuary city policy under Ed Koch's Democratic leadership. The Koch administration intended to ensure that New York City's asylum seekers could enroll their kids in public schools and access healthcare without worrying about being sent home.
Eventually, city workers were forbidden from inquiring about immigrants' immigration status, especially police officers. Mayor Bill De Blasio "dramatically reduced" NYC's cooperation with ICE in 2014.
Read other headlines – Republicans Furious as Biden Sells Unused Trump Border Wall for Millions
New York City is compelled by law to provide a bed to someone in need as one of the only cities in the nation with a "right to shelter" law. Politico reported in July that although the program was initially intended to help people without homes, it is now being interpreted to provide housing for more than 55,000 migrants, or more than half of the population of all shelters.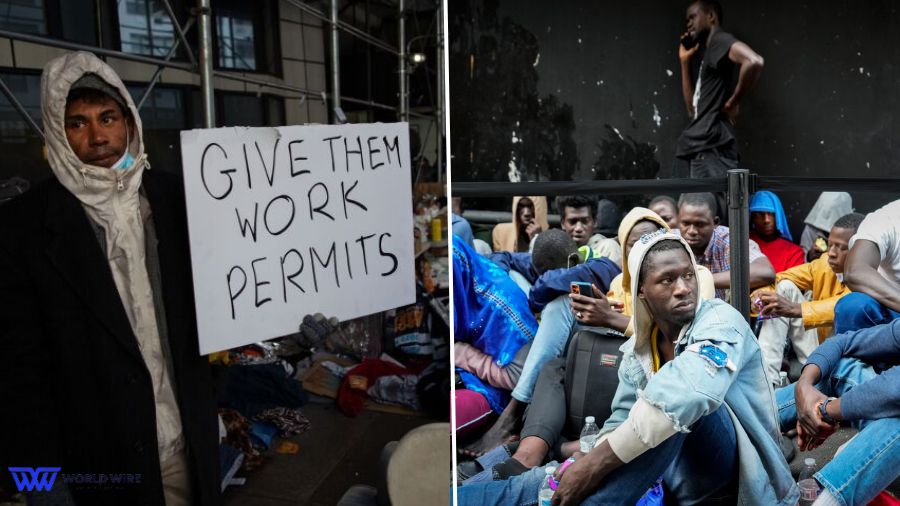 After winning the election, Adams declared on social media that his administration would maintain New York City's position as a sanctuary city, saying only, "We should protect our immigrants. Period."
Also, read the latest news – Stuart Delery stepping down as Biden investigations intensify
The "No Vacancy" flyers, which implored immigrants to "please consider another city as you make your decision about where to settle in the United States," were distributed in July with Adams' approval. Adams announced that single adult migrants might only stay in the city's shelters for 60 days before they would need to reapply for space, according to the outlet.
This was part of a plan to help alleviate the rising issue of shelter overpopulation inside the city. Adams said, "We have no more room."
Also, Read – Colton Moore initiates impeachment bid over Trump's indictment
Adams has asked the federal government to provide the city with extra money so that officials can pay for the lodgings, meals, and medical treatment for newcomers who arrive every day and those who have been living there for months.
To relieve some of the burden, New York City has sent processed and released migrants upstate. However, after recent allegations of sexual assault by migrants at a shelter in Erie County, the city has agreed to cease sending them there for the time being.
Read other headlines –  Police Shoot and Kill Man Who Threatened Biden
There have been incidents in New York City where migrants have vandalized hotel rooms and assaulted hotel workers, raising questions about the safety of other city areas that might serve as migrant housing. More and more New Yorkers are speaking out against the placement of shelters near parks, schools, and residential neighborhoods.

Subscribe to Email Updates :