Mike Pence, a former vice president, stated that he was not "aware" of any efforts made by former President Donald Trump to declassify sensitive documents while he was in office.
In an interview with ABC News's This Week on Sunday, Pence, who served as Trump's vice president and is now running for the GOP presidential nomination in 2024, claimed that he was unaware of the rumored standing order, though he did not completely rule it out. This followed reports that Mark Meadows, Trump's former chief of staff, had informed the special counsel that he was unaware of the order.
Mike Pence Wasn't Aware of Trump's Declassification Order
Pence stated on ABC's "This Week": "I was never made aware of any broad-based effort to declassify documents. There is a process that the White House goes through to declassify materials, I'm aware of that occurring on several occasions over the course of our four years, But I don't have any knowledge of any broad-based directive from the president. But that doesn't mean it didn't occur; it's just not something I ever heard about."
Also, Read – Republicans Furious as Biden Sells Unused Trump Border Wall for Millions
Pence also acknowledged that he "would expect" that Meadows would have been aware of such an order if it existed when Karl questioned him further.
As a result of the Department of Justice's (DOJ) and special counsel Jack Smith's investigation into Donald  Trump's handling of secret documents after his presidency ended, a federal grand jury decided to indict him on 37 felony charges in early June. Thirty-one counts of willful retention of confidential documents containing national security information violating the Espionage Act were included in the charges.
Read other headlines – Newt Gingrich: Willis' Indictment of Trump is 'Political Witch Hunt'
Later, in July, a superseding indictment added more allegations concerning his purported efforts to erase security footage after investigators had subpoenaed it.
Trump has maintained his innocence in his criminal case about the alleged improper handling of confidential documents and entered a not-guilty plea to all of the accusations at his arraignment hearing in Miami. He asserted that he had signed a standing order allowing records to be promptly declassified after being seized from the Oval Office after the FBI searched his Mar-a-Lago home in August of last year in search of the documents.
Read Latest News – Trump – Melania Divorce Rumors: What's the Real Story?
Trump has been extensively criticized for asserting that he has broad authority to declassify records. The DOJ, in particular, has found no evidence to support the standing order he claimed to have issued.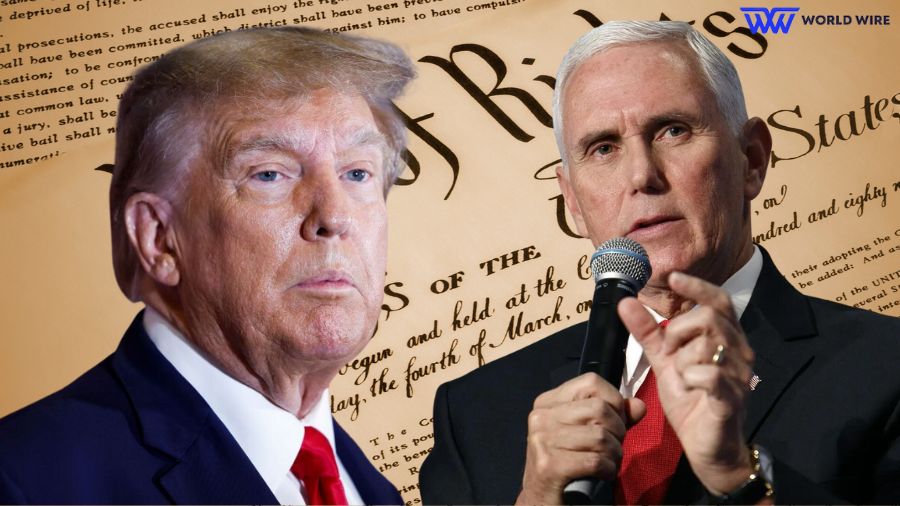 So far, Trump's legal team has worked to postpone the trial or get the charges completely dropped.
Pence, a GOP primary candidate for 2024, has already criticized his former employer over the sensitive materials matter, calling the charges "very serious" and indefensible.
Also, read the latest news – Stuart Delery stepping down as Biden investigations intensify
Regarding the threats to national security that Trump's handling of the sensitive documents posed to the nation, Pence stated, "The handling of classified material is enormously serious in the life of the nation."
Following the FBI investigation at Mar-a-Lago, secret documents were discovered at Pence and President Joe Biden's homes and workplaces. Both males cooperated and consented to the searches, saying that the materials had been kept accidentally. The DOJ is still looking into Biden's case, but Pence recently learned that no legal action will be taken against him for the items found in his Indiana home.
Read other headlines – Federal Prosecutor Says Fani Willis' Goal In Trump Case Is Not Realistic
Starting his presidential campaign in June, Pence has criticized his former boss' conduct leading up to the Capitol attack and his illogical accusations of rampant election fraud in the 2020 race.
Since Pence distanced himself from Trump in the days preceding the attack on the Capitol on January 6, 2021, he has become a target for Trump.

Subscribe to Email Updates :