Are you tired of Airtalk Services not Working Issue? and Want to know how to fix AirTalk Wireless Not Working? Then, you're on the right page.
The given article provides all the information regarding Airtalk Wireless and how to resolve not non-working issues.
A recipient of the Federal Universal Service Fund, AirTalk Wireless offers aid under the Lifeline and Affordable Connectivity Programs to help low-income families access free wireless phone, internet, and TV services.
Even though their services are amazing, you may start facing errors like AirTalk Wireless not working. In this article, we have covered a detailed guide to help you fix AirTalk Wireless not working. So, without any further ado, let's get started –
AirTalk Wireless Not Working – What to do?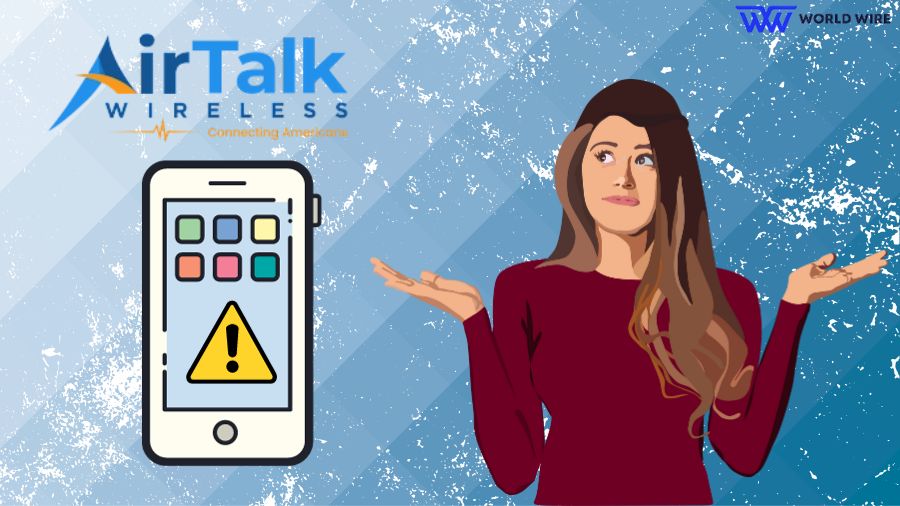 If your AirTalk Wireless is not working properly, but you have an active AirTalk account, an AirTalk SIM card, and a free phone or tablet, you can try the following –
Check Phone Compatibility
You have to visit airtalkwireless.com/byop to see if your phone is compatible.
Click on the given link and enter your IMEI number. Then click on the "Check Compatibility" icon.
You can check your Phone Compatibility by dialing *#06# on your phone's dial pad.
Reinsert the SIM Card
Make sure your device is charged.
Turn it off and find the SIM card slot.
Remove the SIM card from the AirTalk SIM card kit and insert it into the device's SIM card slot.
Check if it fixes AirTalk Wireless's not working issue.
Check SIM Activation
Check if your SIM is activated by visiting airtalkwireless.com/active-my-sim-card.
Enter your phone and SIM card numbers.
Click on Submit.
Check Signal Strength
If you've tried everything and AirTalk but still facing AirTalk Wireless not working, it might be because you are in a spot where the signal isn't good. Just go somewhere else where the signal is better.
Contact Customer Care
If you have tried everything and the issue is still unresolved, contact Airtalk Wireless customer care at +1 (855) 924-7825. You can also visit the official website at https://airtalkwireless.com/ or mail them at [email protected]
Before reaching the Airtalk wireless customer care, try to  double-check some other fundamentals to fix AirTalk Wireless not working –
Make sure your phone isn't using airplane mode, your network is active, and mobile data is turned on.
Make sure you have yet to reach your monthly data limit.
Modify your APN settings.
Finally, if you've tried everything else and still need help fixing AirTalk Wireless not working, follow the tips below.
Also, Read How to Qualify for a Free iPhone from AirTalk Wireless.
Reset AirTalk Wireless APN Settings to Fix AirTalk Wireless Not Working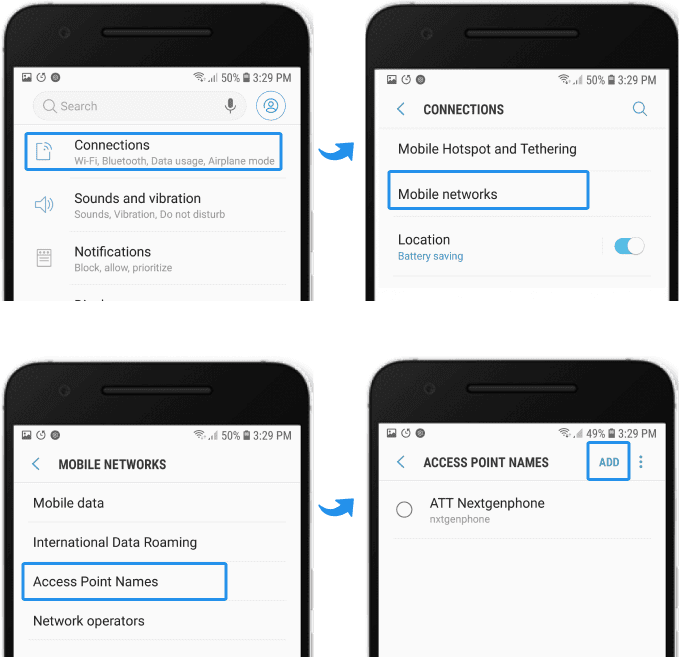 To reset AirTalk Wireless APN settings, you need to follow these simple steps –
Open Settings.
Go to the Wireless & Networks option.
Select Mobile Networks.
Select the Access Point Name option.
Select the New APN option.
Enter the details mentioned below.
Name- AirTalk
APN – Reseller
Proxy – (Blank)
Port – (Blank)
Username – (Blank)
Password – (Blank)
Server – (Blank)
MMSC – http://mmsc.mobile.att.net
MMS Proxy – proxy.mobile.att.net
MMS Port – 80
MCC – 310
MNC – 410
For Authentication Type – (Blank)
For the APN Type – Default, supl, mms, Fota
APN Protocol – IPv4/IPv6
Save these settings, and boom, you have reset your AirTalk Wireless APN settings.
How to fix AirTalk Wireless APN Settings on iPhone
Here is how to reset AirTalk Wireless APN settings on iPhone to fix AirTalk Wireless not working –
Select the Mobile Data option in the Settings menu, then Mobile Data Network.
Enter your password, and then go to the bottom and press the Reset Settings button.
Copy and paste the APN settings below.
Save and apply your settings.
Restart your iPhone.
That's it. After that, your new APN settings will be applied.
APN – Reseller
Username – (leave blank)
Password – (leave blank)
How to reset APN Settings on Windows Phones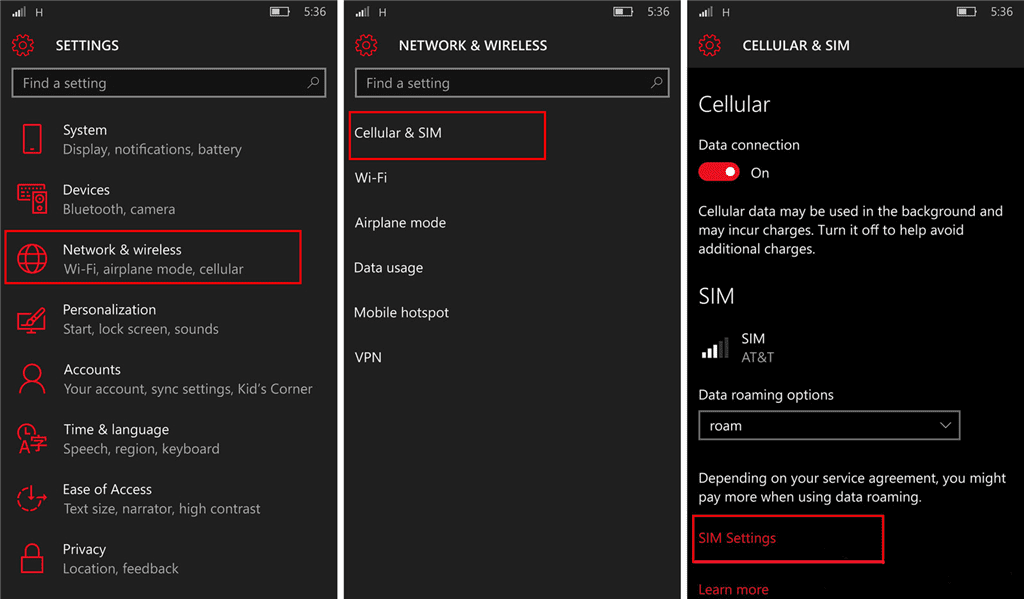 Here are the steps to configure your Windows Phone with the AirTalk Wireless APN settings –
Launch the Windows Phone Settings.
Click on Cellular & SIM, then Network & Wireless, and finally, Add an Internet APN.
Fill in the following APN information shared below –
Profile Name – Consumer Cellular
APN – att. mono
Username – N/A
Password – N/A
Type Of Sign In Info – None
IP Type – IPv4
Proxy Server – 66.209.11.33
Proxy Port – (leave blank)
MMSC – http://mmsc.cingular.com
MMSC Port – (leave blank)
Maximum MMS Size – 2048
After entering the Windows APN, restart your Windows phone.
What are the APN Settings for AirTalk Wireless?
An access point name or APN is used as a gateway between different mobile networks like GSM, GPRS, 3G, 4G, etc., enabling your mobile device to connect to a carrier's network and enjoy your monthly services.
If your APN settings are incorrect, your data transfer rates may be slow, and you may face AirTalk Wireless not working. To use a 4G LTE or 5G mobile broadband network, you will need the settings included in AirTalk's APN and the security parameters, in addition to a working AirTalk SIM card, plan, and network coverage that allow users to connect to the internet.
Typically, the APN settings for AirTalk Wireless are preconfigured automatically. However, you should still double-check it if you face AirTalk Wireless not working issues.
Can I get an AirTalk Wireless free iPad?
Even though you cannot get an AirTalk Wireless free iPad, you can get a heavy discount on purchasing one.
Can I get AirTalk Wireless Free Government Phone?
You can check out the article on getting Airtalk wireless government phone.
Can I Upgrade my AirTalk Wireless  Phone?
Yes, you can upgrade your AirTalk Wireless phone.
Closing Comments
There you have it – a detailed article covering how to fix AirTalk Wireless not working. We tried to cover all of the possible reasons that may be causing this issue in the first place, along with the solutions to fix it.
With that said, here I am wrapping up this article. If you still have questions, please reply in the comment section below. Our team will try to respond ASAP.
Signup For Our Newsletter