AirTalk Wireless Upgrade Phone – AirTalk Wireless is a well-known service provider owned by HTM Communication. It offers Lifeline and Affordable Connectivity Program and has nationwide coverage, covering all the states in the United States.
AirTalk Wireless, with the support of the Federal Universal Service Fund, offers their eligible customers a free internet plan with free monthly talk minutes, text messages, and high-speed data.
AirTalk also allows their eligible customers free government phones and discounts on tablets. Customers also get hotspots, top-up plans, upgrade phones, and more.
To qualify for the service, an individual must meet eligibility requirements, including participation in programs such as Medicaid. The service has a simple application process.
This article covers detailed information about AirTalk Wireless upgrade phones, including eligibility criteria, documents, and more.
So, here we go –
How to get an AirTalk Wireless Upgrade Phone?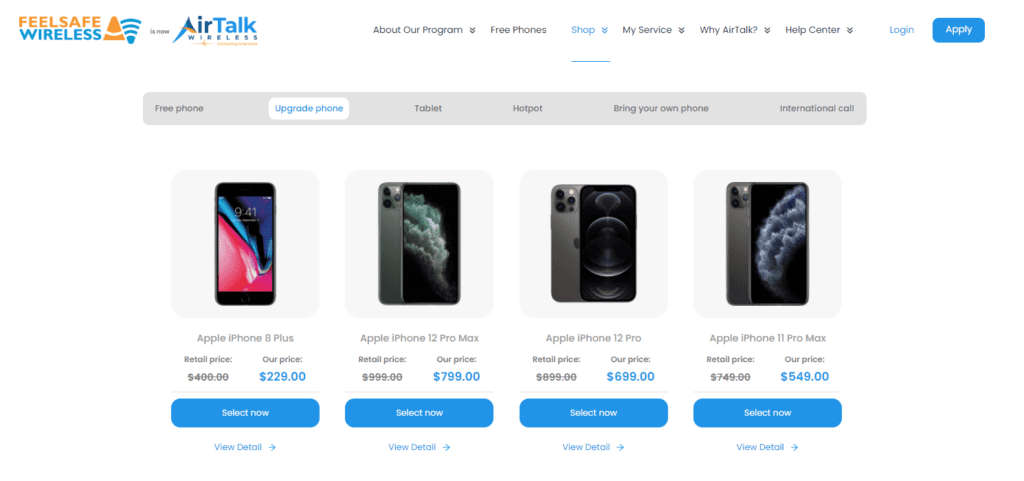 Getting your AirTalk Wireless upgrade phone is simple.
If you are already an AirTalk customer using services on your original phone, you can buy an upgrade phone. AirTalk Wireless has no physical stores where you can visit and buy its devices or services. Instead, it does have an online store that is convenient and user-friendly.
Unlike replacement phones, upgraded phones are not free of cost. However, you can get AirTalk upgrade phones at reasonable prices with some additional discounted rates. Purchasing an upgraded phone from AirTalk Wireless is as simple as applying for a free one.
You need to follow these simple steps –
Step 1: First, visit the official website of AirTalk at airtalkwireless.com.
Step 2: From the Shop option, select Upgrade Phones.
Step 3: Select the phone you want from the wide range of phones.
Step 4: After proceeding, you will have to fill out the application.
Step 5: Enter your Zip-code and click on the Apply Now button.
Step 6: Select the AirTalk Wireless Plan of your choice.
Step 7: Provide your personal information and upload the documents asked for.
Step 8: Once your verification is done, you will get the confirmation email.
That's it. This is how you can apply for an AirTalk Wireless upgrade phone.
The documents you need to provide as proof of identification are –
Birth certificate
Permanent resident card
Foreign passport
Certificate of naturalization or US citizenship
Things to keep in mind –
Upload an original copy of your documents for verification.
If you don't see your confirmation email in your inbox, check your Spam.
What kinds of phones does AirTalk Wireless offer?
AirTalk Wireless offers four types of phones which are mentioned below –
AirTalk Free Government Phones
Customers who are eligible for Lifeline and ACP can get a free Government AirTalk phone. AirTalk free Government phones include flip phones, iPhones, Android, and smartphones. The customers can select the phone model of their choice.
AirTalk Bring Your Own Phone
You can also bring your own device. You can check your phone's compatibility at airtalkwireless.com/byop. AirTalk understands that people may already have compatible devices, so it allows one to bring their device to get the AirTalk Wireless service.
AirTalk Replacement Phone
In case your AirTalk phone starts malfunctioning, you can use the company's 15-day warranty, or you can also use the manufacturer's one-year warranty to get a free replacement phone. You will not get a replacement phone if the damage is caused by physical abuse.
However, if your AirTalk phone got lost, stolen, or damaged due to misuse, you can contact customer service and ask them for a replacement phone. But this replacement will charge some fee.
AirTalk Wireless Upgrade Phone
If your current AirTalk phone doesn't fit your needs and you need a better device, you can purchase an AirTalk Wireless upgrade phone. Here, you will have to pay some fee.
Which AirTalk Wireless Upgrade Phone models are available?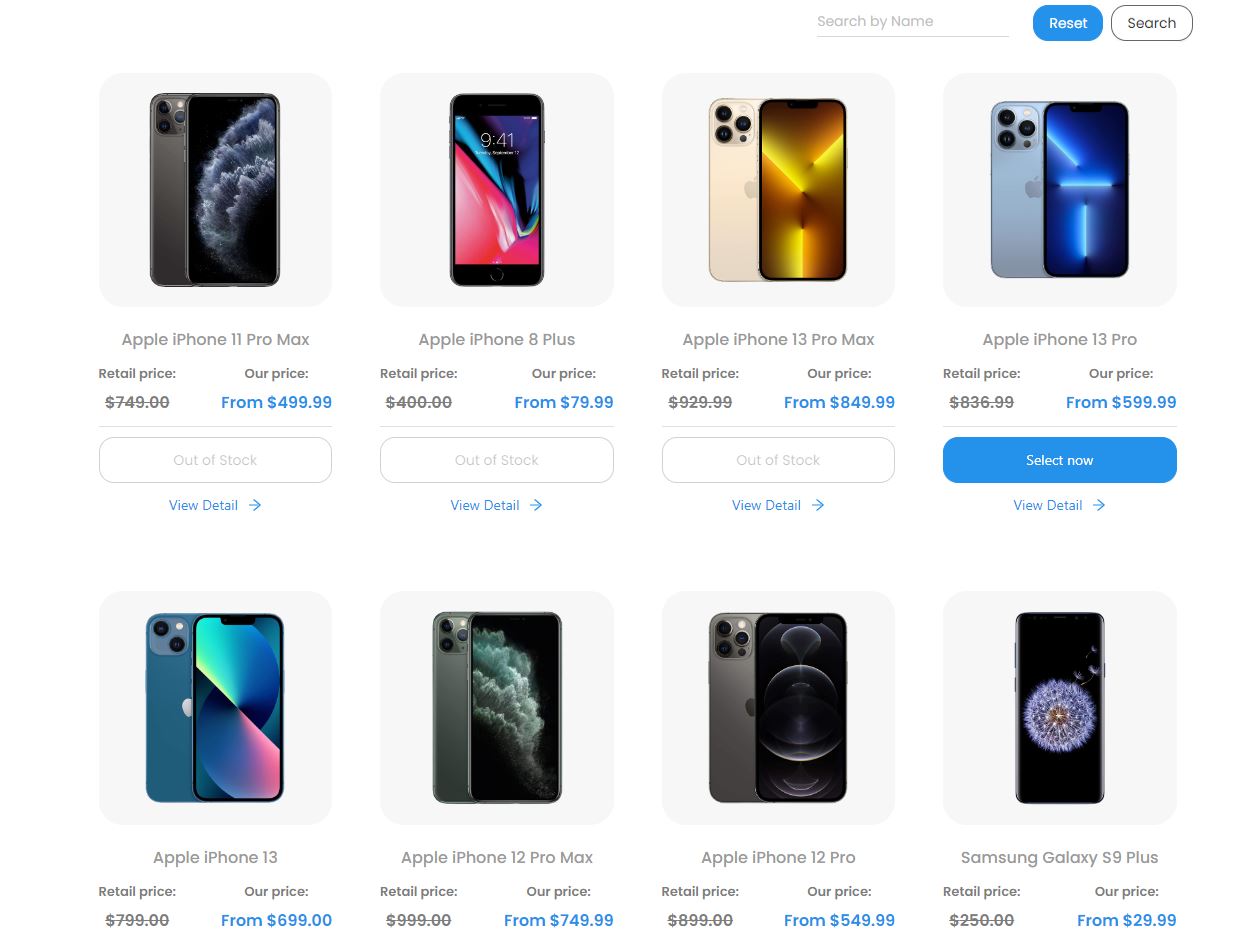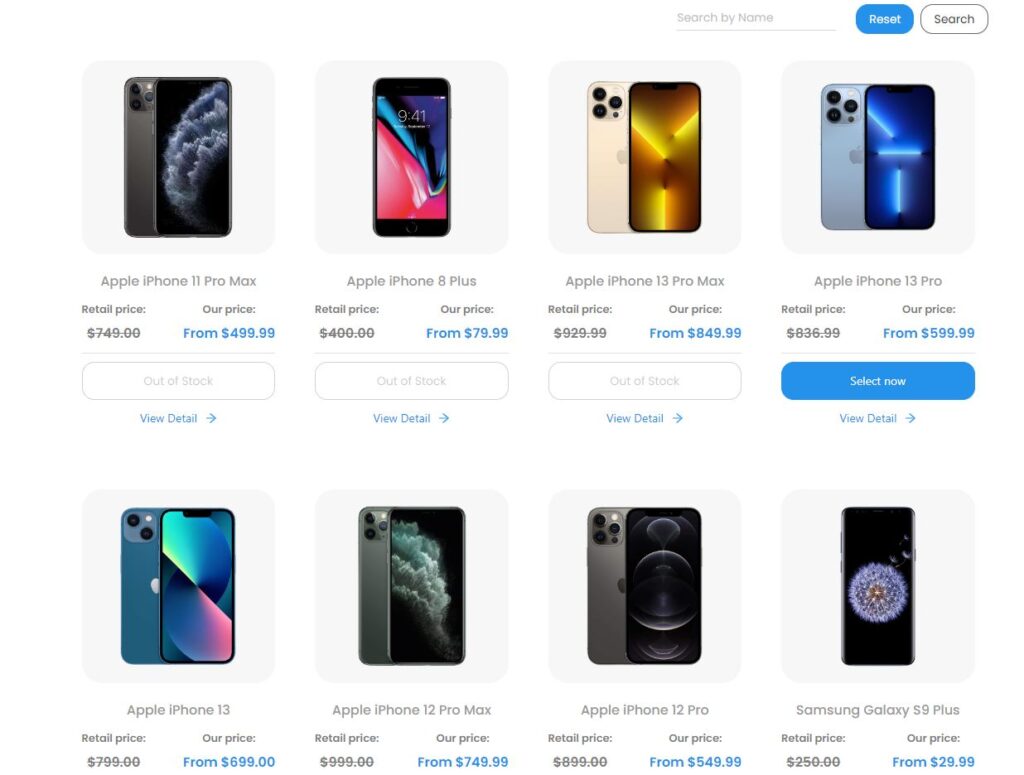 AirTalk offers a wide range of AirTalk Wireless upgrade phones. Below is the rolldown of currently available models –
Alcatel Go Flip 4
Samsung Galaxy S9 Plus
Apple iPhone 11 Pro Max
AT&T Maestro Plus
Google Pixel 3
LG Stylo 5
LG V40 ThinQ
Motorola G Fast
Motorola Z3 Play
OnePlus N200 Nord 5G
Samsung Galaxy A02s
Google Pixel 3A XL
Upgrade Phones from AirTalk Wireless
AirTalk Wireless is one of the popular Lifeline and ACP service providers. It gives you unbeatable offers, which include free unlimited monthly data, talk, and text to qualifying and eligible customers.
If you qualify for a free phone, you can utilize the opportunity and purchase an AirTalk Wireless upgrade phone at a discounted rate from AirTalk Wireless.
AirTalk helps you to upgrade your free device with an upgraded model of your choice at discounted rates, up to 80% off! If you want to purchase an upgrade device, you can choose from a wide range of models, including 5G phones. AirTalk has made it easy to upgrade your device through the application process. This way, you can review available devices in more detail and choose the one best for you.
Who is eligible to get a free AirTalk Wireless Upgrade Phone?
Getting a free AirTalk Wireless Upgrade phone becomes easy if you are already an AirTalk user. You can get an upgrade phone by using the ACP or Lifeline program.
For this, you must have an income at or below 200% of the Federal Poverty Guidelines.
Alternatively, you can participate in any of these programs –
Supplemental Nutrition Assistance Program
Medicaid
Supplemental Security Income
Federal Public Housing Assistance
Veterans' Pension and Survivor's Benefit
Bureau of Indian Affairs General Assistance
Tribally Administered Temporary Assistance for Needy Families
Tribal Head Start (it is only for those households who meet income qualifying standards)
Food Distribution Program on Indian Reservations
What to do if I have any other questions?
If you still have questions about the AirTalk Wireless upgrade phone, contact AirTalk customer support. You contact them by phone, email, or online chat.
AirTalk customer support service is available from Monday to Friday from 8 am to 8 pm as per Central Standard Time –
Contact – +1 (855) 924-7825
Email-Id – [email protected]
Company Contact – airtalkwireless.com/contact
Can I get AirTalk Wireless free iPad?
Even though you cannot get an AirTalk Wireless free iPad, you can get a heavy discount on the purchase of one.
Closing Comments on AirTalk Wireless Upgrade Phone
There you have it – a detailed article covering everything about AirTalk Wireless upgrade phones. We hope that it was a helpful article for you. If you still have any questions, feel free to shoot them in the comment section below. Our team will try to respond ASAP.

Subscribe to Email Updates :