What if I tell you that you can grab an Airtalk Wireless Free iPhone without any complicated paperwork? Yes, you heard it right.
Airtalk Wireless is providing free or discounted phones to their eligible customer, and if you want a free AirTalk Wireless iPhone, this article will be a lifesaver. This article covers all the information about eligibility criteria, required documents and etc.
Lifeline and Affordable Connectivity Program are government benefit programs that help to make communication services affordable for low-income households. The services are provided through participating service provider companies.
Some Lifeline providers offer free phones, while some ACP providers offer discounted internet devices and services. However, only some generous network service providers offer free tablets and iPhones. AirTalk Wireless is a service provider participating in these two government assistance programs and offering free iPhones.
So, without any further ado, let's get started –
How to get AirTalk Wireless free iPhone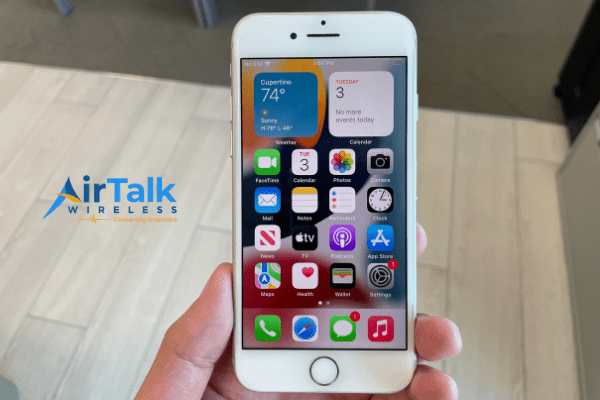 To apply for a free phone from AirTalk Wireless, you need to follow these simple steps –
Find out whether AirTalk Wireless offers its services in your state of residence.
Ensure you are Lifeline and ACP eligible to apply for AirTalk Wireless free iPhone.
Ensure you have proper documentation to prove your qualification to get AirTalk Wireless free iPhones.
Fill out the application.
Submit all eligible documents.
Eligibility Requirements to get AirTalk Wireless Free iPhone
You must fulfill some strict conditions to qualify for Lifeline and ACP programs –
Eligibility Criteria
Age Requirement

First, you must be at least 18 years old or an emancipated minor.

You must be a resident of the state where AirTalk Wireless offers its services to be able to apply for AirTalk Wireless iPhones.

To qualify for the Lifeline program, your annual household income must be at or below 135% of the Federal Poverty Guidelines.
To qualify for ACP through your income basis, your annual household income must be at or below 200% of the Federal Poverty Guidelines.

Program-Based Eligibility

To be Lifeline or ACP eligible, you or any family member must participate in one of the listed government assistance programs –

Bureau of Indian Affairs General Assistance
Supplemental Nutrition Assistance Program (SNAP)
Federal Public Housing Assistance (FPHA)
Veterans Pension and Survivors Benefit
Tribal Temporary Assistance for Poor Families (Tribal TANF)
Food Distribution Program on Indian
Special Supplemental Nutrition Program for Women, Infants, and Children (WIC)
Free & Reduced-Price School Lunch Program or School Breakfast Program
Please note that you need to qualify for only one eligibility condition out of the above two to apply for AirTalk Wireless Government Phones.
Required Douments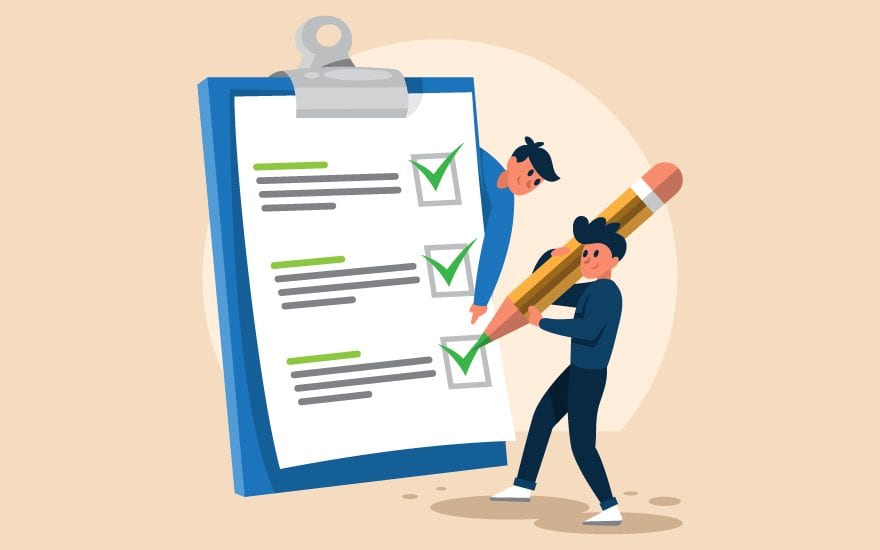 Once you ensure you are eligible to apply for AirTalk Wireless, you must prepare copies of certain valid documents to prove your eligibility.
Income Proof

Pay stubs
Divorce decree
Latest income statement
Paycheck receipts
Child support award
tax returns
Employer current income statements,

Government Assistance Program Participation Proof

Approval letter
Benefit award letter
Benefit verification letter
Statement of benefits

Identity Proof

Passport
Driver's license
Utility bill
Duplicate address
Social Security Number
Liberty proof
birth certificate
Green Card
Military ID
State ID
Tribal ID
How to Apply for the AirTalk Wireless Free iPhones?
There are three methods to apply for Airtalk Wireless Free iPhone. Below, we have mentioned all the ways to apply for the program.
Apply Online
You can apply for an AirTalk Wireless free iPhone through the National Verifier online by visiting this link – nv.fcc.gov/lifeline
Select your state of residence.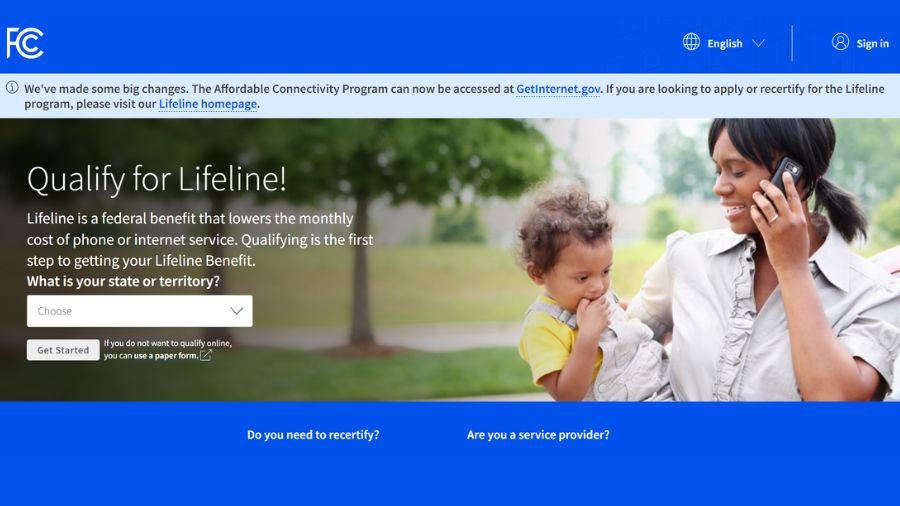 Create an account and log in.
After you log in, you will be redirected to the online application form.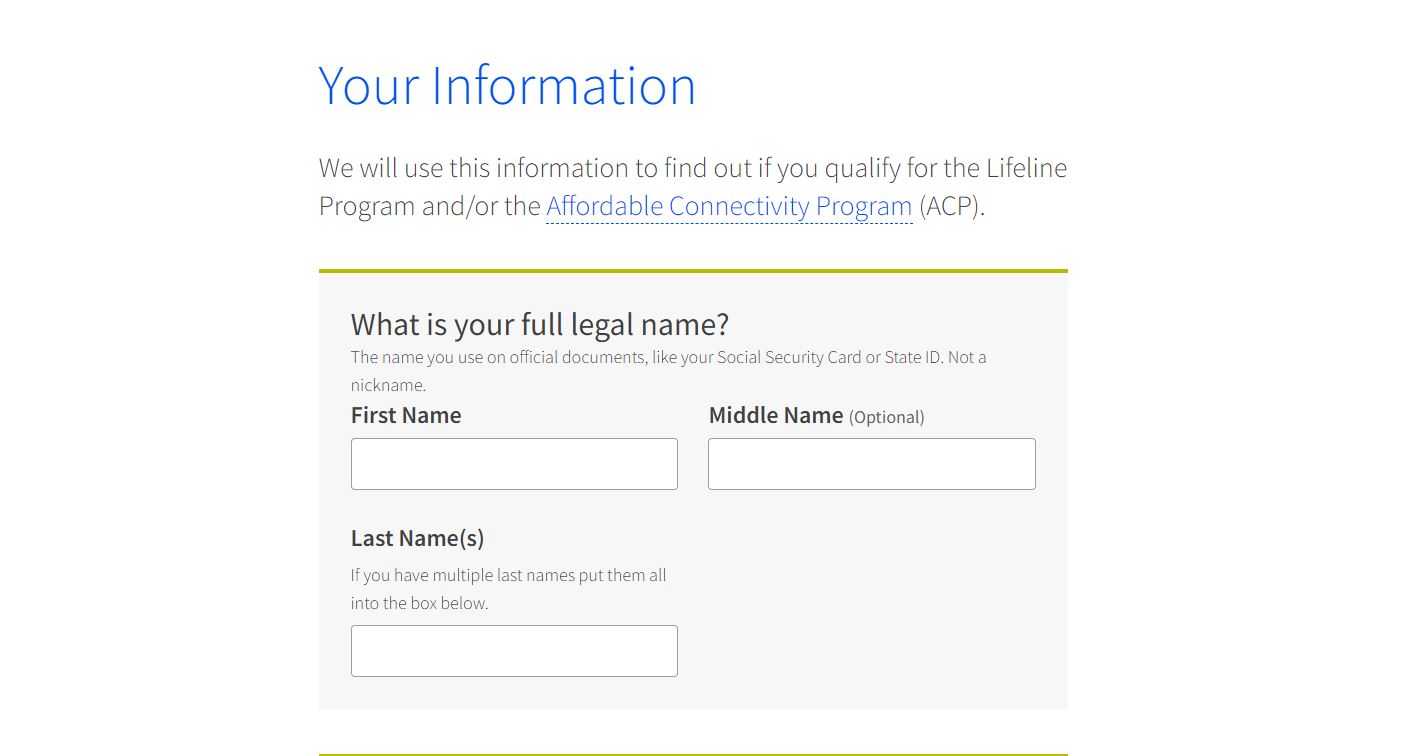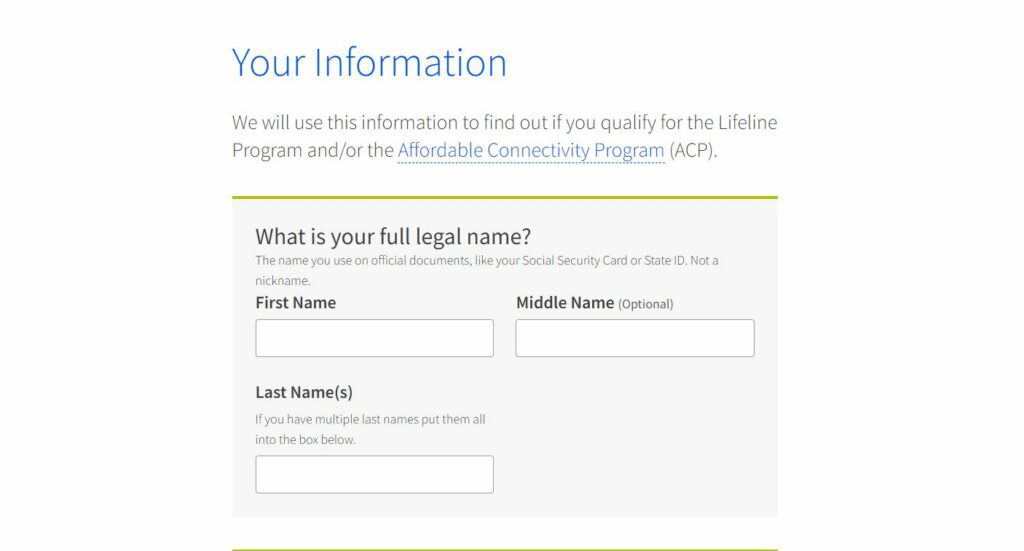 Fill out the application form to get an AirTalk Wireless free iPhone by providing the necessary details and documentation.
Click "Next" at the bottom of each page, and finally, click "Submit."
Apply Via Mail
Take the printout of an application form at https://www.lifelinesupport.org/wp-content/uploads/documents/get-lifeline/LI_Application_NVstates.pdf.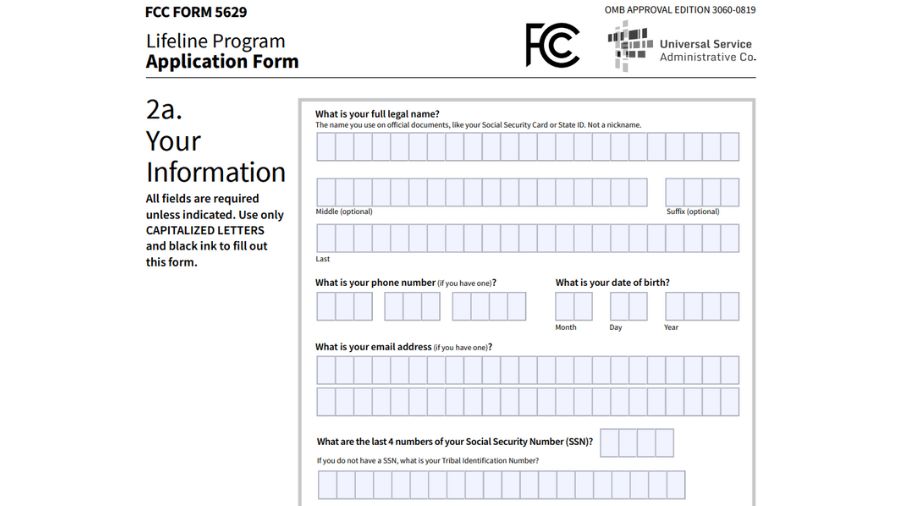 Complete the application form by providing the details.
Attach the proper documentation and send your application form to Lifeline/ACP Support Center P.O. Box 9100 Wilkes-Barre, PA 18773.
Apply Via AirTalk Wireless
Applying through AirTalk Wireless is the simplest and quickest way to get an AirTalk Wireless free iPhone.
Please follow the below instructions to apply through AirTalk Wireless –
Visit airtalkwireless.com/apply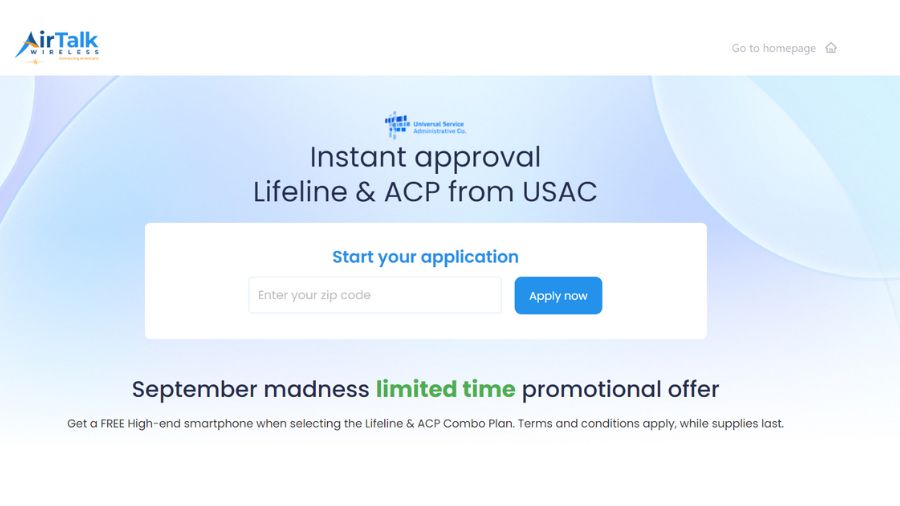 Enter your ZIP code and click on "Apply Now."
You will be redirected to your state's offer.
Select your plan and press "Apply Now."
You will see the company's online application form.
Fill out the application form by providing the necessary details and documentation.
Finally, submit your application and wait for the company's response.
If your application for an AirTalk Wireless free iPhone is approved, you can expect to get an AirTalk Wireless free iPhone within 7-10 business days.
You can also apply for AirTalk Wireless free iPhone via mail by printing the application form, filling it out, adding copies of the proof documentation, and finally sending it to the provider's address.
To check the status of your applied application, you can utilize the AirTalk Wireless Status Check option.
States in which AirTalk Wireless offers free services
To get an AirTalk Wireless free iPhone, you must stay in the state where the provider offers its services. Currently, AirTalk Wireless provides its services in the following U.S. states.
Colorado, California, Georgia, Nevada, Kentucky, Missouri, Oklahoma, West Virginia, Rhode Island, Maryland, Michigan, Mississippi, New York, North Dakota, Ohio, Pennsylvania, South Carolina, and Wisconsin.
What iPhones can you get for free from AirTalk Wireless?
AirTalk Wireless offers a wide range of smartphones and iPhones for free under Lifeline and ACP programs. Moreover, it allows eligible customers to choose the device themselves.
Currently, the company provides the following iPhones for free –
Apple iPhone 6
Apple iPhone 6s Plus
Apple iPhone 7 Plus
Apple iPhone 8
Apple iPhone SE
If you currently own an Airtalk Wireless iPhone or another device, upgrading your Airtalk Wireless phone can be done easily. We have compiled all the information you need to know.
AirTalk Wireless benefits you get under Lifeline and ACP program
The benefit you receive from AirTalk Wireless depends on your residence, the plan you select or qualify for, and its availability.
The general benefits of an AirTalk Wireless free iPhone are as follows –
Free text
Free picture messaging
Free talk
Free high-speed monthly data
Caller ID
Call waiting
3-way calling
Voicemail
Free nationwide shipping
Access to a reliable network with nationwide coverage
Limitations for an AirTalk Wireless Free iPhone
Free iPhone is attractive and may invite people to apply nationwide. Therefore, the government had to ensure that only eligible people receive a free government phone and services under Lifeline and ACP. Hence, the offer includes certain rules and limitations that are listed here.
Only Lifeline and ACP-qualifying households can get the benefits.
The eligible household can get only one Lifeline and ACP benefit.
The Lifeline and ACP benefits are non-transferable between households and members within the same family.
Eligible families can only receive benefits from one provider at a time.
To receive the benefits regularly, you must use them at least once every 30 days and recertify once a year.
You must inform the company within 30 days if you are no longer eligible.
If you are experiencing issues with Airtalk, you can find solutions for AirTalk wireless not working.
FAQs About AirTalk Wireless Free iPhone
Does AirTalk Wireless Offer Free Tablets?
AirTalk Wireless is currently providing a discount of $100 for internet-connected tablets such as the iPad, Joy Tab, and Galaxy Tab S4. However, customers must pay a co-pay ranging from $10 to $50, as no free options are available. Alternatively, you can refer to our post on how to obtain a free AirTalk Wireless iPad.
Does AirTalk Wireless Offer a Bring Your Own Phone Program?
That's right. Alternatively, you can bring your own phone instead of receiving one from AirTalk. If you want to use AirTalk's services, your device must be carrier-unlocked. Visit airtalkwireless.com/byop to see if your phone is compatible with AirTalk.
Can I Get a Free iPhone Without Any Offers?
Lifeline and the Affordable Connectivity Program are the only ways to qualify for a free iPhone from AirTalk Wireless. In addition to carrier deals, retailer deals, online giveaways, and participating in surveys, you can also get a free iPhone by becoming a marketing agent or participating in surveys.
Does Apple Give Anyone a Free iPhone?
Most of the time, no. In exchange for promoting a product through your social media account, you might be able to receive a free iPhone.
Can I Get Two AirTalk Wireless Free Smartphones and iPhones?
Not at all. The government assistance program of AirTalk has a one-per-household limit on the number of services and devices that can be provided.
Can I Keep My Own Number on AirTalk Wireless?
Your AirTalk Wireless number can remain the same.
What Network Does AirTalk Wireless Use?
AT&T provides a nationwide network for AirTalk Wireless.
Why Do I Need to Provide My Social Security Number for a Free iPhone?
In order to verify your identity or eligibility, you may be asked to do so. During the application process, you can rest assured that your personal information will be kept confidential and secure.
Does AirTalk Offer Free iPhones for Seniors?
There are no special benefits offered by AirTalk Wireless to seniors. Still, many seniors meet the eligibility requirements for Lifeline and ACP anyway, and those who do may be eligible for a free iPhone from the company.
Can I Switch to AirTalk Wireless?
The answer is yes! You can switch your Lifeline/ACP provider at any time, but please remember that you cannot receive benefits from more than one provider at the same time.
Does AirTalk Wireless give free phones?
You can choose between iconic brands such as Apple iPhone 7, Samsung Galaxy S9, and more! AirTalk will provide a FREE 4G/5G smartphone directly subsidized from its network!

Subscribe to Email Updates :