President's son Hunter Biden is expected to plead guilty to willful failure to pay federal income tax, and illegal holding of a gun, as stated by the U.S. justice department in a court filing.
Let's read the news and charges against the President's son, that may plead guilty.
Hunter Biden To Plead Guilty To Federal Tax Charges
United States President Joe Biden's son Hunter Biden will reportedly plead guilty to federal tax violations but would not face full prosecution on a separate gun charge in a deal with the justice department on Tuesday.
As part of the plea agreement, the justice department has agreed to recommend probation for two counts of failing to pay taxes on time for 2017 and 2018.
According to the sources, Hunter Biden did not pay at least $100,000 in federal taxes in 2017, and at least $100,000 in 2018 was due to the Internal Revenue Service by the deadlines.
The plea deal also states that Hunter Biden will face a pretrial diversion agreement on the offense of illegally holding a gun as a drug user. The justice department said he possessed a Colt Cobra revolver in Delaware in October 2018, knowing he was an illegal user and addicted to a controlled substance.
Also, See: FBI Searches University Of Delaware For Biden Documents
The agreement made with the justice department will drop the gun charge if Hunter Biden meets certain conditions. However, these conditions were not clarified, and a federal judge will have the final verdict on any punishment.
Also, See: What is a bipartisan gun control bill?
The charges against Hunter Biden arose from an investigation in the President's home state of Delaware by the U.S. Attorney, David Weiss, appointed by former President Donald Trump. Weiss is expected to recommend probation for the tax charges, and Hunter Biden will face arraignment in the coming weeks.
Also, See: Trump Calls On Putin To Release Details On Hunter Biden
Weiss marked that the inquiry into Hunter's charges was ongoing. But Hunter Biden's lawyer Christopher Clark declared that the plea agreement would resolve the justice department's inquiry.
Clark said, "I know Hunter believes it is important to take responsibility for these mistakes he made during a period of turmoil and addiction in his life. He looks forward to continuing his recovery and moving forward."
Over the plea deal, the White House issued a statement, "The president and first lady love their son and support him as he continues to rebuild his life. We will have no further comment."
Also, See: Articles Of Impeachment To Be Filed Against President Joe Biden
Hunter Biden has been the focus of attacks by Republicans who have accused him of misconduct in business deals with Ukraine and China. As the plea deal is likely to limit Hunter's prison time, it was used by Republicans to cause political damage to the U.S. President, who is also a 2024 presidential candidate.
Trump, who is facing several federal investigations and was indicted last week over charges of hiding classified documents from the grand jury, attacked Biden's son's plea agreement and called it an injustice.
Also, See: Trump 49 Page Indictment Download PDF & Read Online [Easy Steps]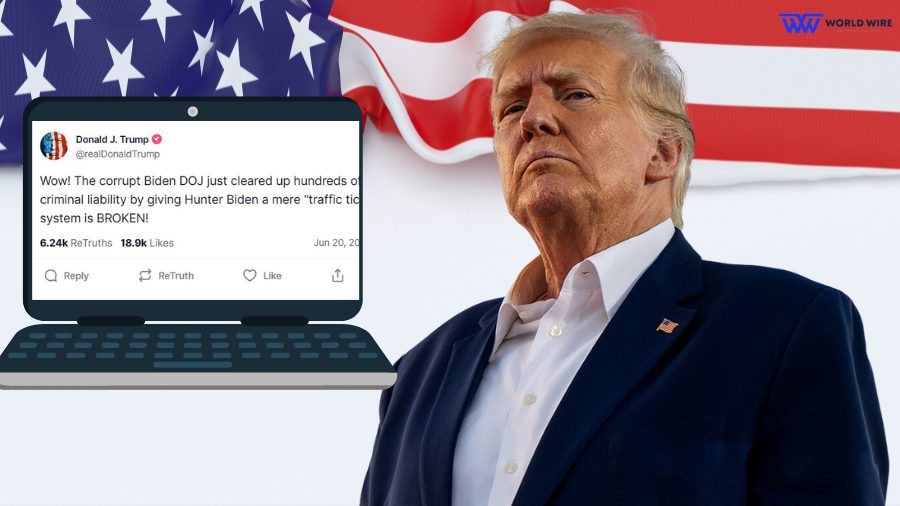 The former President said on his Truth Social platform, "The corrupt Biden's DOJ cleared up hundreds of years of criminal liability by giving Hunter Biden a mere traffic ticket. Our system is broken."
Also, the Republican chairperson of the House Oversight Committee, James Comer, clarified that the plea agreement would not stop the panel's investigation into Biden and his business dealings.
Comer asserted," Let's be clear, the Department of Justice's charges against President Biden's son reveal a two-tiered justice system. These charges against Hunter Biden and sweetheart plea deal have no impact on the committee's investigation. We will not rest until the full extent of President Biden's involvement in the bribery schemes is revealed."
While Republicans use the agreement as an opportunity to target President Biden, Democrats seemed to be happy about the plea agreement and considered sidelining the matter as they turn their attention to the 2024 elections.

Subscribe to Email Updates :