A multi-year moratorium on loan payments that started during the COVID-19 outbreak under the Donald Trump administration and was maintained by Joe Biden will end in October; interest will accumulate on loans on September 1.
Joe Biden Student Debt Cancellation Update: Democrats Issue Warning
As federal student loan payments are scheduled to resume on October 1, 87 Democratic senators and representatives wrote a letter to President Joe Biden on Wednesday pleading with his administration to offer more help.
Also, Read – Donald Trump replaces lawyer on team hours before surrender at Georgia jail.
In a 6-3 decision in June, the Supreme Court overturned Biden's proposed student loan forgiveness plan, which would have affected over 43 million Americans by allowing borrowers earning less than $125,000 annually to receive up to $10,000 in debt relief and by making $20,000 available to Pell Grant recipients from low-income households. Across the board, borrowers owe more than $1.6 trillion.
The letter, signed by Senator Elizabeth Warren, Majority Leader Chuck Schumer, Representative Ayanna Pressley, and others, was delivered almost on the anniversary of Biden's announcement that he intended to cancel $10,000 of debt for low- and middle-income borrowers. It is estimated that this plan eliminated the debts of about 20 million borrowers, including nearly half of all Latino borrowers and one out of four Black borrowers.
READ OTHER HEADLINES – Willis fights back against Meadows' push to remove charges from Fulton
The letter states, "Although the Supreme Court has chosen to stand in the way of your initial student debt relief plan, we recognize that as President of the United States, you have additional tools to provide relief. Working- and middle-class families need this relief to come as soon as possible……. Borrowers have already waited nearly a year for the relief you announced in August 2022, and critics of your plan to help 43 million Americans are likely to renew their attacks with regard to your rulemaking announcement. We urge you to reject their bad-faith, partisan attempts to delay relief and carry out your efforts to help borrowers as quickly as possible."
By email, Massachusetts Representative Jim McGovern explained to Newsweek, "If we don't deliver on student debt relief, we're telling the American people that you can only get an education and provide for yourself and your family if you have a $100,000 head start. That's not fair, and it's not right. President Biden has shown his commitment to the middle class. He's canceled the most student debt by any president in American history, but we must all keep pushing to give families who are just trying to make ends meet a little more breathing room."
Check Out Other Headlines –Ronna McDaniel, GOP candidates debating to beat Joe Biden
Pressley's post on X, formerly known as Twitter, wrote, "The student debt crisis is impacting folks across the country, and thanks to the callous Supreme Court, borrowers are facing a financial cliff this fall. That's why@POTUS must deliver #CancelStudentDebt as quickly as possible and go as broad & deep as the hurt is."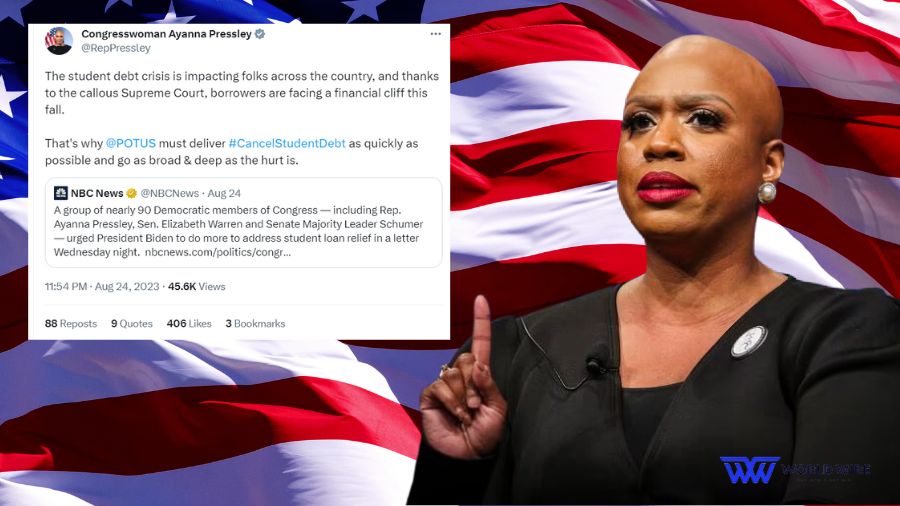 Lawmakers also requested that the Department of Education implement a rule so borrowers are not immediately and negatively harmed, expressing "grave concern" about surges in student debt delinquencies and defaults after payments resume.
Discover Top Stories – GOP Lawmaker Says House Building 'Airtight' Case Against Joe Biden
According to a recent Intelligent.com poll, 62% of loan borrowers are inclined to skip payments, with 26% stating they are "highly likely" to do so and 36% indicating they are "somewhat likely."
Read Latest News – Ron DeSantis Leaked Debate Memo Controversy Explained
The White House launched the Saving on a Valuable Education (SAVE) repayment scheme earlier this week.
The new income-driven repayment plan, which the Biden administration calls "the most affordable student loan plan ever," could potentially help over 20 million borrowers by lowering the discretionary gap from 10% to 5%, resulting in savings of $1,000 per borrower per year. It may also lower accumulated interest.
Additionally, for 12 months, it stops borrowers from being reported to credit bureaus.
Also, Check Out –  Tucker Carlson and Donald Trump reunite to try to upstage Fox News.
Jacob Channel, senior economist, and student loan repayment expert, stated, "I wouldn't recommend burying your head in the sand or just pretending that your payments don't exist; while the on-ramp can help you protect your credit score, if you don't make your payments for a year, you're still going to end up dealing with interest accumulating; you're still gonna end up dealing with your loan getting bigger because it's accumulating interest."

Subscribe to Email Updates :