In a private room at Trump's club in Bedminster, New Jersey, last Wednesday, Donald Trump welcomed Tucker Carlson and his small team for an interview.
Trump and Carlson are both enormous political personalities on the American right, and their goals and interests have long been interwoven.
Also, Read – Mark Meadows Pleads to Judge to Avoid Arrest in Georgia
However, a mass of texts made public as part of a lawsuit against Fox in March showed Carlson had once privately admitted he despised Trump "passionately" and couldn't wait till he could "ignore Trump most nights."
Tucker Carlson and Donald Trump reunite to try to upstage Fox News.
As Trump sought the third consecutive Republican presidential nomination and Carlson sought to reinvent his career outside cable television, The two had set aside any lingering hostility to take on Fox News.
On Wednesday night, the outcome will be posted on X, formerly known as Twitter. It will air directly after a major Fox event: the first Republican presidential debate of the 2024 election, which front-runner Donald Trump is skipping.
This account of how Trump and Carlson's meeting came about is based on conversations with a dozen current and former Fox News workers as well as Trump advisors who spoke under the condition of anonymity to disclose their interactions with one other.
Read More – Ron DeSantis Leaked Debate Memo Controversy Explained
Even when he skips the RNC-sponsored debate, Trump can use the interview to deflect attention away from rivals who are polling lower. It's also a not-so-subtle dig at Fox, which helped him launch his political career.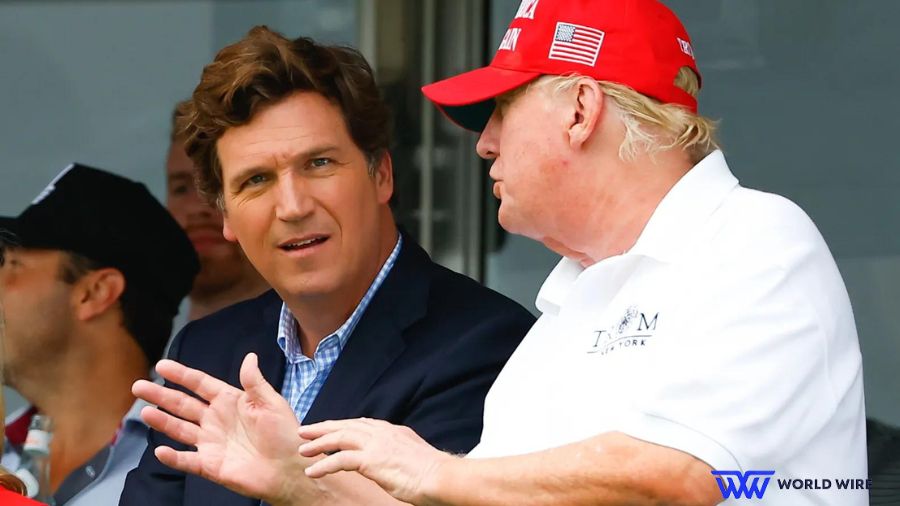 However, he has recently been looking for another Republican contender to support in the presidential race.
Also, Read Other Headlines – Vivek Ramaswamy: 10 Fundamental Truths about His Presidential Run
Carlson was Fox's highest-rated primetime personality before his program was unexpectedly canceled due to the network's $787.5 million settlement with Dominion Voting Systems in April. The meeting with Trump may give Carlson's ambitions to grow his viewership on X.
The spokesperson for Fox News stated that the network "looks forward to hosting the first debate of the Republican presidential primary season offering viewers an unmatched opportunity to learn more about the candidates' positions on a variety of issues, which is essential to the electoral process."
According to two people engaged in the arrangement, an interview between Carlson and Trump almost didn't happen as Carlson was supposed to leave the country this week to conduct interviews with Serbian President Aleksandar Vucic and Hungary's dictatorial Prime Minister Viktor Orban. Meanwhile, Trump had been hesitating over whether he would participate in the RNC debate on Wednesday or any other.
Read Latest News –  Republicans Furious as Biden Sells Unused Trump Border Wall for Millions
Trump has long complained that the network seems to have turned against him, as Fox frequently features competitors like Florida Governor Ron DeSantis and tech entrepreneur Vivek Ramaswamy favorably.
Glenn Youngkin, the governor of Virginia, has been urged to run for office by Fox co-founder Rupert Murdoch.
Even after learning of the Carlson interview, Trump did not formally inform RNC Chair Ronna McDaniel of his decision until Sunday. Trump informed his advisors that he did not want Carlson's interview to air on X because that network competes with Trump's social media platform, Truth Social.
However, Carlson and his group have been getting to know Elon Musk for months and informed Trump that they didn't believe his platform had the required reach.
Read More – Trump Employee 4' Retracts Testimony Controversy
Nothing else is scheduled between the two men. While working to establish a new business and reconstructing studios in Maine and Florida, Carlson wants to keep a distance from Trump, whose bogus rejection of the results of the 2020 election angered Carlson and contributed to Fox becoming the subject of pricey legal disputes.

Subscribe to Email Updates :