In a recent interview on abortion, Vice President Kamala Harris made a blunder that, "The average American is only one emergency away from bankruptcy."
Kamala Harris makes a BIG ERROR during an interview.
According to The Heritage Foundation, Harris misspoke the truth while trying to state that "most Americans are a $400 unexpected expense away from bankruptcy."
KAMALA HARRIS: "Most Americans are a $400 unexpected expense away from bankruptcy!" pic.twitter.com/tlnvvvRt3R

— World-Wire (@WorldWire) September 2, 2023
The statement sticks out, contrary to President Biden's assertion that Bidenomics has improved the economy in America more than any other policy.
Also, Read –  Alexandria Ocasio-Cortez STUMBLES after reporter's question.
American households are in serious financial difficulties, which is a hard fact. Nowadays, many people borrow money on their credit cards only to cover their monthly costs since they have no other option. The Biden administration is misrepresenting the situation and is powerless to improve things.
The Heritage Foundation Reported
"Harris's point comes from a recent Morning Consult survey, which found that in the third quarter of this year, only 46% of Americans could cover a $400 unexpected expense without going into debt. That's not the same as being $400 away from bankruptcy, but it's still really bad. It shows how expenses as commonplace as a surprise car repair or a medical bill are forcing many American families into debt — at a time when interest rates are disturbingly high."
Check Out Other Headlines – Biden Pledges to Strengthen Hawaii's Electric Grid Against Disasters
The conservative think tank continued, "It also raises a very disconcerting question: Is this the new Bidenomics normal?"
The Heritage Foundation continued by emphasizing the grave financial circumstances for the American household.
The outlet stated, "The Lending Club's Paycheck-to-Paycheck Report for June confirms the Morning Consult survey. It found that a majority of Americans (54%) were living paycheck to paycheck. That includes 53% of consumers who earn $50,000 to $100,000 per year. So, this problem extends well beyond lower-income families, although it certainly hits you harder the less you have,"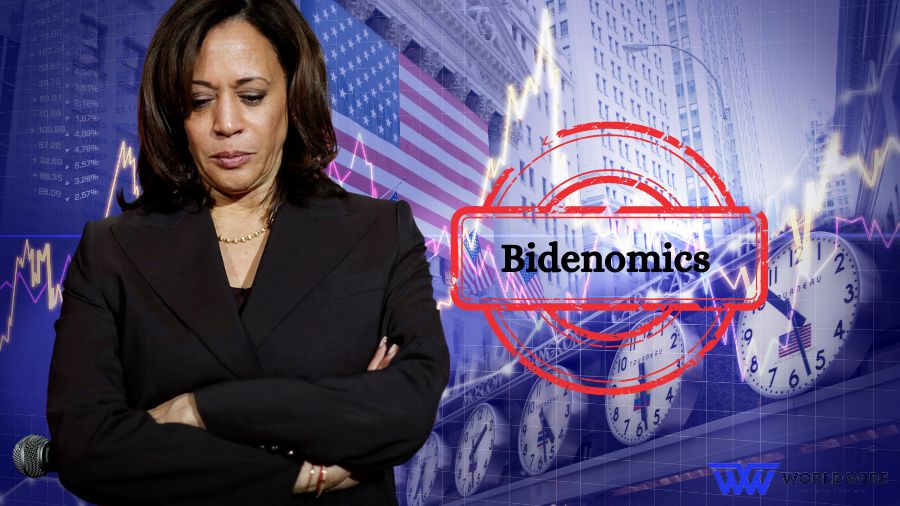 According to The Heritage Foundation, when Joe Biden took office, the personal savings had gone from $2.3 trillion to $5.7 trillion when the government poured money into everything during the pandemic and now decreased to a pitiful $862 billion. Although those are significant figures, they indicate an impending disaster for Americans.
READ MORE – Trump's Promise to Lock up Political Enemies Sparks Outrage
This has not just impacted Americans with lesser incomes, but Bloomberg estimates that the average middle-class household has lost more than $33,000 in real value solely this year.
The Heritage Foundation also noted, "The situation is so bad that Americans are even draining their 401(k) plans to cover expenses. According to Bank of America's analysis of its clients' employee benefits programs (with a total of over 4 million plan participants), 36% more people drained their retirement accounts to make ends meet in the second quarter of 2023 as compared to the same period last year,"
Read Latest News – Vivek Ramaswamy Hit Mike Pence Over January 6
According to The Heritage Foundation, "The Bureau of Labor Statistics publishes the Consumer Price Index (CPI) each month, a common measure of inflation. CPI takes a basket of commonly purchased goods and services and prices them on a monthly basis. In January 2021, when Biden took office, that basket cost about $261.50. In July of this year, the same basket cost $305.70. That's a huge 16.9% increase in only two and a half years. It's also larger than the CPI increase for any full four-year presidential term since the 1980s, and Bidenomics has 16 months to go,"
Also, read – Trump Open to Vivek Ramaswamy as Vice President.
With Biden in charge, the economy in this country is headed for a financial collapse if drastic changes are not made quickly.
The report stated, "Exacerbating the problem, wage growth has failed to keep pace with inflation—increasing only 13% since Biden took office (versus nearly 17% for inflation). When you're living paycheck to paycheck, as most Americans are, that kind of disparity hurts,"
What's More – Trump's Trials Could Be a Distraction in 2024 Campaign
The Federal Reserve Bank of New York said that in the second quarter of 2023, credit card debt reached $1 trillion. The highest ever is that. It's no surprise that families struggle to make ends meet when you consider the high credit card interest rates—between 15% and 22%, based on the most recent JD Powers Annual Credit Card Satisfaction Survey and Wallet Hub, respectively.
Despite what the Left claims, Bidenomics is failing, and things are getting much worse.

Subscribe to Email Updates :