In a recent event, Kari Lake discussed her next possible move for the 2024 election.
Here you have the details of the news
Kari Lake Speaks Out About Next Possible Political Move
Kari Lake is a rising star in the Republican Party and will be a major player in the 2024 election cycle. She still weighs her options and has yet to commit to one position Governor, vice president, or the U.S. Senate.
In a recent Family Leadership Summit, a Christian conference in Iowa Lake said she might run for the upcoming Arizona Senate race.
Lake is a Famous Personality among the far-right wing of the Republican Party, and she also has been a vocal supporter of former President Donald Trump. She has also been a leading proponent of the false claim that the 2020 election was stolen from Trump.
Also, read the news  "Trump to Kick Off 2024 Campaign with Rally in Erie."
She will be a strong contender if Lake decides to go for the U.S. Senate in Arizona. She has a large following among Republican voters and is well-known for her fiery rhetoric.
Her social media following comprises conservative Republicans who support her views on issues like election fraud, immigration, and gun control.
However, she would also face some challenges. The Arizona Senate race will be competitive, and Lake needs to broaden her appeal beyond her support base.
Also, read the news "Trump Qualifies for First Debate, But Will He Show Up?"
It is unclear whether Lake would have a realistic chance of winning the Republican presidential nomination in 2024. However, she will be a strong contender for a Senate seat in Arizona and could also be a candidate for a position in the Trump administration.
A recent poll found that Kari Lake is the frontrunner in the Republican primary for the U.S. Senate seat in Arizona. Lake is followed by Karrin Taylor Robson, Pinal County Sheriff Mark Lamb, Blake Masters, and Abraham Hamadeh.
Also, read the news "LaRose Aims to Become Ohio's Next Senator"
Other main candidates for the GOP presidential nomination, including former Vice President Mike Pence, former Secretary of State Mike Pompeo, former U.N. Ambassador Nikki Haley, Gov. Glenn Youngkin, former Arkansas Gov. Asa Hutchinson, Sen. Tim Scott, former Wyoming Rep. Liz Cheney, and entrepreneur Vivek Ramaswamy all received single-digit support.
Pompeo and Youngkin will not participate in the GOP nomination.
Also, read the news "Ramaswamy: Jan. 6 Was a Result of Many Factors, Not Just Trump"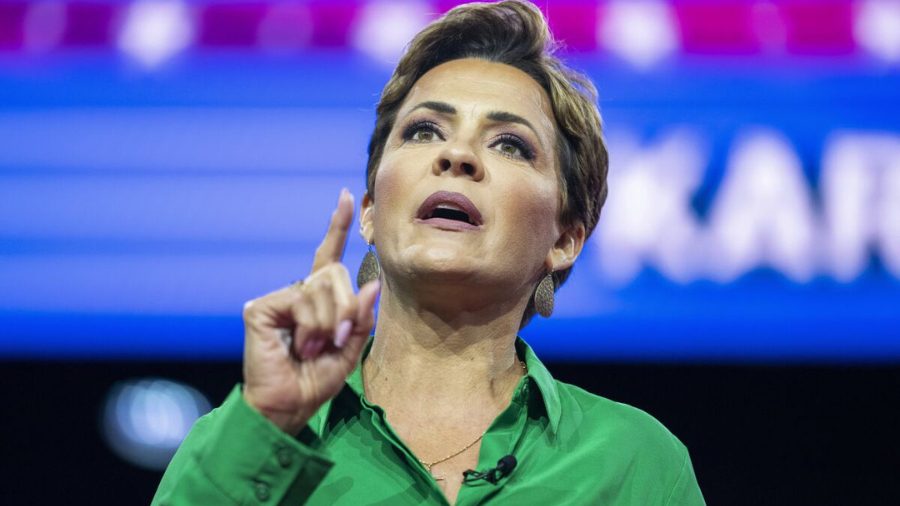 Kari Lake recently revealed what awaits her soon, and speculation is common that she could run for the U.S. Senate next year.
In a recent interview, Lake said she is "still evaluating her options" and will decide her situation and plans "in the coming months."
It will be interesting to see what Kari Lake decides to do in the future. She is a talented politician with a bright future and could significantly impact the Republican Party in the future. The report states that she would be a good politician with millions of followers on social media.
Also, read the news "Watch 2023 Lincoln Dinner, Iowa with Donald Trump Live"
Kari Lake was born in 1969 in Rock Island, Illinois. She graduated from the University of Iowa with a degree in communications and journalism. She began her career as a broadcaster in Davenport, Iowa, and then moved to Phoenix, Arizona, where she worked as a newscaster for KSAZ-TV from 1999 to 2021.
She is a conservative Republican and former supporter of President Donald Trump. She has been a leading advocate of the false claim that the 2020 election was stolen from Trump.
Lake has limited political experience but has been a successful media personality. She is a charismatic speaker and is known for her fiery rhetoric. She is also a skilled fundraiser and has been able to raise a large amount of money for her campaign.
It is still being determined whether Lake would be successful if she won elected office. She has no government experience and has been criticized for lacking knowledge of some political issues. However, she is a popular figure among Republican voters and has a strong support base.

Subscribe to Email Updates :