On September 12, speaker Kevin McCarthy opened an impeachment inquiry against President Joe Biden. Under the pressure of hard-right lawmakers, he gives the order to investigate Biden.
McCarthy directs House to open Impeachment Inquiry against Biden
McCarthy is ordered to file a formal House impeachment inquiry against Biden and wants to see his family dealings from where he is getting that, financial records, and income source.
Also, read – Vivek Ramaswamy wants to trigger mass layoffs at federal agencies.
He made some allegations against Biden and added a statement, "Paint a picture of a culture of corruption." The main allegation he put on Biden is where the income comes from for Biden's son, Hunter Biden's business before Biden became the President. After months of long investigation by the House Committee, they still find proof against Biden.
Check Out Other Headlines – Trump to Speak at Women's Leadership Summit, Promising to Empower Women
For many years, the Republicans haven't found evidence against Biden from where he makes payments to his son, Hunter Biden, but the profit comes from his son's deal.
McCarthy also said, "These are allegations of abuse of power, obstruction, and corruption, and they warrant further investigation by the House of Representatives. I don't make this decision lightly, and regardless of your party or who you may have voted for, these facts should concern all Americans. That's why today I am directing our House committee to open a formal impeachment inquiry into President Joe Biden."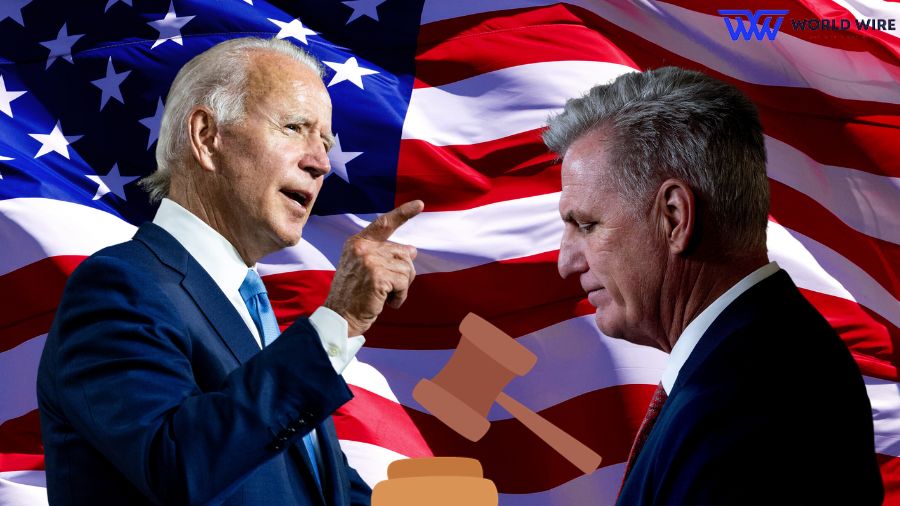 What's More – DeSantis: Biden and Trump Too Old for Presidency
Also, the White House spokesperson Ian Sam, Biden's supporter, called the impeachment inquiry "extreme politics at its worst." Also, Sam posts on his social media account, "House Republicans have been investigating the President for 9 months, and they've turned up no evidence of wrongdoing. His own GOP members have said so; he vowed to hold a vote to open impeachment, but now he flip-flopped because he doesn't have support."
After the investigation is over on Monday, House Democrats are preparing a 14-page memo regarding the failure of the impeachment inquiry against the President. Rep. Jamie Raskin said, "Chairman Comer's investigation has disproven the Republican allegations against President Biden."
MUST READ – AOC: McCarthy Is 'Wasting Taxpayer Money' on Biden Impeachment 
On Tuesday, leader Chuck Schumer called the impeachment inquiry "absurd." Also, he added, "I have sympathy with speaker McCarthy. He is in a difficult position. But sometimes you got to tell these people who are way off the deep end, who have no interest in helping the American people, who want to pursue their witch hunts – that they can't go forward."
In America's history, only 3 presidents, Andrew Johnson, Bill Clinton, and Donald Trump, who have already been impeached twice, come in an impeachment inquiry.
READ LATEST NEWS Headlines – MyPillow CEO Mike Lindell Loses His Cool Over "Lumpy Pillow" Comment
As McCarthy announced a formal impeachment inquiry against President Biden, this gave the legislative body the power to investigate Biden's and his relative's bank records. Gaetz added, "If McCarthy were serious about holding the Biden crime family accountable, we wouldn't have some rushed, rattled statement; we would have a subpoena strategy that would reflect seriousness."
Also, Read – Americans Increasingly Disapprove of Biden's Job Performance, Poll Shows
This investigation takes place by 3 House Republicans, Comer, Jim Jordon with the judiciary committee, and Jason Smith. At last, McCarthy added, "We are committed to getting the answers for the American public – nothing more, nothing less. We will go wherever the evidence takes us."

Subscribe to Email Updates :