Vivek Ramaswamy, the businessman-turned-candidate, discussed his plans with NBC News ahead of a significant policy speech at the America First Policy Institute in Washington, D.C., on Wednesday, where he is scheduled to explain how to reduce the federal workforce.
His plans include closing several federal agencies and using "reduction in force" regulations to reduce government workers.
Vivek Ramaswamy wants to trigger mass layoffs at federal agencies.
Vivek Ramaswamy thinks he has the ideal strategy to challenge the administrative state and the authority held by career public servants. He wants to instigate mass layoffs at federal agencies and defend his case before the Supreme Court.
Also, Read – Donald Trump to headline Women's Leadership Summit
The measures Ramaswamy advocates for the federal government would represent some of the broadest short-term changes ever. And he plans to carry out a sizable portion of it through executive order, without the need for votes from Congress, which passed the laws forming the agencies that Ramaswamy wants to abolish.
Check Out Other Headlines – DeSantis: Age a Factor in the 2024 Presidential Race
This goes well beyond what previous Republican administrations determined to be the extent of their authority.
Ramaswamy predicted that the civil service protections for career officials would be the focus of the legal problems he would encounter. According to what he understands, they only apply to individual employee firings, not mass layoffs.
What's More – AOC Tears Into McCarthy for 'Absurd' Biden Impeachment Inquiry
Five government agencies, including the FBI and the Department of Education, are among those he wants to abolish. He added that he would also abolish the Food and Nutrition Service, the Bureau of Alcohol, Tobacco, Firearms, and Explosives, and the Nuclear Regulatory Commission.
According to Ramaswamy, he will effectively dissolve or restructure each organization at the beginning of his administration.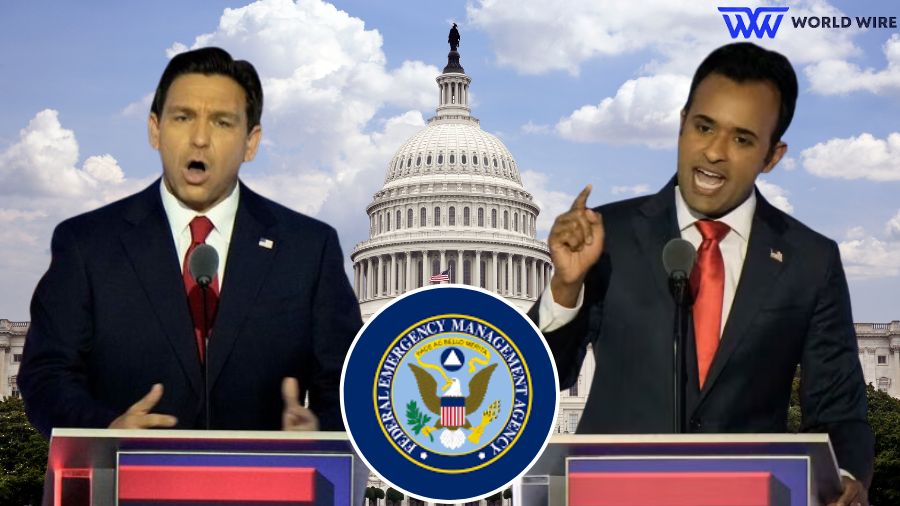 READ Latest News headlines- MyPillow CEO Mike Lindell Loses His Cool Over "Lumpy Pillow" Comment
He claimed that thousands of FBI personnel would be transferred to organizations like the Drug Enforcement Administration and the U.S. Marshals Service.
Ramaswamy is not the only Republican contender to advocate for reducing the size of the federal workforce. Florida Governor Ron DeSantis has also advocated abolishing The Internal Revenue Service, the IRS, and the Department of Commerce, Energy, and Education.
MUST READ – Federal Lawsuit Filed to Bar Trump From Running for President in New Mexico
Ramaswamy stated that his speech on Wednesday will provide more clarity regarding the authority he believes a president has to enact such changes without congressional approval, going beyond the "Schedule F" executive order that was briefly in effect under the Donald Trump administration and that Donald Trump and other Republican candidates want to reinstate at the start of a new administration.
Tens of thousands of federal employees who participate in policy choices would have their employment protections effectively revoked by the order, making it far simpler for a president to remove them.
Also, read – Trump Asks Judge to Step Aside in Federal Case Accusing Him of Trying to Overturn 2020 Election
Rivals have criticized Ramaswamy's views, including former Vice President Mike Pence and former governor of New Jersey Chris Christie. After the first GOP primary debate last month, Pence's campaign distributed a press release to reporters claiming that Ramaswamy's proposal to shut down the FBI amounted to an embrace of "the Radical Left's pro-crime, anti-cop 'Defund the Police' agenda."
Ramaswamy's proposal to abolish the FBI was deemed "one of the stupidest ideas I've ever heard" by Christie.

Subscribe to Email Updates :