Straight Talk EBB Program – Straight Talk is one of the few telecom service providers that provide free internet under the EBB program and paves the way for reducing monthly internet costs by at least $50.
This seems like a good deal, but how can one get the Straight Talk EBB Program? What's the application process and eligibility?
All these questions often confuse us, but you need not fret. This article covers detailed information about what this Straight Talk EBB Program is, how to apply, and more.
So, without any further ado, let's get started –
What is the Straight Talk EBB Program?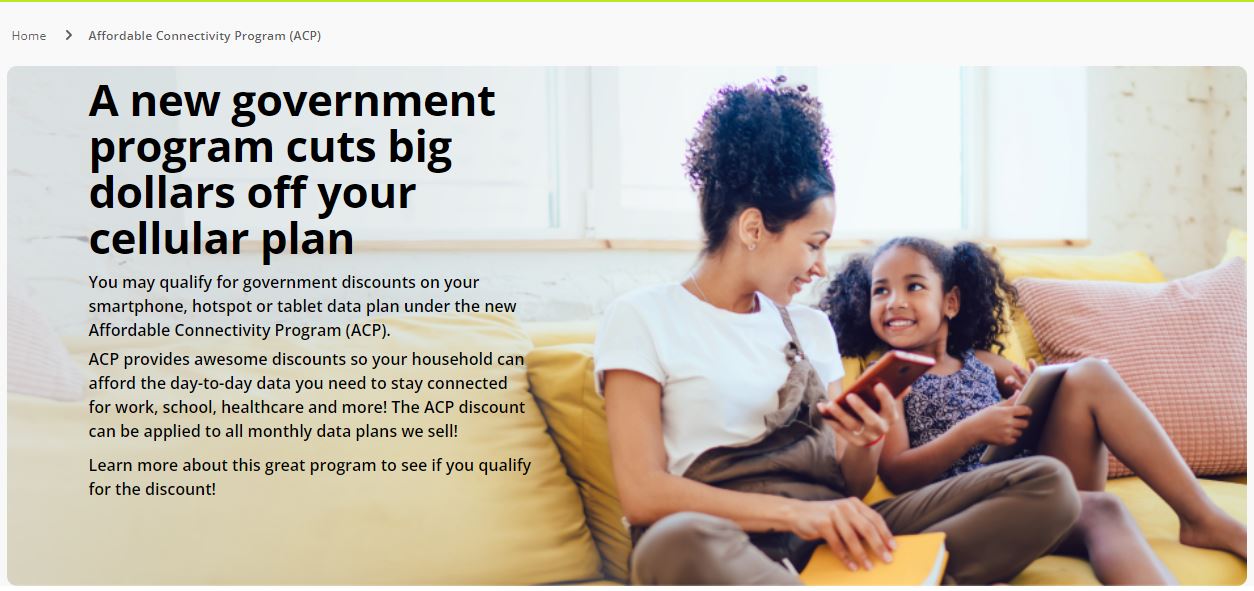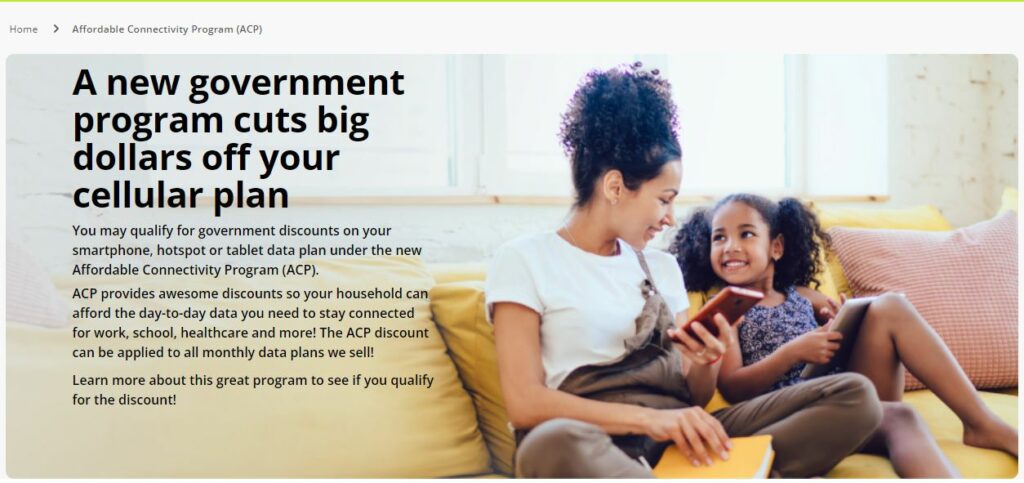 Tracfone, the parent company of Straight Talk, is a reputable cellphone service provider that the Government has collaborated with to help make internet access more affordable for low-income households.
Numerous persons adversely affected by Covid-19 were given access to broadband connections with the help of this program which helped them to continue their jobs, attend school, and keep in touch with their families.
Thanks to the Straight Talk EBB Program, people were eligible for a $50 discount on their internet service each month, and it offered $75 a month discounts to those who live on Tribal lands.
In addition, a one-time $100 off coupon was distributed, redeemable for the purchase of laptops, desktops, and tablets.
Eligibility Criteria For The Straight Talk Emergency Broadband Benefit Program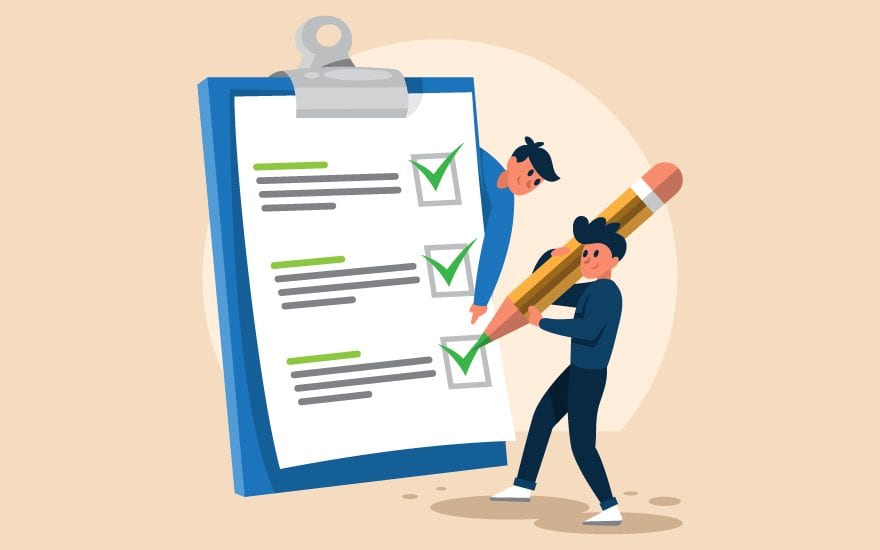 There are requirements to participate in the Straight Talk Emergency Broadband Benefit program.
Below, we have shared a list of ways you can show your eligibility for this program –
Unemployment
Documentation supporting your claim of job loss/leave of absence is required for acceptance into the Straight Talk EBB Program. In addition, you shouldn't have made more than $99,000 in total earnings.
Low-Income Household
The income requirements for the Straight Talk EBB Program are at or below 135% of the federal poverty guidelines, and the amount of people in your home affects how these rules are applied.
Each applicant must present income proof in tax returns, W-2 forms, or other official papers.
Participant in the Lifeline Assistance Program
All participants in the Federal Lifeline program are automatically enrolled in the Straight Talk EBB Program, and you can either forego the EBB or Lifeline program or participate in both.
Children and Dependents
Once you are approved for the EBB Straight Talk program, your dependents will be eligible for the program as well. Your family is eligible for the Straight Talk EBB Program if any of your children or dependents are enrolled in the Free and Reduced-Price School Lunch/Breakfast Program.
Participation in Benefits Programs sponsored by the Government
You may qualify for the Straight Talk EBB Program if you participate in one of several federal assistance programs.
Here are some of them –
Supplemental Nutrition Assistance Program(SNAP)
Federal Public Housing Assistance(FPHA)
Supplemental Security Income(SSI)
Medicaid
Veterans Pension and Survivors Benefit Program
Federal Pell Grant awarded in the present year
Free School Breakfast Program or Reduced-price School Lunch Program
The Tribal Programs that will get you in –
Tribal Head Start
Tribal Temporary Assistance for Needy Families( Tribal TANF)
Food Distribution Program on Indian Reservations(FDPIR)
Bureau of Indian Affairs General Assistance(BIA)
How to register for the Straight Talk EBB Program
Since the program ended on December 30, 2021, you can no longer apply for the Emergency Broadband Benefit. However, this program is now replaced by its successor, the Straight Talk Affordable Connectivity Program.
You can apply for Straight Talk ACP and get all the benefits of the Straight Talk EBB Program along with some additional perks –
Visit Straight Talks' Affordable Connectivity Program page. You can directly visit this page by entering this URL – https://www.straighttalk.com/acp on your browser's address bar.
Scroll down and click on Apply Now button. It will redirect you to the application form page.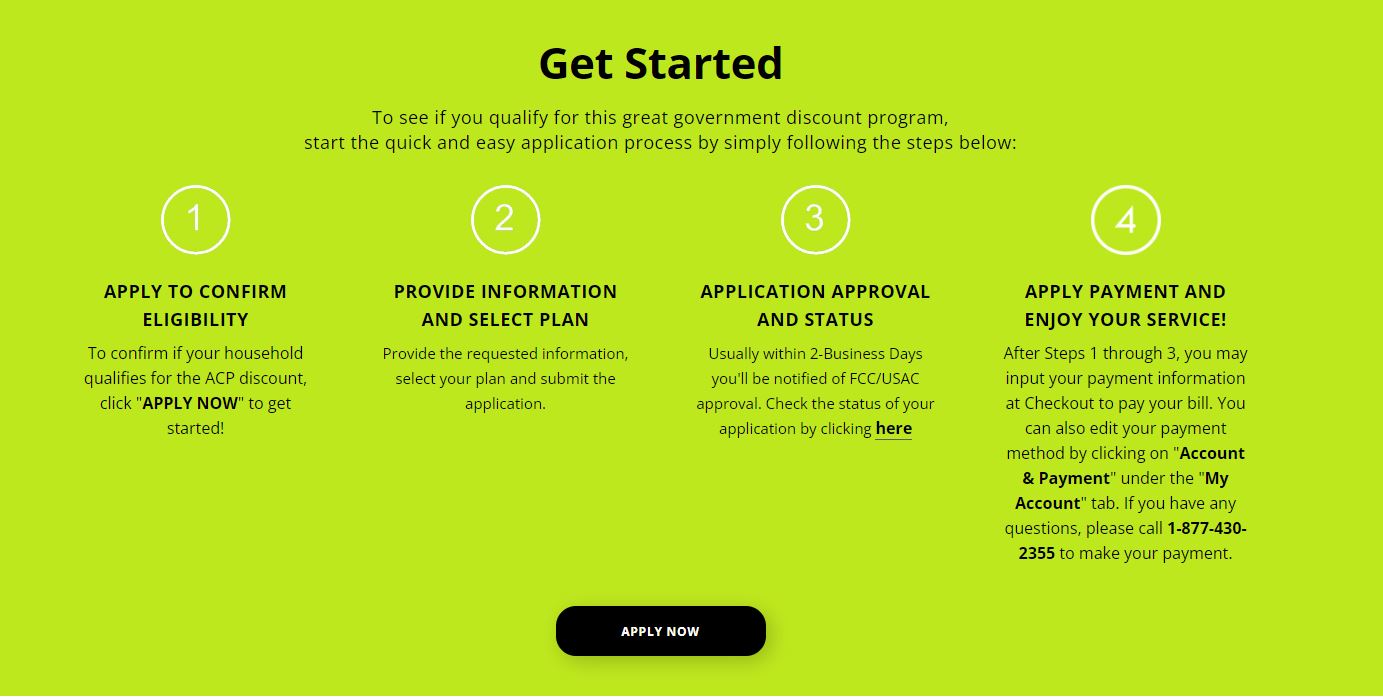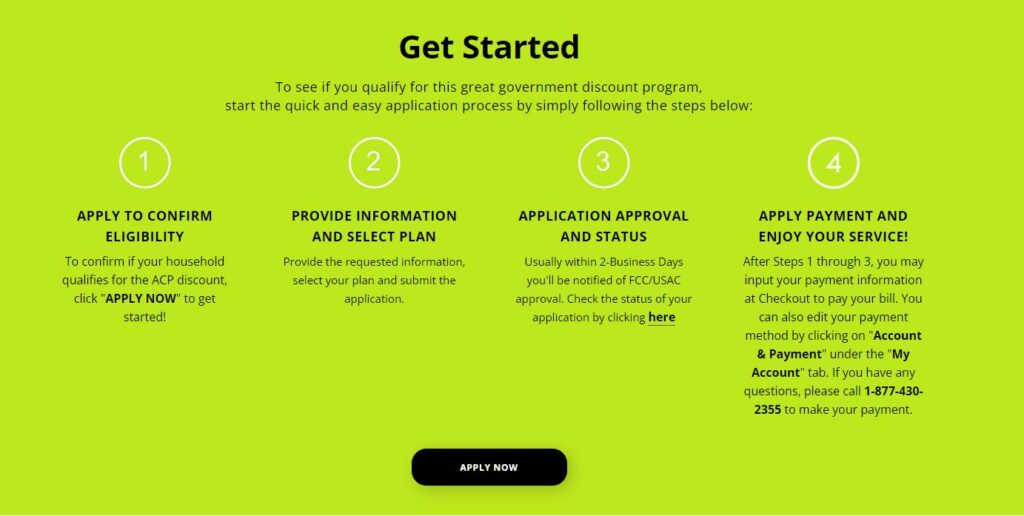 Fill in all your details and click on the Continue button.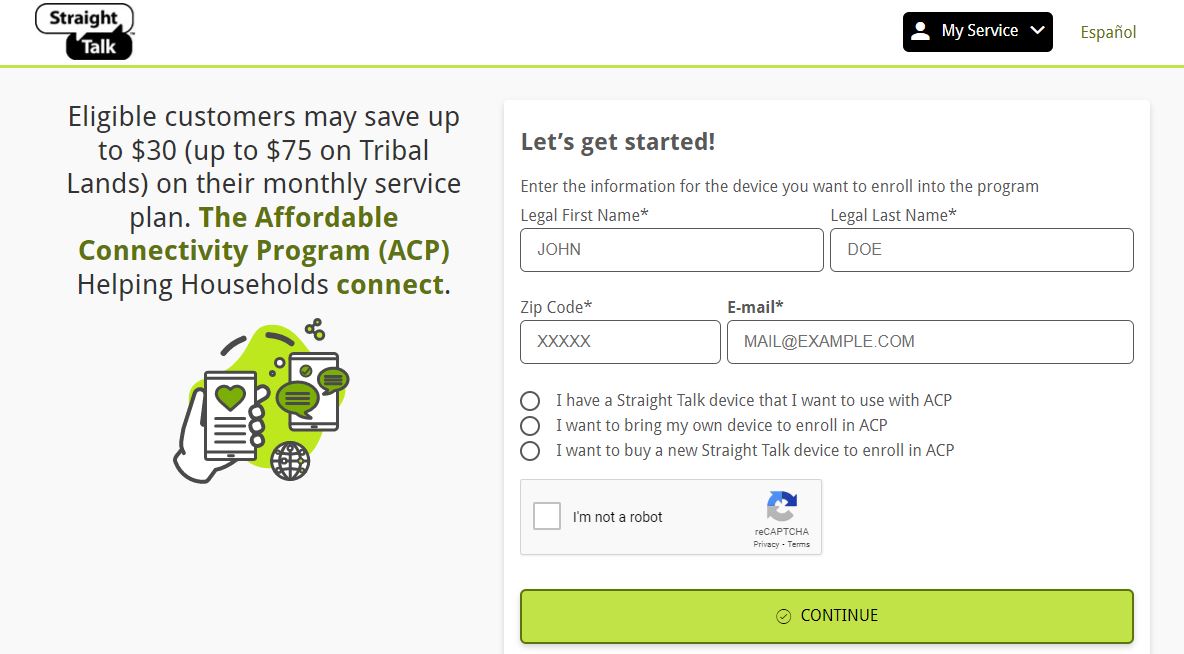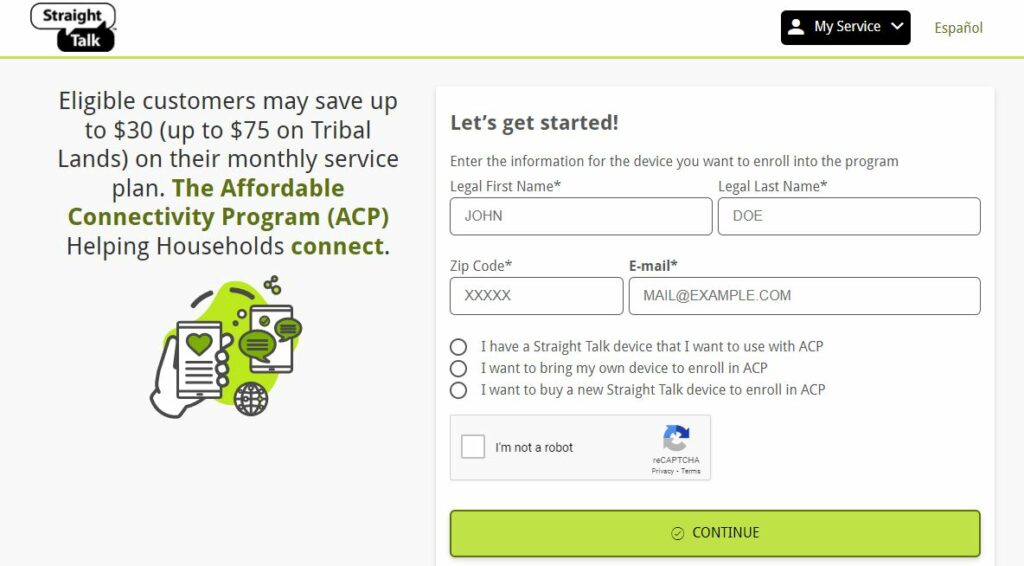 After that, it will ask for some documents. Upload them.
They will ask you to select your plan.
That's it. Once your application is submitted, wait for a couple of days to hear back from the Straight Talk team.
Alternatively, you can submit your application by mail to avoid the hassle of filling out the form online.
For this, you'll need to head over to the Straight Talk website, print out an application, fill it out in full, and mail it to the following address: PO Box 7081 London KY 407742.
If you have questions about the EBB program or need help applying, you may reach a Straight Talk customer service agent at 1-833-343-8322.
Here are some guidelines to follow if you want to submit your application online –
See if you meet the requirements by visiting the Straight Talk EBB Program.
Provide your personal information using an online application form.
Copy your eligibility documents and attach them with your application.
Verify the information and documents you attached to your application.
The next step is for Straight Talk to let you know if you qualify for EBB benefits.
How to Check the Status of Your Straight Talk EBB Application
Straight Talk will immediately inform you if you've been accepted into their EBB program. They will also contact you if they need further paperwork to complete the verification process.
If they don't, you can always visit the Emergency Broadband official page to see where your application stands.
Restrictions of the Straight Talk Emergency Broadband Benefit Program
There are some restrictions to consider when using the Straight Talk Emergency Broadband Benefit and some of them are mentioned below –
When EBB is active, it can only be used by one person in the home.
There are some things that you can't buy with your one-time $100 coupons, like phones.
If the monthly or one-time discount you receive is less than the total cost of the gadget or service, you will have to pay the difference.
Benefits from the EBB cannot be given to anyone, not even a member of the same family. But you can change their provider if you're unhappy with their service.
Why choose the Straight Talk EBB Program?
There are several positive aspects to applying for the Straight Talk EBB Program –
With this plan, you can download as much as you want without paying a dime.
You can talk and text as much as you want.
Hotspot data can be shared with up to 10GB.
A connection to the internet that works flawlessly.
A one-time savings of $100 is provided by the program toward the acquisition of eligible electronic devices.
FAQs regarding Straight Talk EBB Program
Do you get a free month of service from Straight Talk?
Returning users can earn prizes on Straight Talk that will eventually amount to a free monthly subscription. Log in to your account and visit the rewards page to learn more about their loyalty program, or send the word "Rewards" to the number 61161.
Where can I find a Straight Talk coupon code?
You must sign up for their email list to receive a Straight Talk discount coupon. This way, anytime they have a sale or a new discount, the coupon code will be emailed to you automatically.
How can you get in touch with Straight Talk's support team?
If you have any questions or concerns, call the Straight Talk customer support line at 1-877-430-2355.
What do Qualified Families Receive?
Those who qualify often get access to complimentary wireless internet plans. And most importantly, these packages would provide unlimited data and texting.
In addition, you may be eligible for additional benefits, depending on your location. When you apply for services, the service providers will let you know what advantages.
Can I apply for EBB free laptop?
Yes, you can apply for EBB free laptop program to get a free laptop. The application process is quite identical to the one shared above in this article.
Difference Between The Emergency Broadband Benefit and Affordable Connectivity Program
The Affordable Connectivity Program replaced the Emergency Broadband Benefit program. Its purpose is to carry on the work of its predecessor but over a longer time frame. The EBB and ACP differ marginally from one another, and some of the amendments that the FCC made are listed below –
The ACP first lowered the monthly discount for non-Tribal land residents from $50 to $30, and those fortunate enough to call Tribal lands home can be certain that their $75/month discount will continue to apply.
Your annual income must be at or below 200% of the federal poverty level to qualify for the Affordable Connectivity Program, which was 135% for EBB.

Subscribe to Email Updates :