Tickets for Tucson Rally Whiskey Roads with Glenn Youngkin – The 2022 Arizona gubernatorial election will be held on November 8, 2022, to elect the next governor of Arizona.
Arizona gubernatorial Republican candidate Kari Lake will campaign with Virginia Governor Glenn Youngkin in Tucson on Wednesday.
This campaign came to light when Steve Schmidt described Kari Lake as a "loon," a "pathological liar."
Youngkin is all set to hold a rally to support Kari Lake after Rep. Liz Cheney pointed out recently that Glen Youngkin should not campaign for Kari Lake.
This article will let you learn about the Kari Lake Rally on Whiskey Roads with Glenn Youngkin, how to book tickets for the Kari Lake Tucson Rally, the rally schedule, etc.
Tickets for Tucson Rally Whiskey Roads
Virginia Gov. Glenn Youngkin will hold a rally on Whiskey Road with Rep. Kari Lake.
If you wish to be a part of the Tucson Rally, register yourself by following the steps below.
Steps to book Tickets for Tucson Rally, Whiskey Roads
Open this link (https://events.karilake.com/events/tucson-rally-with-kari-lake-and-governor-glenn-youngkin) to register yourself for the Tucson Rally.
You will be redirected to a page displaying the Tucson Rally with Kari Lake and Governor Glen Youngkin. Fill up the details, like first name, last name, email id, address, etc.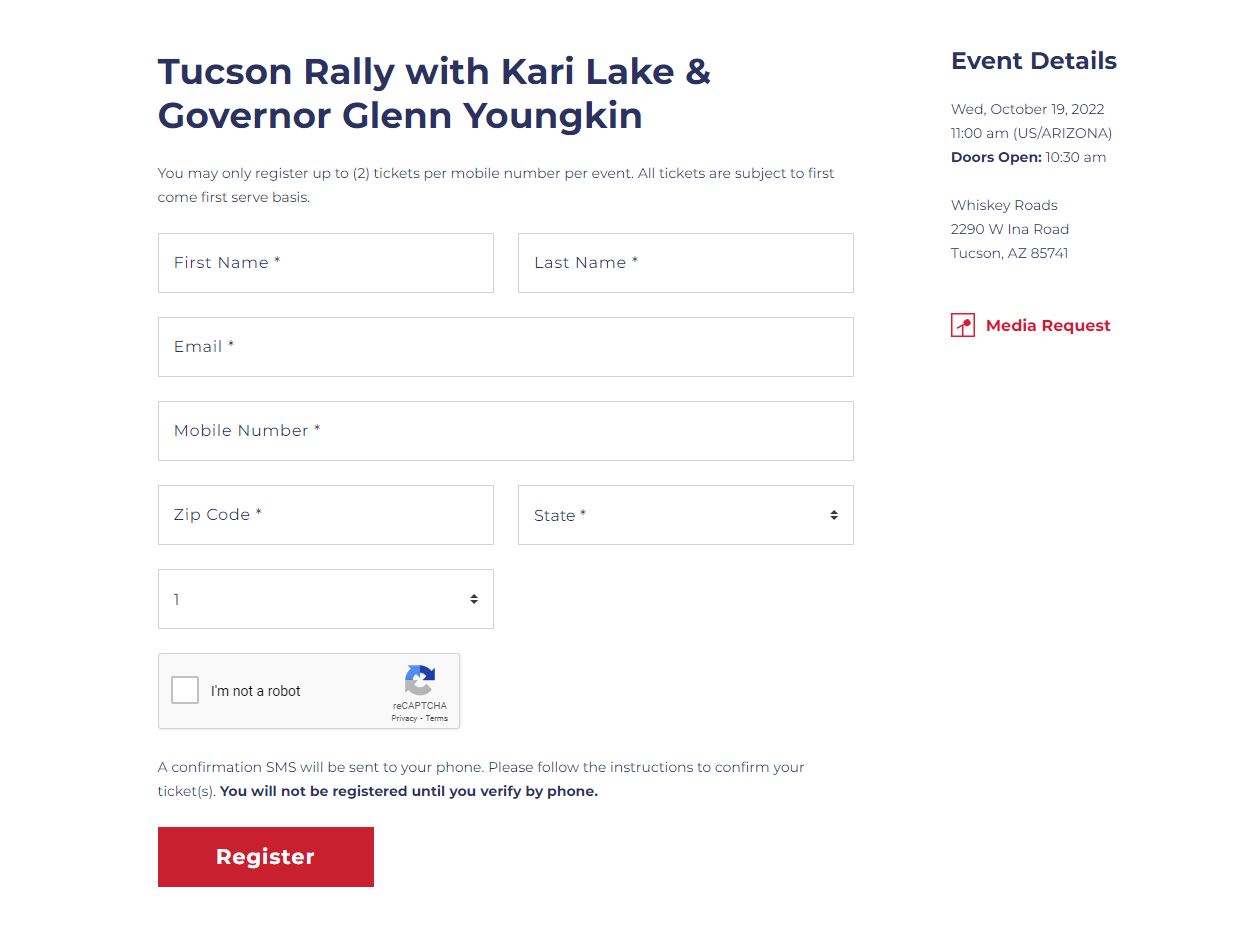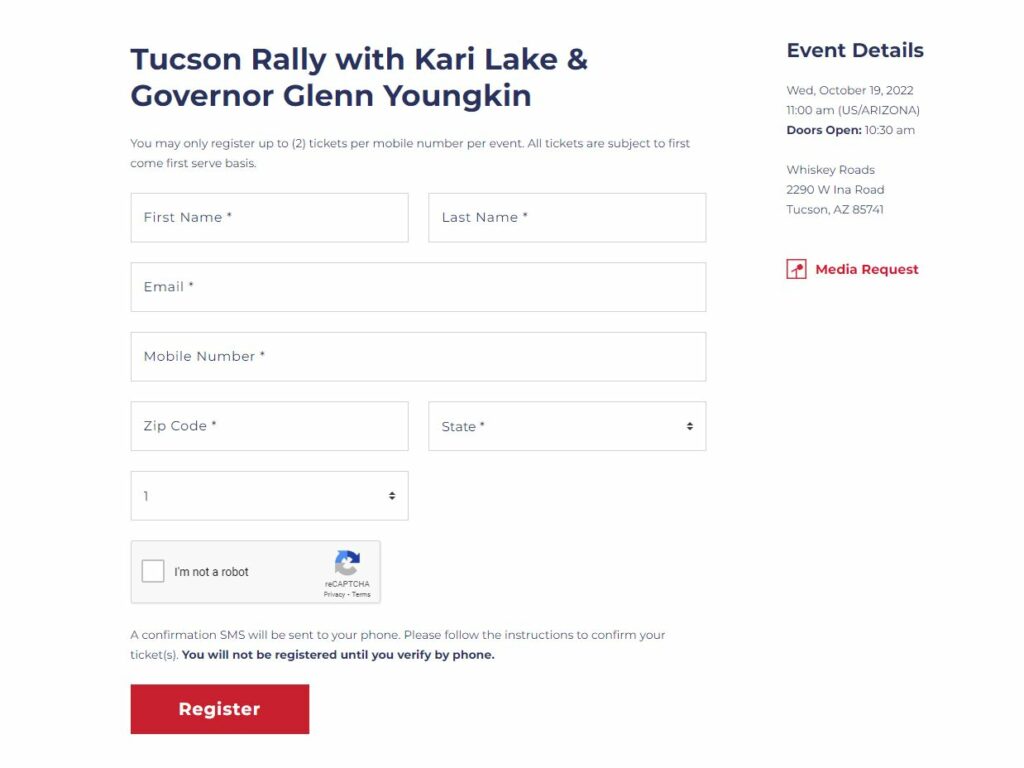 Click on the Register button mentioned below on the same page.
Once registered, you will receive a verification code on your registered mobile number to verify your phone number.
Enter this verification code to verify your information.
Click on the Confirm button.
Once you verify your phone number, your tickets for Tucson Rally on Whiskey Roads will be booked.
You will also receive a text message and email on your registered phone number and email-id showing successful registration for Tucson Rally, Whiskey Roads.
Please note that you can only register two tickets per mobile number per event on a first-come, first-served basis.
Kari lake Tucson Rally Schedule
When –
Kari Lake Tucson Rally is scheduled to be held on Wednesday, October 19, 2022, at 11.00 am, and the gates will open at 10.30 am.
Where –
The rally will be held at Whiskey Roads, 2290 W Ina Road, Tucson, AZ 85741.
Speakers for Tucson Rally
Currently, there is no information as to who would be the speakers for the Kari Lake Tucson Rally with Youngkin.
Kari Lake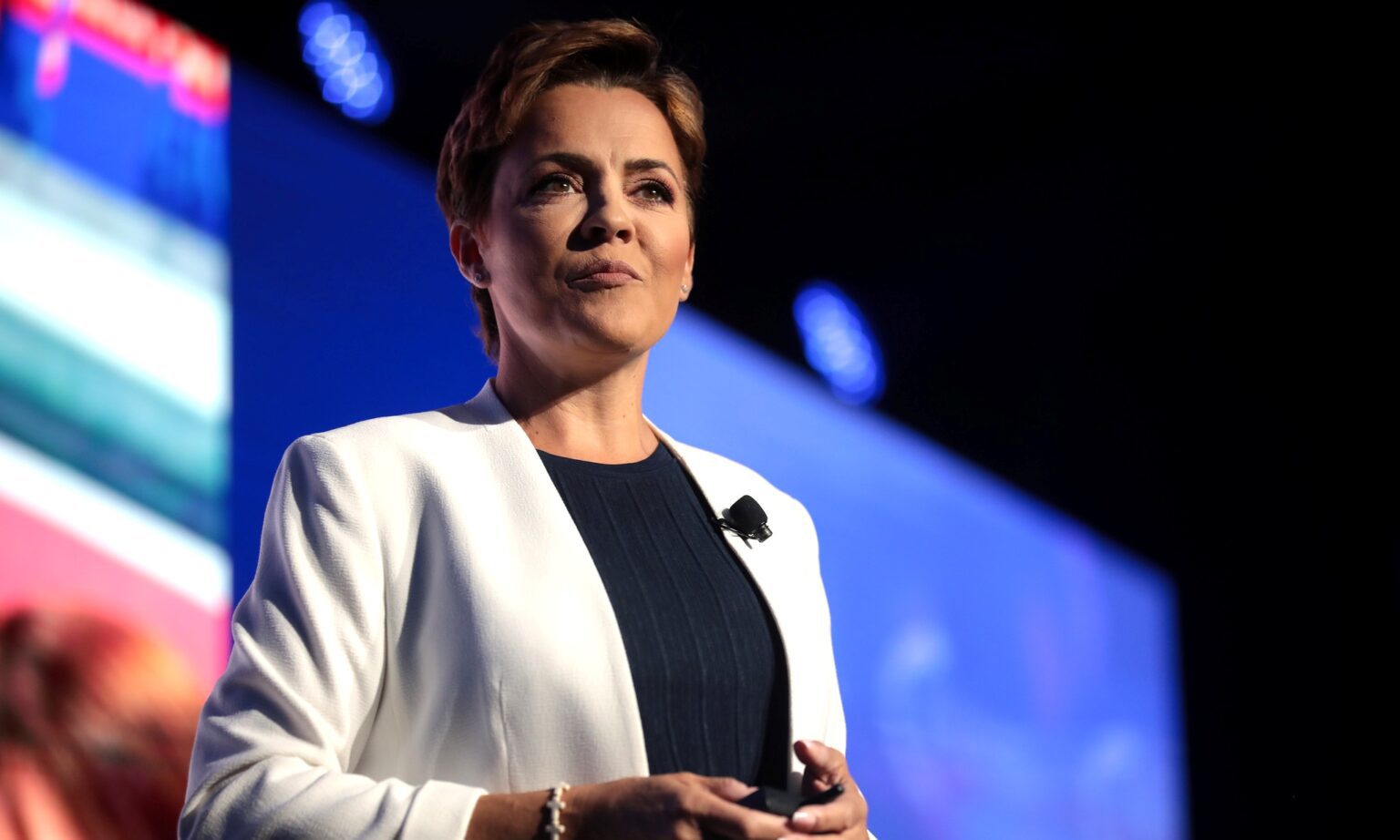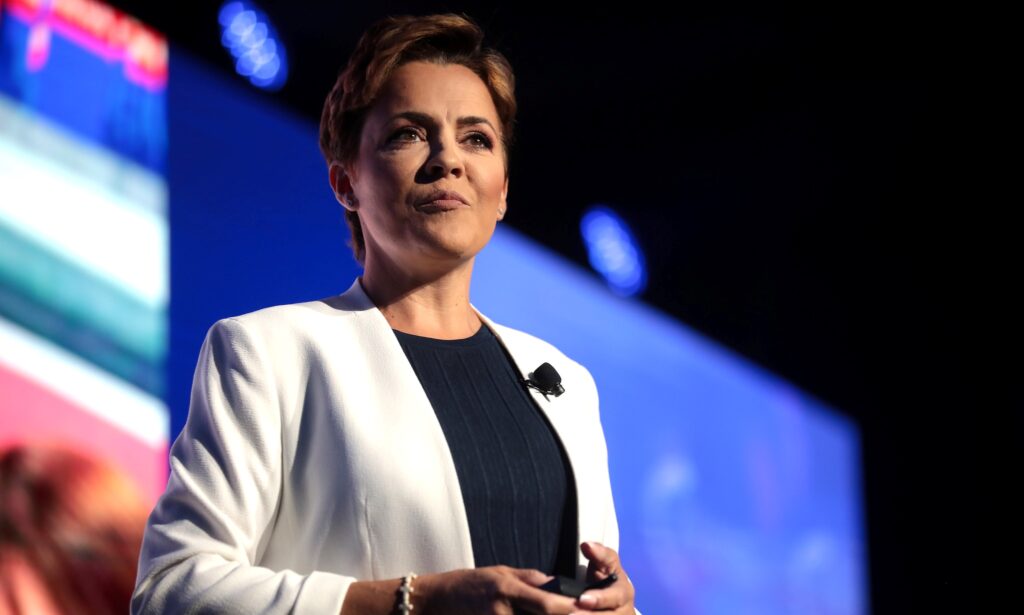 Kari Lake is a 2022 Republican gubernatorial candidate running for governor of Arizona. She is an American spokesperson and former television news correspondent.
She devoted 22 years working at Phoenix television station KSAZ-TV. Later, in March 2021, she resigned from her anchor role to devote herself to politics. She resigned to run for governor of Arizona.
Lake confronted President Barack Obama in 2016 and President Donald Trump in 2020 while working at KSAZ. After she resigned from KSAZ in 2021, she appeared in a video for PragerU, a Republican-aligned YouTube channel.
She declared her resignation as an anchor and announced her candidacy for governor. According to her, she had gained the confidence of Arizonans by publishing "the real story."
Glenn Youngkin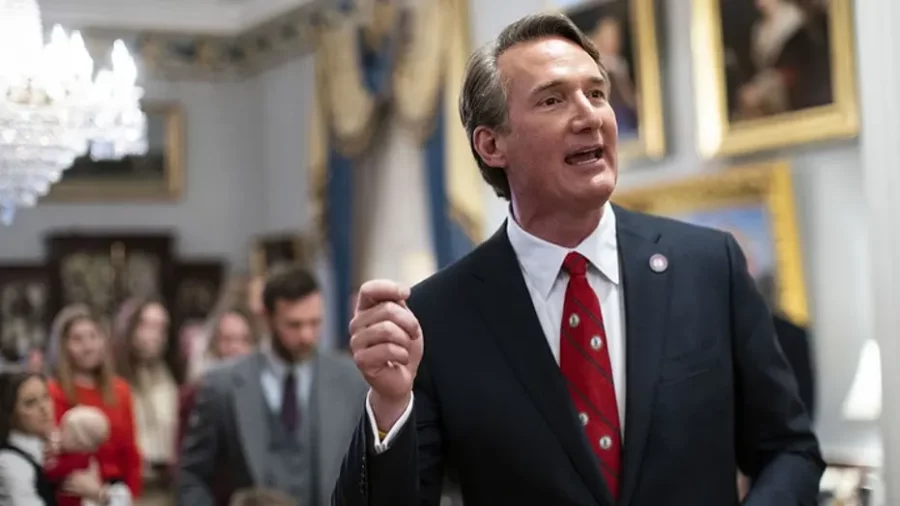 Virginia Governor Younkin has been campaigning for Republican candidates across the country. His comments demonstrate his vision for a party that includes members disappointed by former President Donald Trump and those like Lake, who has a close relation to the former President in her campaign.
Younkin is expected to hold political and fundraising events to support Kari Lake. He believes Lake's policies align with his education policy, so he is prepared to focus his efforts on Kari Lake heavily.
Kari Lake's Election Principles
Lake faces Katie Hobbs as her opponent, the Arizona secretary of state, in the November 8 general election.
Lake has committed to clean voter registration rolls, stop ballot harvesting, and has vowed to stop the use of electronic voting machines and reduce voting to in-person on Election Day instead of using mail-in ballots.
She wishes to have law enforcement on the southern border to prevent an "invasion" of migrants at bay. She believes she is the only Republican candidate who is committed to working against homelessness, offering a plan providing more resources and threatening criminal penalties.
Her education policy proposal endorses school vouchers to create a dual education system where students can pursue technical education by expanding training academies in the state.
She wishes to restrict critical race theory, an umbrella term for the curriculum that teaches about systemic racism.
She wants to upgrade teacher pay by offering performance bonuses and execute the Hillsdale 1776 curriculum, considered as conservatives' response to teachings like The 1619 Project, which examined American history through the lens of slavery.
On abortion, Lake has asserted, "she is pro-life but supports exceptions for rape, incest, and mother's life."

Subscribe to Email Updates :