TracFone is a major service provider offering some of the best plans. They have excellent no-contract cell phone plans at a low price and TracFone Bring Your Own Phone.
Aside from the obvious benefits of attracting new customers, BYOP has numerous advantages for retaining existing ones.
This article will detail some basic information about TracFone Bring Your Own Phone.
What is TracFone Bring Your Own Phone Program?
TracFone is a mobile virtual network operator (MVNO). It accomplishes this by leasing networks from major service providers, which explains the wide range of network technologies that it employs.
They use the same network infrastructure as major carriers such as AT&T, T-Mobile, and Verizon, and customers receive a SIM kit that can be integrated into various devices as part of their service.
You can buy a new or refurbished phone from them at a very low price, or you can use their SIM card with your existing phone through Tracfone Bring Your Own Phone.
Many unlocked phones that can be used with the BYOP program are now available, and Tracfone is adding several new smartphones that customers can buy directly and use on their network.
How does the TracFone Bring Your Own Phone Program Work?
The Tracfone Bring Your Own Phone Program only requires the following steps: compatibility check, SIM Card Activation Kit and Plan Selection, SIM Card Installation, and SIM Card Activation. We've included every single detail below.
TracFone Bring Your Own Phone ProgramInstructions
Ensure that your phone is compatible. You can get a cheap phone from their website or stores if your current device is incompatible.

Devices that use CDMA networks may not need a SIM card. However, if your device supports both LTE and GSM networks, you must purchase a SIM card. The sim card starter kit is reasonably priced and can be purchased from their web store.

TracFone offers a variety of family plans and other options, all of which are contract-free.

After purchasing a plan and a sim card, the next step is to activate a phone or other device. All you need in this case is access to the company's website. You will be prompted to activate your phone after logging into your TracFone account. Simply follow the on-screen prompts, and everything will be fine.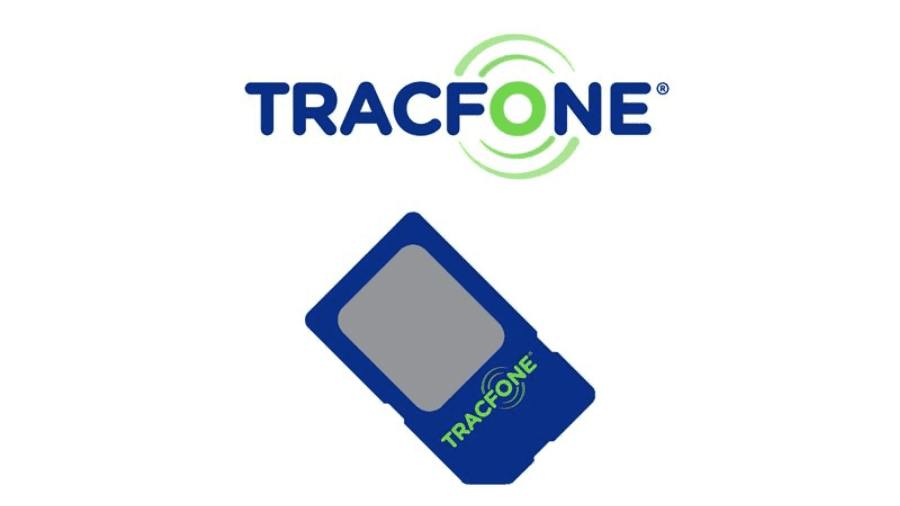 TracFone BYOP Compatibility Check
TracFone Bring Your Own Phone compatibility of your device by scrolling to the bottom of the page on the Tracfone website. There, you can select one of four options based on your phone model:
If you purchased your current device from AT&T or know it is compatible with the AT&T network, you can refer to it as "AT&T-compatible." Because Tracfone and AT&T share the same network, selecting this option will take you directly to the next page, assuming your device is compatible with both networks

If you already own a T-MOBILE device or know it is compatible with the T-MOBILE network, your device will be compatible with their service Because Tracfone uses the same network as T-MOBILE.

If you purchased your current device from VERIZON or are aware that it is compatible with the VERIZON network, it is VERIZON-COMPATIBLE. By clicking the tab, you will be taken to a page where you can enter your phone's IMEI or MEID number. Instructions on how to find this number will be provided on the page.

Once you've entered the number, click the "CONTINUE" button. If your device is suitable, you can proceed to the next section and pick a CDM or GSM option.

Please select "OTHER / I DON'T KNOW" if you are unsure whether your phone falls into one of the preceding categories. This link will take you to a page where you can select your current provider from a drop-down menu.

Remember to click the "CONTINUE" button once you've selected it. Depending on your option, you may be prompted to enter your phone's IMEI or MEID number or directed to the next page (if compatible).

If your phone is compatible, you can proceed to the next section; otherwise, you'll need to unlock it or purchase a new Tracfone phone.
TracFone SIM Card Activation Process
If your phone passes the compatibility test, you'll have a choice between two options:
If you already have a Tracfone SIM card, enter the number found on the back of your Tracfone SIM card and the OR tab to use an existing Tracfone SIM card.

Enter your ZIP code and click the "BUY A SIM CARD" button to purchase a SIM card.
SIM card starter kits are usually delivered on the same day. When you receive the SIM card and open the packaging, you can install it immediately.
After inserting the SIM card into your phone and turning it on, you will be prompted to enter the SIM kit's PIN. The unique identifier number of the SIM card can be found on the package's bottom edge, next to the SIM card. This is the SIM card activation code.
The following is the general activation procedure :
Visit https://www.tracfone.com/activation/tracfonecollectinfo.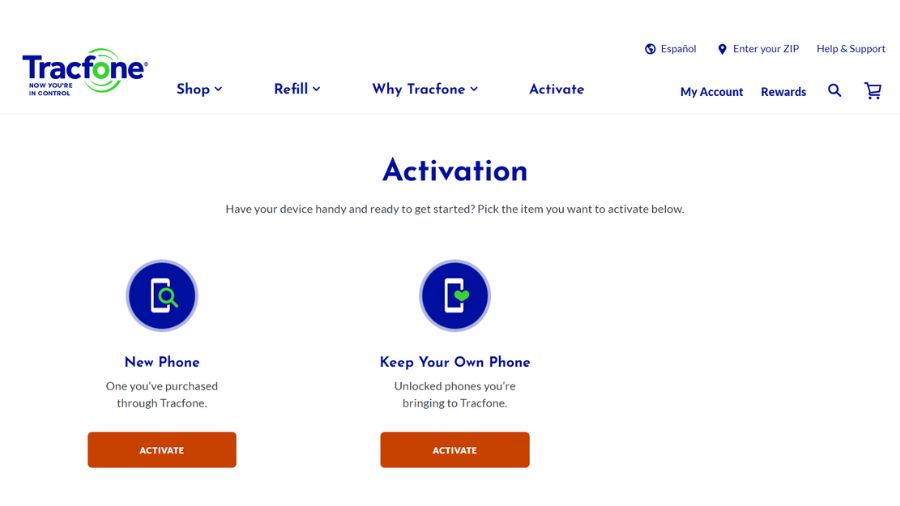 Those who bring their own phone choose "

Keep Your Own Phone

."

If you want to keep your old number, choose "I want to keep my number" and enter your Phone Number.
If you want a new number, choose "I want a new number" and enter your Zip Code.

You can activate your Tracfone SIM card by calling customer service at 1-800-867-7183 or using the Tracfone My Account app.

If you have any problems during the activation process, please get in touch with Tracfone's Customer Care Center at 1-800-867-7183.
Some TracFone Activation Problems
Concerns about the activation and reactivation procedures that are common:
If the Service End Date on your TracFone has passed and you want to reactivate it, you need to add Airtime.

After dialing the TracFone Activation number, you can hear a prerecorded message instead of the phone ringing. This is because You may have called before the CSC activated your phone. Before making another test call, you must wait another 24 hours.

If the problem persists and you continue to receive a recorded message, call their Customer Care Center at 1-800-867-7183 from a phone other than your TracFone; a representative will assist you in resolving the issue.

You might have an issue with changing your current country code because you can change your wireless phone number only four times yearly. To change your phone number, please call 1-800-867-7183 and speak with a representative.

The number entered during Activation may differ from the one on the screen. If your area is experiencing technical difficulties, there may be a discrepancy between the wireless phone's displayed number and the one assigned to the phone during Activation. As your permanent wireless phone number, use the Activation phone number.
What Does TracFone Triple Minutes Mean
Tracfone used to offer triple minutes on their basic phone airtime cards, which are available in various minute increments (1500-minute card, 450-minute card, 400-minute card, 200-minute card, 120-minute card, 60-minute card, and 30-minute card).
Because of the introduction of unlimited airtime cards for smartphones, the aforementioned is no longer the norm, and Not all Tracfone customers can get triple minutes anymore.
However, if you purchase a new phone from Tracfone, you can take advantage of a deal that frequently triples your credit depending on the phone type, location, and availability.
How to Maximize Your Extra Minutes
There is no secret method for maximizing triple bonus minutes. Unless you extend your Tracfone plan, during which time your unused minutes will be transferred, your Tracfone SIM card and Airtime will be deactivated after that period has passed.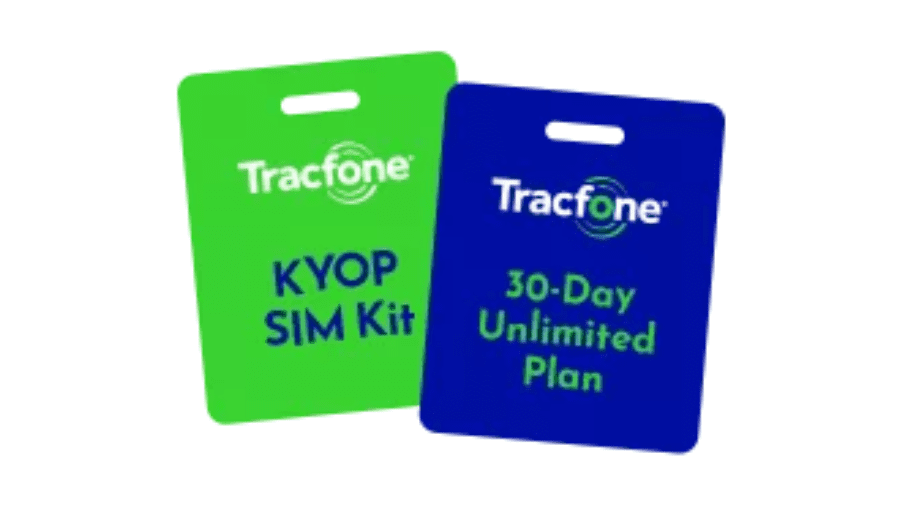 Can I Use My TracFone With Another Carrier
Any Tracfone phone can be unlocked and used with another service provider. However, there are some rules to follow. Here is the Tracphone policy for TracFone With Another Carrier:
Customer devices are only unlocked upon request.

Customers must have used TracFone service for at least 12 months, redeemed air time cards within the previous 12 months, and not had their phone number recycled or ported.

Customers can request this temporary unlocking option only while their service is active or within 60 days after their service has ended. Even if a customer's phone number has been recycled or ported, they have 60 days to file a complaint.

Current TracFone customers must have a TracFone-branded handset model released or activated with the TracFone service after February 11, 2015.

Customers must have access to a mobile device that works.

Customers must have a device that has not been reported stolen, lost or used fraudulently.

Suppose the customer requesting the unlock is a member of the armed forces who has been deployed and can provide proof of deployment.

In that case, TracFone will unlock the handset and issue a refund for the Trade-in Value of the used, locked phone returned by the customer, regardless of whether or not the customer has met the 12-month service activation or air card redemption eligibility.

TracFone customers who are on active duty meet all other eligibility requirements.

Customers are only eligible for this promotion once per calendar year.
How to Activate TracFone on a Different Carrier
To use your Tracfone with another carrier, you must first obtain a SIM card from that network and insert it into your Tracfone.
You can use your Tracfone with other carriers if two conditions are met. To use your own phone with a specific carrier, two conditions must be met:
The carrier must support BYOP and

Your phone must be compatible with BYOP. While the details vary by provider, finding a carrier that allows you to check for compatibility online is not difficult.
Remember that if your carrier allows you to bring your own phone, an unlocked phone will work with any of their plans.
The following are some of the most well-known wireless service providers that allow you to bring your own plan:
Sprint and T-Mobile

Verizon Wireless

AT&T

assistance

enTouch

SecureLink
Also Read, Easy Activation: Activating your TracFone ACP Benefits is a straightforward process, and you can do it online or through their customer support.
FAQs
How do you activate your new TracFone to get started?
The activation process is the same whether you purchased a new Tracfone phone or already own a Tracfone-compatible phone. You can activate your account through their website, mobile app, or customer service.
How can I get my old TracFone to work again?
Your SIM will become inactive if you have an active Tracfone SIM card but have not topped it off in time. It is possible to reactivate it. Rep the activation process to add Airtime to your account.
What are the BYOP and Terms of Service requirements for TracFone?
TracFone Wireless is no exception to the universality of carrier-specific terms and conditions. TracFone's guidelines for bringing your own phone are as follows:
It would be best if you unlocked the phone to use it.

The theft of the device was entirely avoidable.

The phone must be of American manufacture (International devices are not acceptable as of now)

Subscribe to Email Updates :