The current GOP front-runner, Donald Trump, was impeached in 2019 for abusing his position of authority and obstructing Congress, and again in 2021 after a riot broke out in the Capitol on January 6 as his supporters tried to cancel out Biden's election victory.
Taylor Greene says she will vote for Trump despite the Results.
Late Wednesday afternoon, a grand jury formed by special counsel Jack Smith indicted Trump on four felony counts in connection with his alleged involvement in the subversion of the 2020 election.
Also, Read – DeSantis pauses campaigning as Florida faces dual crises
Trump and others were accused of plotting with his allies to spread false claims about the 2020 election and developing strategies to reverse his loss to President Biden.
The indictment claims that Trump and his aides falsified the election results repeatedly in the two months following his defeat to retain power. They are also said to have pressured state election officials and former Vice President Mike Pence.
RAED MORE – List of Fulton County charges against Donald Trump
Rep. Marjorie Taylor Greene defended the former President and attacked the Biden administration and Democratic prosecutors for repeated prosecutions of him.
In a series of social media posts following Trump's most recent indictment, Greene declared she would vote for Trump even if he ended up in jail.
Check out other headlines – Marcellus Williams Sues Gov. Parson for Disbanding Board of Inquiry.
Greene referred to the most recent accusations as "a communist attack" on Americans' freedom to select their leaders in one of her tweets.
She proclaimed, "I'll vote for Trump even if he's in jail. This is a communist attack on America's First Amendment to vote for who THE PEOPLE want for President in an attempt to take Trump off the ballots through a politically weaponized DOJ. People know exactly what this is."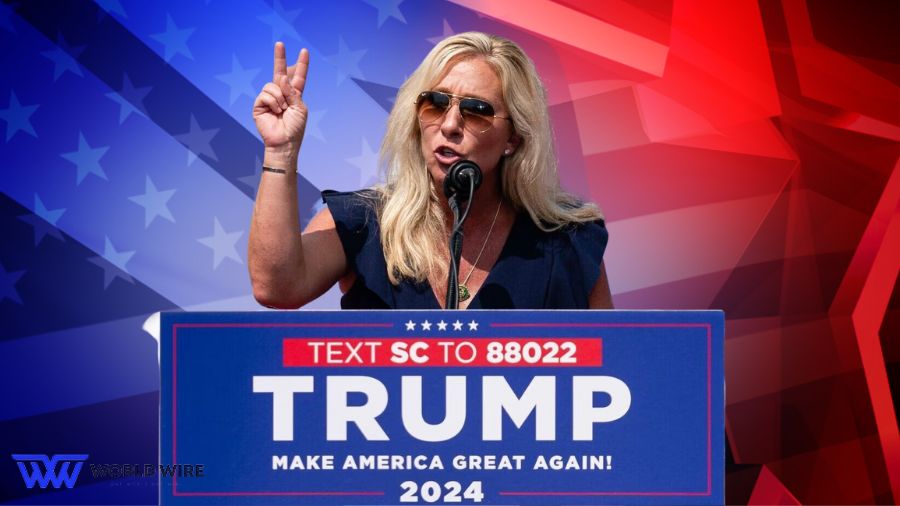 Also, Read – Donald Trump replaces lawyer on team hours before surrender at Georgia jail.
The Georgia Republican renewed her call for President Joe Biden to be impeached following the indictments, but not out of political retaliation; she claims that the GOP now has a "mountain" of corruption "evidence" that justifies doing so.
Latest Headlines – How organized shoplifting became a $10 million industry
She said in the follow-up tweet, "Republicans need to open their eyes. The media is going to do their best to try to say impeaching Biden is political payback. That's 100% BULLSHIT. Impeachment of Biden is because he's a CRIMINAL, and we have a mountain of evidence proving it and gaining more daily. Don't fall for the stupid plays of media spin and interview pressures. DO THE RIGHT THING. Impeach the CRIMINAL IN CHEIF [sic]!!!"
She has also demanded that the official record be cleared of Trump's impeachments.
READ MORE –  Trump arrested at the Fulton County Jail in Georgia: Highlights
Greene said on the X platform, now known as Twitter, "These egregious impeachments must be expunged. They represent stains on the House of Representatives that must be removed. It's simple. If you voted NO on impeachment, then you should be able to easily vote YES to expungement."
What's More – Gavin Newsom Distressed Hospital Loan Program Explained
She added, "Today's indictment of President Trump is a political assassination attempt by Joe Biden and his henchmen to remove the leading presidential candidate from the ballot in 2024. The American people will re-elect President Trump!"
Learn More – Fulton DA Willis challenges Meadows' attempt to have charges dismissed.
Greene declared in a video she uploaded to her platform that "We are living in a post-Constitution era." In the video, she emphasized her worries about a double standard that silences American voices and hampers political equity. She emphasized how challenging it would be to provide an unbiased trial for Trump or any other Republican leader in the current largely left-leaning political environment of Washington, D.C.
Continue Reading –  Joe Biden Student Debt Cancellation Update: Democrats Issue Warning
Meanwhile, Republicans and Trump himself had argued that his claims are no different from those made by Hillary Clinton, a two-time presidential loser, and the majority of Democrats in the years after her loss to him in the 2016 election when she frequently claimed the election was "stolen" and that Trump was an "illegitimate" president.

Subscribe to Email Updates :