Vivek Ramaswamy, a Republican presidential candidate, and MSNBC host Mehdi Hasan engaged in a heated argument on Tuesday when Ramaswamy tried to dodge Hasan's repeated inquiries over his prior criticism of former President Trump.
Vivek Ramaswamy's interview with MSNBC's Hasan gets heated
On "The Mehdi Hasan Show," Hasan questioned Ramaswamy, "You say he [Trump] behaved in downright abhorrent behavior that makes him a danger to Democracy. What was it that was downright abhorrent?"
Also, read – Fani Willis tears into Jim Jordan over his inquiry into Trump's indictment.
Hasan referred to Ramaswamy's January 12, 2021 post, where the biotech entrepreneur stated, "What Trump did last week was wrong. Downright abhorrent. Plain and simple. I've said it before and did so in my piece."
Ramaswamy told Hasan, "Let's actually be really fair to your audience. So, on January 10, 2021, thereabouts, days after that incident, I wrote an op-ed in the Wall Street Journal arguing that censorship was the real cause of what happened on January 6."
Check Out Other Headlines – DeSantis Faces Backlash Over Shooting Response
To Ramaswamy's claim, Hasan stated, "Understood, you're avoiding my question," Ramaswamy replied, "No, I'm not avoiding your question."
As Ramaswamy continued talking, Hasan reiterated, "What did Donald Trump do, in your view, that was downright abhorrent? Second time I'm asking the question."
"I think the thing that I would have done differently if I were in his shoes," Ramaswamy said; Hasan interjected, saying, "That's not what I asked Vivek, with respect."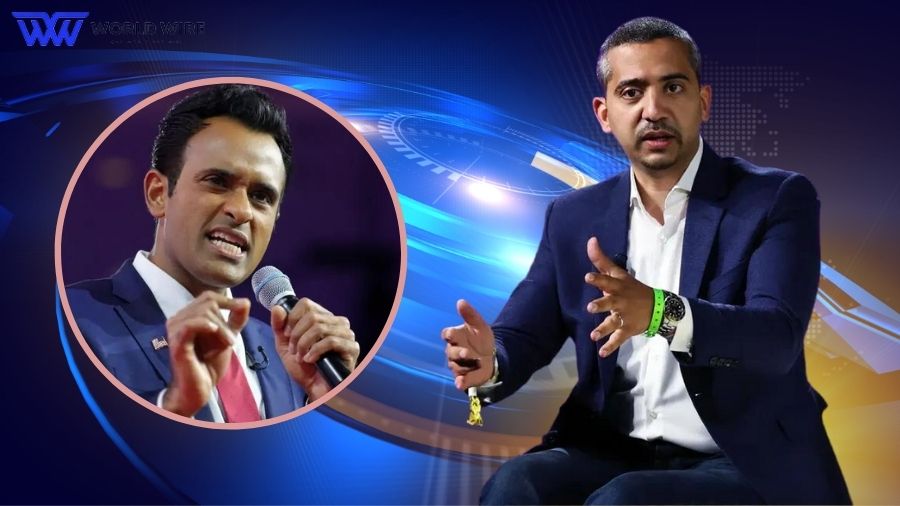 Read Latest News – Navarro Found Guilty of Contempt of Congress for Defying Jan. 6 Committee
Ramaswamy continued arguing when Hasan interjected, "That's not what I asked. With respect, I'll ask it a third time: What did Trump do that was egregious, quote downright abhorrent and a danger to Democracy? Can you just explain to our viewers your words?"
"So you're mixing two different quotes, but what did I think was reprehensible about what happened that day?" Ramaswamy said he "would have done things differently." on January 6.
Hasan then asked, "I understand, you keep saying what you would have done, I just want to hear from your mouth. Unless you're scared of him, why won't you say what he did that was 'downright abhorrent?'"
READ MORE – Lawmaker Visits Latin America With Soros' Help
Ramaswamy said he would not permit Hasan to "stitch together three things from different places to create a caricature."
Hasan read the post aloud as an image of Ramaswamy's 2021 post shown across the screen.
Hasan pressed Ramaswamy to answer, asking, "It's a simple question, it's your words, it's on the screen: What did he do that was downright abhorrent?"
"I believe that failing to unite this country falls short of what a true leader ought to do. That is why I'm in this race is to do things differently than any prior president has done them. That's the hard truth," Ramaswamy replied.
Also, read – Gabriel Amo wins Rhode Island's Democratic-House Primary
The only contender to support the former president during the GOP primary debate last month was Ramaswamy, who referred to him as the "best president of the 21st century."
Chris Christie, a Republican running for president, criticized Ramaswamy for his earlier remarks against Donald Trump during the debate, saying Ramaswamy "had much different things to say" about Trump in his book than on the debate stage.
Later, Ramaswamy was referred to by Christie as the "worst of what politicians are characterized to be."
What's More – Trump Co-Defendant Embraces Criminal Charges
In an interview with CBS's "Face the Nation" last month, Christie claimed that "someone who says one thing, does another, and then when you call them, like I did, on the negative things he said about Donald Trump on January 6 in his book, he didn't say it."
In recent weeks, Ramaswamy has also alleged that the media has misquoted him, most notably when he claimed that The Atlantic had done so in an article where he appeared to suggest a 9/11 conspiracy.
MUST READ – Utah voters send message to Trump with Edwards' early lead
While this heated argument footage has gone viral, gaining praise for Hasan. The 38-year-old biotech entrepreneur polling in the third has been under fire.

Subscribe to Email Updates :