The Department of Justice (DOJ) indicted former President Donald Trump due to its investigation regarding his mishandling of classified documents after leaving the White House.
Let's see what the indictment marks about his case and what key takeaways from Trump's indictment.
5 Key Takeaways From The Trump Indictment
On Friday, the Department of Justice unsealed a 37-count indictment against former President Donald Trump after its months-long investigation into the discovery of classified documents at Trump's residence, Mar-a-Lago, in Miami, Florida.
Also, See: Why did the FBI Search Trump Florida house? Explained.
The department gave details of the indictment after prosecutors sought an indictment successfully and summoned Trump to make his first courthouse appearance on Tuesday in Miami.
A special attorney, Jack Smith, appointed by Attorney General Merrick Garland last year, was investigating Trump's documents and prepared a 49-page indictment.
Accusing Trump at a press conference on Friday, Smith said, "It is a felony violation of our national security laws in addition to participating in a conspiracy to obstruct justice."
He added, "Trump will get a speedy trial on this matter, consistent with the public interest and the rights of the accused."
The following are 5 Key takeaways from the indictment.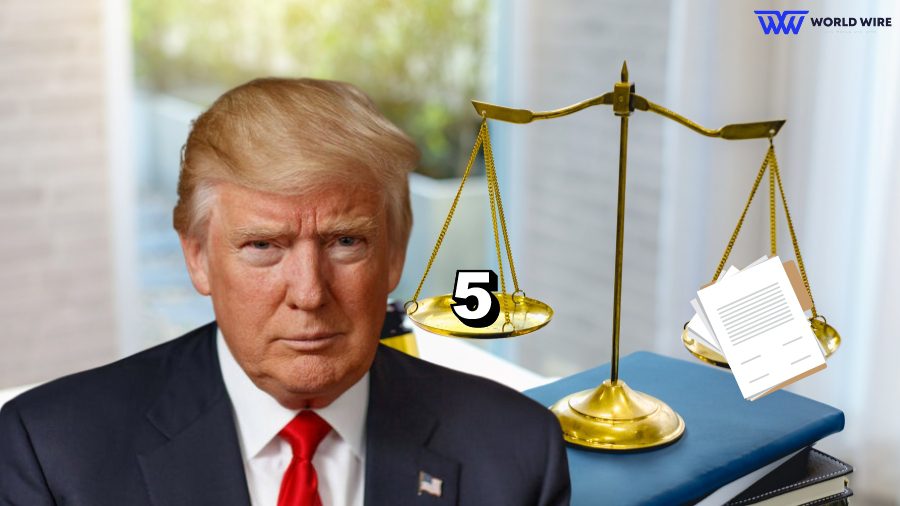 The contents of classified documents recovered throughout the investigation
The indictment states that Trump stored in his boxes contained information regarding the defense and weapons capabilities of the United States and foreign countries, United States nuclear programs, possible vulnerabilities of the US and its allies to military attack, and plans for possible retaliation in response to a foreign attack.
Trump allegedly held classified documents from the National Security Agency, Central Intelligence Agency, the Department of Defense, the National Geospatial-Intelligence Agency, the Department of Energy, the National Reconnaissance Office, and the Department of State and Bureau of Intelligence and Research.
In a recorded interview, Trump allegedly revealed media classified material in which he admitted that the material was still classified.
The indictment states that in July 2021, during an audio-recorded meeting at Trump National Golf Club in Bedminster, New Jersey, Trump showed and described a "plan of attack that he said was prepared for him by the
Department of Defense and a senior military official. The meeting was attended by a writer, a publisher, and two members of his staff, and none of them possessed a security check.
Trump said the plan was 'secret' and 'highly confidential.' He also said," As president, I could have declassified it, and now I can't, you know, but this is still a secret."
After a few months, Trump was accused of showing a classified map related to a military operation to a representative of his political action committee. He asked the representative not to show it to him and that the representative shouldn't get too close.
Trump had a co-conspirator who was charged with alleged crimes.
Waltine Nauta, a United States Navy member, was stationed as a valet in the White House while Trump was in office. Nauta became Trump's executive assistant in August 2021.
The indictment says he was Trump's 'personal aide' or 'body man.' Prosecutors have charged Nauta with withholding a document or record, conspiracy to obstruct justice, corruptly concealing a document or record, a scheme to conceal and conceal a document in a federal investigation, and false statements and representations.
Trump committed five distinct attempts to obstruct the investigation
The indictment says that the former president tried to stop the FBI and grand jury investigations and conceal his continued holding of classified documents. The charges state Trump attempted the following.
Directed Waltine Nauta to move boxes of documents to hide them from Trump's attorney, the grand jury, and the FBI. Suggested that his lawyers hide or destroy the documents called for by the grand jury subpoena.
Provided only some of the documents to the FBI and grand jury when the documents were called for by the grand jury subpoena while also claiming to cooperate fully.
This caused certification to be submitted to the grand jury and FBI, falsely representing that all documents called for had been produced while knowing that not all such documents had been submitted.
Trump's attorneys are witnesses in the case.
The indictment mentions three of Trump's attorneys, Attorney 1, Attorney 2, and Attorney 3, are witnesses in his case.
Marina Medvin, the conservative attorney, said she had never seen anything like that in a criminal case. Trump's New York attorney Michael Cohen is reportedly a witness against his case in New York.
Also, See: Donald Trump Sued Michael Cohen, Former Lawyer for $500 Million

Subscribe to Email Updates :