AirTalk Wireless Check Status – When it comes to free government phone services in the United States for families with low incomes participating in the Lifeline Assistance and Affordable Connectivity Program, AirTalk Wireless has one of the most attractive options.
But to qualify for a free government phone through AirTalk Wireless, you must follow several procedures. Therefore, if you want AirTalk Wireless to check the status of your application, this article will be a lifesaver for you.
AirTalk Wireless Check Status – How To?
To check your AirTalk Wireless application status, you need to follow these simple steps –
Visit the official website of AirTalk Wireless.
Click on my Service tab on the top right side and click on Check status from the dropdown menu. Alternatively, you can also visit https://airtalkwireless.com/check-status/ directly.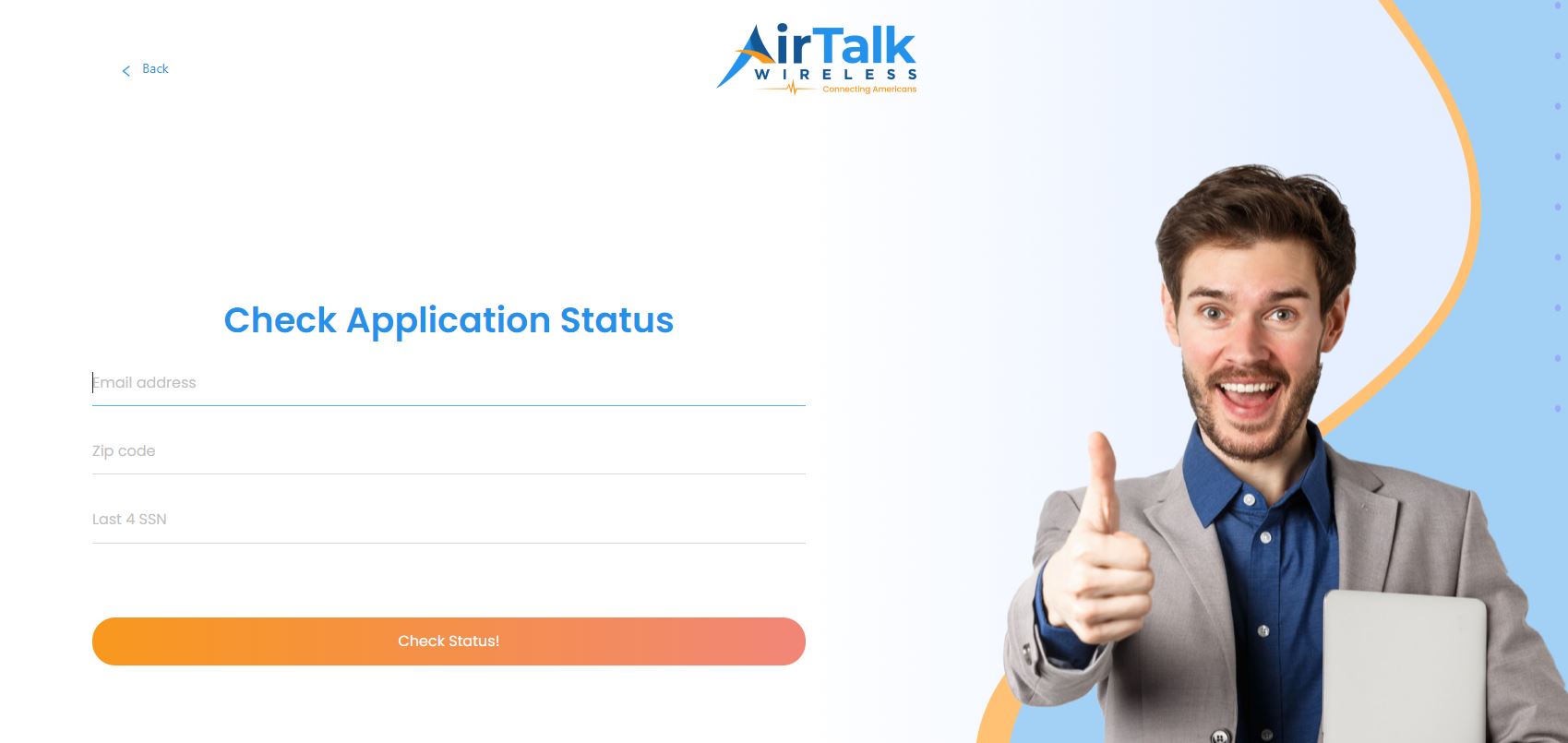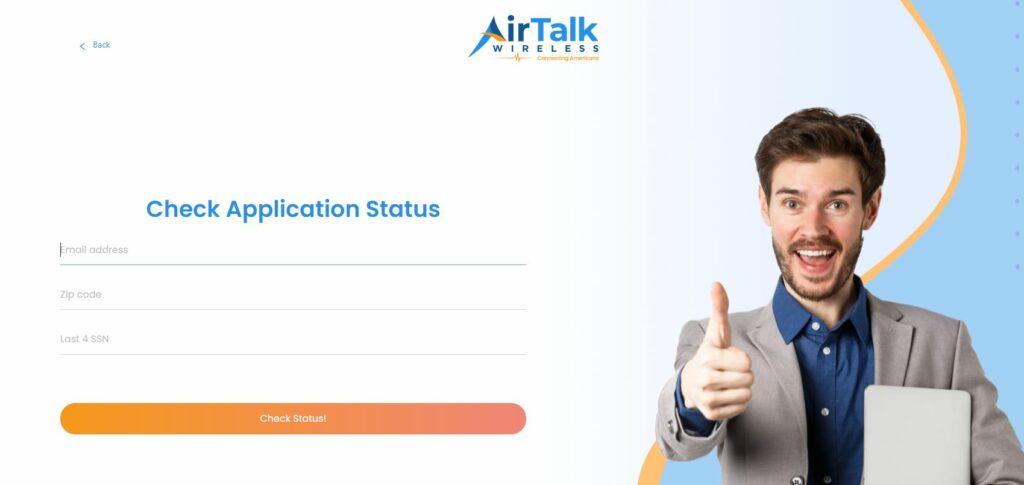 A new web page will open up; here, you have to provide your specifics like email, zip code, and SSN.
You will now be forwarded to your application status interface.
Here, you can see AirTalk Wireless check the status.
What is the AirTalk Wireless application?
The government program allows people to get wireless phones and other modern conveniences without contracts, service fees, or shipping costs. AirTalk Wireless provides free government-issued phones, tablets, internet, voice calls, and text messages.
This lot includes a wide variety of smartphones, including the iPhone 7 and the Samsung Galaxy S8 and S9. Those who do not meet the requirements cannot join Lifeline, and only one person in a household can benefit from these services.
Enrollment requires identity and qualifying paperwork, and the program is offered in all 50 states, Puerto Rico, and the U.S. Virgin Islands. It provides eligible consumers with free government-issued phones and a monthly allowance to pay the cost of phone service. However, it may differ from one state to another.
If you have been receiving government help for SNAP/Food Stamps, Medicaid, SSI, and other such programs, you can qualify for this plan.
How to Apply for AirTalk Wireless?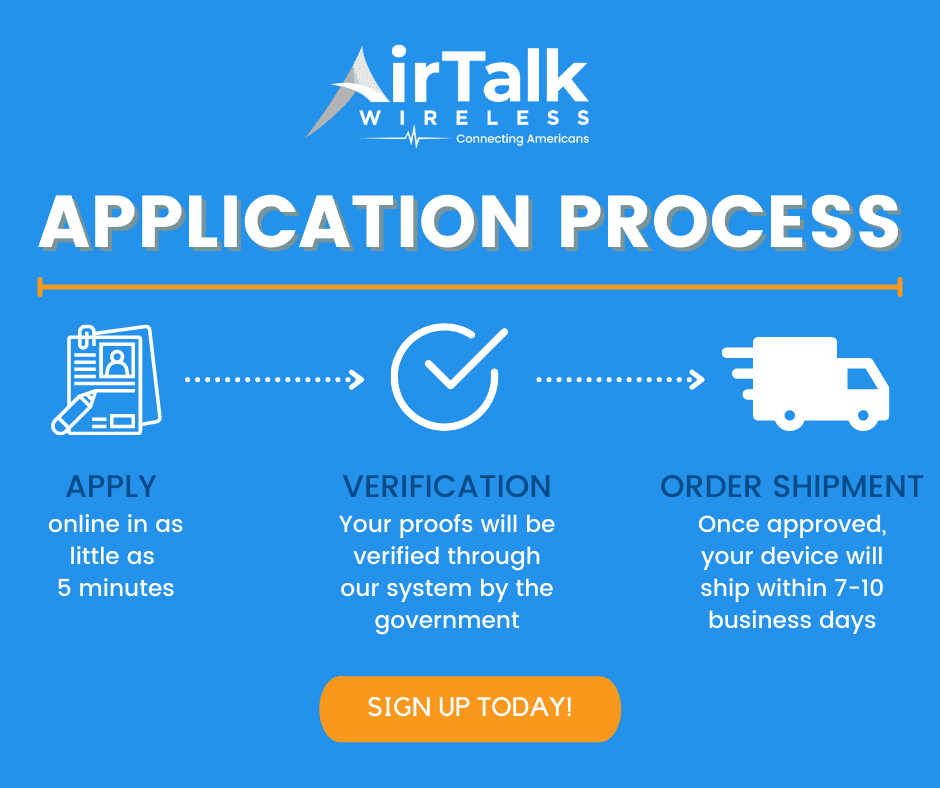 You must fill out an application to receive a free government phone from AirTalk Wireless. After making sure you qualify, the next step is to fill out an application.
What follows is a rundown of the hoops you must jump through to qualify for a free government phone through AirTalk Wireless.
Determine whether or not you qualify.
Before proceeding, you should determine whether or not you qualify for Lifeline Assistance or the Alternative Care Program (ACP). Your income must be at or below 135% of the federal poverty level for this.
If you enter your information into the National Verifier and hit Search, you will find out immediately whether you are eligible.
To apply, you can do one of the following –
Online Application
By typing your ZIP code, visit the AirTalk Wireless website and check if phone service is available in your area.
You'll be taken to the appropriate state page for Lifeline Assistance.
Choose a plan that best suits your needs for phone service.
To get the AirTalk Wireless free phone, click the "Apply Now" button.
Enter all required fields on the form.
Attach all mandatory documents.
Application via mail
You can also submit an offline application with copies of identification and eligibility documents. You can send your offline application to addresses for each state mentioned on the official website.
Attach Relevant Documents
Identity documentation and evidence of eligibility for Lifeline Assistance and ACP must be included with your application and be legitimate and up-to-date. Attach the following types of documentation when applying for a free government phone through AirTalk Wireless –
U.S. Passport
Driver's License
Birth Certificate
Certificate of Naturalization
Foreign Passport
U.S. Government, State, Military, or Tribal-Issued ID
Social Security Number
When signing up for a free government phone through AirTalk Wireless, you must provide your address. This is the address that the network provider will use to contact you.
The following items must be submitted to verify your address as well –
Utility Bill
License to Drive
Recent Mortgage or Lease Agreement
Proof of income (W-2, pay stub, etc.)
Identification issued by the federal government, state, or tribal institution
Proof of Low-Income Documents
You must show proof of low income to get an AirTalk Wireless government-subsidized phone. The following are examples of required paperwork –
Federal, state, and tribal tax returns from the prior year
Proof of Social Security Income Statement
Paystubs or other proof of income from the current employer
Verification of benefits for workers' compensation
Certification of Veterans Benefits from the V.A.
Documentation of divorce or child support obligations
Formalized Benefits Proclamation for Pension or Retirement
Proof of Participation in Government Assistance
Please contact AirTalk Wireless with the required proof if you are enrolled in a government assistance program. Documents you'll need to provide are –
Certificate of participation in a federal, state, or Tribal program from the previous or current year
Official confirmation of enrollment in a federal, state, or Tribal program
Records showing proof of enrollment in a federal, state, or Tribal program
Any other official record with your full name, the title of your program, and the name of the federal, state, or Tribal authority that issued it
Things to keep in mind when applying for AirTalk Wireless
Emancipated children must also produce documentation demonstrating that they are no longer minors. The information on the application and the supporting documentation for your address must be the same.
Please do not send any original documents as attachments; you never know when you might need them. If you apply online, you should copy and upload the required documents.
AirTalk's approval process can take some time, so please be patient. You will be notified via email. Alternatively, you can call +1-855-924-7825 or visit the AirTalk Wireless check status page to get the current approval status.
What are the application requirements and eligibility?
To get AirTalk Wireless benefits, you must be eligible for Lifeline, and if you meet the following requirements, AirTalk Wireless will provide you with a free government phone.
Low-Income Status
If your family's income is at or below 135% of the current Federal Poverty Guidelines, you are eligible for a free government phone.
Benefit from Government Assistance
Lifeline Assistance and the Affordable Care Act's Essential Components Program (ACP) also offer free phones to those who qualify through government assistance programs. Any of the following programs should be undertaken by at least one household member to qualify for the free iPhone by AirTalk.
Supplemental Security Income (SSI)
Supplemental Nutrition Assistance Program (SNAP)
Veterans Pension and Survivors Benefit
Free or Reduced-Price School Breakfast/lunch Program
Federal Public Housing Assistance (FPHA)
Special Supplemental Nutrition Program
Pell Grant Award for the previous year
Benefit from Government Assistance on Federal Lands
The people who live on Tribal lands are the focus of several government projects, and if you qualify for these programs and live on Tribal lands, you can acquire a free phone. Some examples of relevant projects for Tribal lands are as follows –
Tribal Head Start
Tribal Temporary Assistance for Needy Families (Tribal TANF)
Food Distribution Program on Indian Reservations
Bureau of Indian Affairs General Assistance
What Plans Does AirTalk Wireless Offer?
Lifeline and ACP Combo Plan is the most beneficial option AirTalk Wireless provides and is among the most competitive plans in the market.
Approved Lifeline and ACP participants will receive a free iPhone 7, iPhone 6 Plus, Galaxy S8, or any other smartphone and free access to AirTalk's unlimited high-speed data, unlimited Talktime, and unlimited text and media messaging services.
AirTalk Wireless's list of free smartphones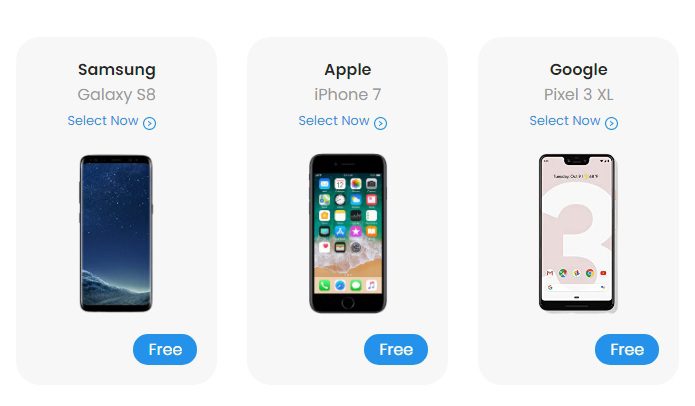 Only Available for a Limited Time. Discount varies by state and program.
Apple iPhone 7
Samsung Galaxy S9/S8
Google Pixel
AirTalk Wireless free tablets from the government
Apple iPad Air
Alcatel Joy Tab
Apple iPad Mini 2
Samsung Galaxy Tab S2
Samsung Galaxy Tab S3
Samsung Galaxy Tab S4
Samsung Galaxy Tab 4
Apple iPad Mini 3
Alcatel Joy Tab 2
Samsung Galaxy Tab A 2020
Samsung Galaxy Tab S
Samsung Galaxy Tab E
Samsung Tab A7 Lite
Benefits of AirTalk Wireless Lifeline Assistance
Conversation without constraints
Unlimited texting with no charge
Zero cost for extremely fast data transfer
Features include voicemail, caller I.D., and conference calling.
Also, Check Out  -You Can  Get solutions for AirTalk Wireless not working
FAQs About AirTalk Wireless
What to do if your AirTalk Government-Free phone is broken?
AirTalk Wireless guarantees all hardware for 15 days from the date of purchase. Therefore, contact the helpful staff at AirTalk Wireless at +1-855-924-7825 if your phone stops working while under warranty. Alternatively, you can contact them as quickly as possible by emailing [email protected]. Even if your phone breaks after the warranty has expired, your network operator may still offer you a replacement device.
Is AirTalk Wireless safe?
There is no need to worry about using AirTalk Wireless as it is safe and has never been linked to any security breaches.
What kind of network does AirTalk Wireless use?
AirVoice, the company behind AirTalk Wireless, is a federally recognized "Eligible Telecommunications Carrier" (ETC) that provides Lifeline, Affordable Connectivity, and Emergency Broadband Service to low-income and otherwise deserving Americans.
What are the limitations of AirTalk Wireless?
AirTalk Wireless has restrictions such as a capped monthly allowance of talk time, text messages, and data usage.
How to check my Airtalk Wireless application status?
Logging into the National Verifier website with your MEID or phone number and password will reveal the status of your Lifeline or ACP application. For AirTalk Wireless check status, you need to follow the aforementioned guide.
Can I get AirTalk Wireless free iPad?
Even though you cannot get an AirTalk Wireless free iPad, you can get a heavy discount on purchasing one.

Subscribe to Email Updates :