Is AirTalk Wireless legit: A federal government service provider Airtalk provides eligible consumers with cost-free cell phones. Depending on the home's income, you or a household member must engage in a government assistance program to be eligible for the service. These programs consist of the following:
SSI
Medicaid
SNAP/ Food stamps
Users can use the service on AT&T's 4G and 5G networks, making it available throughout the US wherever the network is. AirTalk has an app called AirVoice WiFi that makes it simple for users to locate and join open WiFi networks.
This was about what exactly an AirTalk is. Now is AirTalk Wireless legit? This article contains the answer to this question and other information as well. So without further ado, let us dive into the details.
Is AirTalk Wireless Legit?
The simple answer to this question is, "YES! AirTalk Wireless is legit."
The service offered by AirTalk Wireless is entirely legitimate and includes everything you may have heard about. However, only those who are eligible for AirTalk's services can subscribe.
AirVoice Wireless, an LLC that caters to specific American families, powers AirTalk Wireless. Since 1999, it has provided qualifying customers with the No Contract service.
An FCC-licensed Eligible Telecommunications Carrier is AirVoice Wireless (ETC). It guarantees clients emergency broadband connectivity at reasonable prices.
The company aims to give customers the greatest service and the most inexpensive options. They utilize consumer-preferred mobile devices like Google Pixels, iPhones, Galaxy, and Motorola. It also makes use of the best 4G/5G network in the country.
You must fulfill several ability conditions established by the states where the AirTalk Wireless service is offered. Your involvement in federal and state support programs will determine the requirements. You are also qualified if you fall within the government-established income poverty guidelines.
Each household can only have one subscriber to the AirTalk Wireless service.
The company offers dependable customer assistance from its Houston, Texas, headquarters staff. The crew is well-prepared with the knowledge to answer your questions. The multilingual team members will handle your problems in the language of your choice.
Is AirTalk Wireless Good?
There may be some unfavorable comments about AirTalk Wireless from people who say it is unreliable and untrustworthy. Others assert that the service drops before you can even finish a call.
Despite a few unfavorable reviews, AirTalk Wireless is a legitimate service that provides eligible customers with free phone service.
What makes it good:
Those who qualify receive free smartphones from recognised manufacturers like Samsung, Apple, and LG. They benefit from some of the best phone features, including as powerful cameras and long-lasting batteries.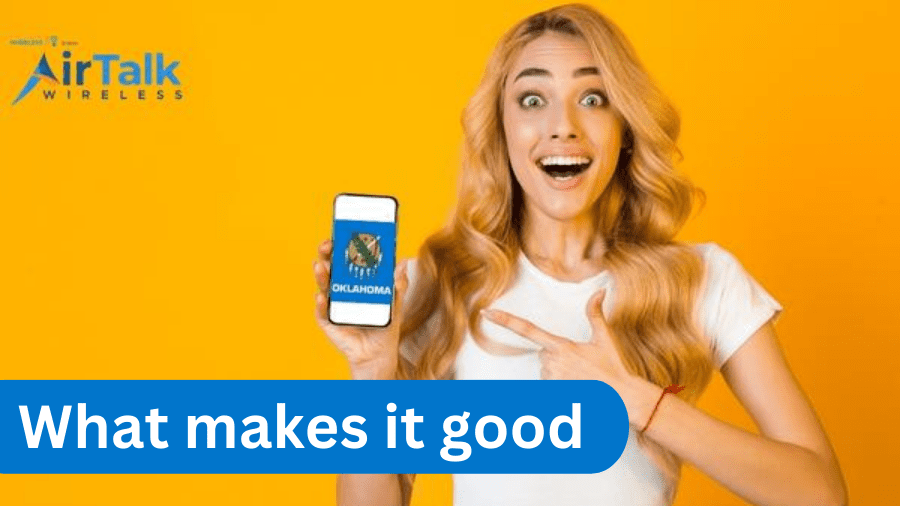 The Affordable Connectivity Program (ACP) initiative is also appreciated by the members. Credit checks, recurring charges, contracts, and activation fees are not applicable to them.
The service also brags about its speedy delivery. Within 7 to 10 business days after an order is approved, the member receives the phone.
Members also have the option to upgrade their phones at a price cut of up to 80%.
How long does it last?
After signing up, a person may use the free phone and broadband service for up to a year.
There are numerous plans for the AirTalk Wireless service, including the following:
The Lifeline Plan
You benefit from a number of features with the Lifeline Plan, including:
1000 minutes talk
Unlimited SMS
4.5 GB of Data
Call waiting
Caller ID
3-way calling
Voicemail
Free shipping
The Lifeline and ACP Combined
Unlimited talk
Unlimited text and picture messaging
15 GB of 4G/5G data
Call waiting
Caller ID
Voicemail
3-way calling
Free nationwide shipping
The ACP Plan
8GB data
Unlimited talk
Unlimited SMS
3-way calling and voicemail
Caller ID
Call waiting
Free shipping
How to apply for AirTalk Wireless?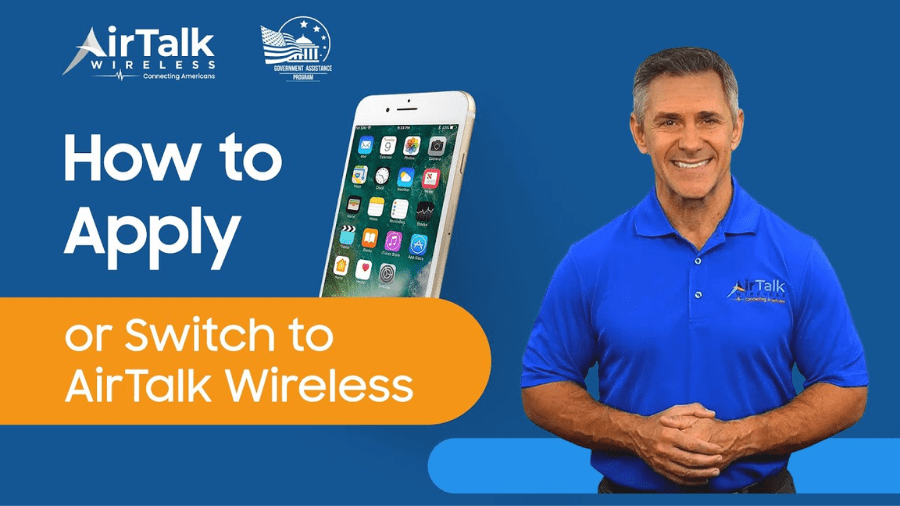 You must meet certain requirements in order to apply for the free AirTalk Wireless phones. The following are some items you'll need during the application process:
Your residential address details
Social Security Number
Zip code
Proof of your income
Details of your household
Eligibility proof
Proof of your identity
If you have met all the prerequisites, follow the step-by-step instructions below to finish the AirTalk Wireless application.
Go to AirTalkwireless.com, the service's official website, into the browser on your phone.
Select "Apply" from the menu.
When prompted, enter your Zip code and select "Apply now."
You will then be given the option to choose one of the plans that AirTalk Wireless has available in your location. After making a decision, click "Apply now."
You will then need to enter your information. Your social security number must also be entered in order to confirm your identity. Additionally, it aids in determining whether you meet the requirements for government assistance. Click "Continue" once the information has been entered.
Your contact information must then be entered, including your street address, phone number, and email address. Click "Continue" after that.
You'll need to present evidence of your eligibility, residence, and identification in the following stage. After uploading the proof, choose "Continue."
A pop-up will appear, asking you to verify that the address you entered is accurate. To confirm, click.
After providing your household information, click "Continue."
Select a programme, then press "Continue."
When you reach the webpage of the verifier, click "Next." Submit your eligibility documentation once more. Click "Submit" after you are certain that all of the information you have provided is accurate.
Frequently Asked Questions:
How good is AirTalk Wireless service?
AirTalk Wireless is a legitimate service that provides eligible customers with free phone service.
What network does AirTalk Wireless use?
It uses the latest 4G/5G network.
How long does it take AirTalk Wireless to ship?
Once your order is complete, you will receive the phone within 3-7 business days.
How can I talk to a real person at AirTalk Wireless?
Contact the AirTalk Wireless customer care support at
+1 (855) 924-7825.

Subscribe to Email Updates :