President Joe Biden will head to lawmaker Marjorie Taylor Greene's district as he continues his effort to tout his 'Bidenomics.'
Let's read the news and find out more about 'Bidenomics.'
Joe Biden Touts Investments, Trip to Lawmaker Taylor Greene's Backyard
On Thursday, United States President Joe Biden announced that he plans to visit Representative Marjorie Taylor Greene's district in Georgia to tout his economic agenda as he campaigns for the 2024 Presidential race.
The announcement came after Biden's recent visit to South Carolina to make a new $60 million solar investment to promote the manufacturing industry.
Also, See: Joe Biden Will Announce $600 Million in Climate Spending
In his remark in South Carolina, Biden hinted at his plan to travel to Georgia, saying, "Since I took office, we have seen over 60 domestic manufacturing announcements across the solar supply chain.
One of the biggest is in Dalton, Georgia. You may find it hard to believe, but that's Marjorie Taylor Greene's district. I'll be there for the groundbreaking."
Although the White House did not confirm when the President will be visiting Georgia, it stated that Biden will be showcasing the importance of his 'Bidenomics' agenda in attracting jobs in the state.
Also, See: Joe Biden Brushes Off Questions About White House Cocaine Discovery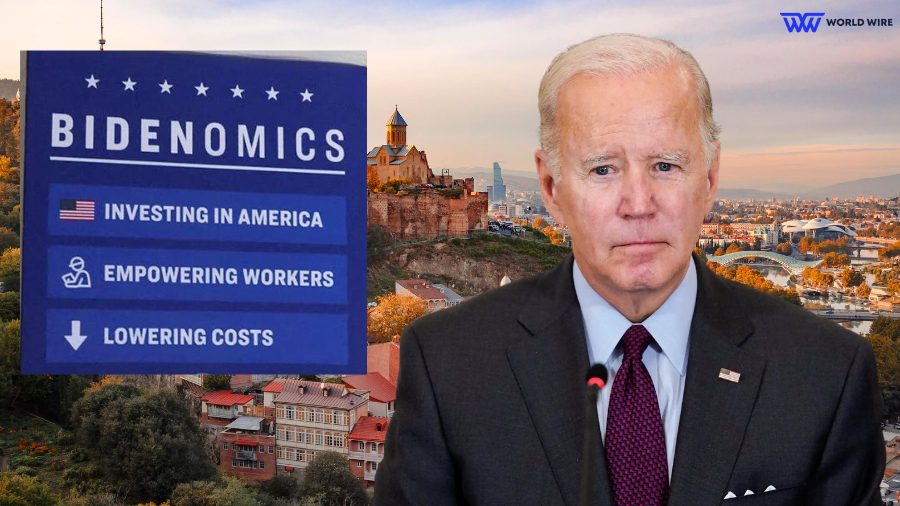 White House spokesman Andrew Bates said, "President Biden looks forward to showcasing how Bidenomics is bringing good-paying manufacturing jobs to Georgia. Bidenomics centers on growing the middle class and is delivering the biggest manufacturing surge in decades."
Bates added, "Meanwhile, congressional Republicans are attempting to repeal many of the policies fueling manufacturing resurgence so they can cut taxes for the wealthy."
Biden aims to tout his 'Bidenomics' through investment in manufacturing, especially in solar capacity, despite criticism from many Republican lawmakers, including Georgia Representative Marjorie Taylor Greene, who denounced the President's previous initiatives.
Also, See: Joe Biden Kicks Off 'Bidenomics' Push With High-Speed Internet Investment
Greene has been one of Biden's top critics, and the President is seeking to target Republican lawmakers who did not vote for his agenda by making new investments in their states.
Greene has previously introduced impeachment articles against President Biden and other administration members. Following this, Biden mocked Greene in March, saying, "Isn't she amazing?"
The Georgia Representative, who is also a strong supporter of former President Donald Trump, was removed from the House Caucus group last month due to her inappropriate behavior on the House Floor with Republican Representative Lauren Boebert of Colorado.
While Biden has focused on his administration's economic track record in his South Carolina visit, it is yet to discover what the President acknowledges in Georgia, another GOP stronghold like South Carolina, besides chanting how his 'Bidenomics' is reshaping the country.
In South Carolina, Biden Said, "I'm not here to declare victory on the economy. We still have a lot more work to do."
Biden, 80, is running for the White House for the second time amid several challenges, including his fitness to hold the presidential office in 2024 if elected to the top.

Subscribe to Email Updates :