United States President Joe Biden visited Philadelphia this Thursday to discuss his economic agendas.
Let's read the news and find out what Biden did during his visit.
President Biden Tours Philly Shipyard for its Bidenomics talk
On Thursday, 20/07/23, United States President Joe Biden went to Philly Shipyard to promote his economic plan. The Philly Shipyard in Philadelphia, Pennsylvania, specializes in constructing and repairing commercial ships, including container ships, tankers, and offshore support vessels.
As the largest shipyard on the East Coast of the United States, they are currently building a special ship to support wind power. The Philly Shipyard provides employment to over 2,000 individuals in the Philadelphia region and contributes over $1 billion annually to the local economy.
Also, read the news "Biden to Invest $600 Million in Climate Resilience."
Recently, Biden visited the shipyard and spoke with workers about investing in clean energy and creating quality job opportunities.
Some people thought it was great that Biden cared about clean energy and good-paying jobs, but others thought he was doing it for politics.
The President visited the Philly Shipyard for the Acadia's steel-cutting ceremony, which the White House claims is the first offshore wind vessel to be built in the United States. Biden emphasized the creation of union jobs in the project, which will require over 1,000 workers from nine different unions.
Also, read the news "Biden Aims to Close Digital Divide with $42 Billion Investment in High-Speed Internet."
Biden stated that he believes climate change action should create jobs, particularly union jobs, and announced the first offshore wind lease sale in the Gulf of Mexico on August 29.
The sale could power up to 1.3 million homes and is a step towards achieving the administration's goal of building enough offshore wind projects to power 10 million homes by 2030.
Also, read the news about Israel's president U. S visit "Israeli President Herzog calls for 'respectful' criticism of Israel."
Biden also highlighted the importance of free and fair union jobs, as unions are crucial in America's renewable energy future, which is a great step for Philadelphia's residents.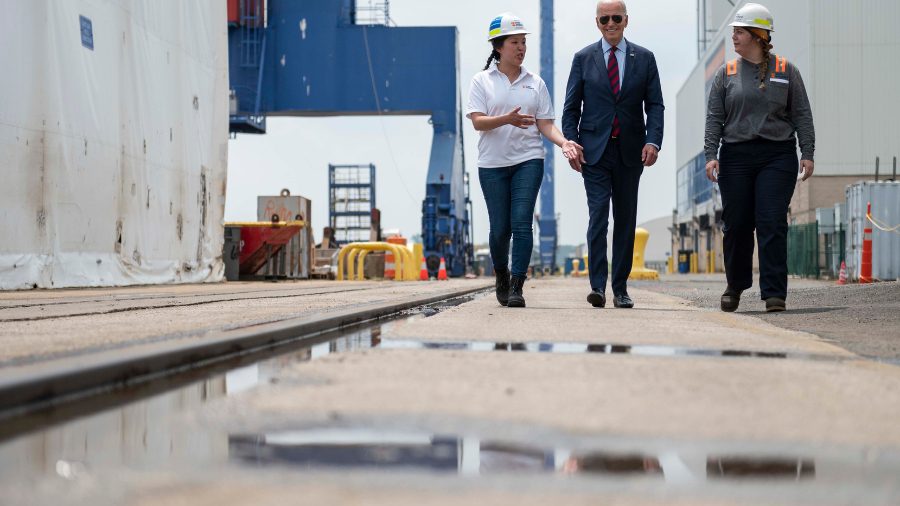 President Biden is promoting his economic agenda, but some unions are considering strikes, which could cause problems. Hollywood production is already shut down because of a strike, and the United Auto Workers and Teamsters are also considering striking.
Also, read the news "The Mystery of the US soldier who ran into North Korea."
Despite this, Biden is confident in his plans. The President highlights the low unemployment rate, increasing wages, and decreasing inflation as proof of his success.
The second phase of the Investing in America tour, organized by the Biden administration, has concluded recently to convince the public of the President's economic plan.
Also, read the news "Ex-State Department official found guilty of Jan. 6 Capitol riot charges."
While people are hesitant, his economic approval rating has marginally increased. A recent CNBC All-America Economic Survey reveals that 37% of Americans endorse his economy management.
Republicans have criticized the President's economic policies, with House Speaker Kevin McCarthy calling them an "economic disaster" on Twitter.
Also, read the news "Kevin McCarthy condemned President Joe Biden's son Hunter Biden's plea deal"
Experts suggest that Democrats must focus more on messaging around macroeconomic issues such as GDP, jobs, and small business growth, which Republicans tend to discuss more frequently.
While a recent Monmouth University poll found that only 34% of Americans approve of Biden's handling of inflation, 47% approve of his handling of jobs and unemployment.
Economic experts attribute Biden's current economic rating to the uncertainty caused by the COVID-19 pandemic and the ongoing conflict in Ukraine.

Subscribe to Email Updates :