In another interesting incident, the United States soldier, who completed his detention period in South Korea, made a bizarre entry into North Korea.
Here you have the details of the news.
How a US soldier made a mad dash into North Korea
United States Soldier Travis T. King, who had finished serving in South Korea's custody, reportedly flew to North Korea from the airport when he was being escorted to the airport to fly home.
The U.S. Secretary of Defence, Lloyd Austin, said, "King willfully and without authorization crossed over the heavily fortified border from South Korea into North Korea."
Also, read the news about "Biden Administration 'Underway' on Prisoner Swap for Evan Gershkovich."
According to a U.S. official, King was held in a South Korean prison for about two months over charges of assault and brought back to the U.S. to face disciplinary actions.
But he didn't board the plane. Instead, he went alone through security to his departure gate and then fled. As the Korean airport officials reported, King told airline workers he could not board his flight because his passport was missing.
Also, read the news about "Former Trump appointee convicted of assaulting police during Capitol riot"
From there, King managed to join a civilian tour of the fortified demilitarised zone (DMZ) dividing South Korea and North Korea, where he flew across the border on Tuesday despite American and South Korean guards shouting and trying to stop him. King was reportedly laughing as he ran across the border.
Sarah Leslie, a New Zealander on the same tour in the Joint Security Area (JSA) of the DMZ, said, "It all happened pretty quickly."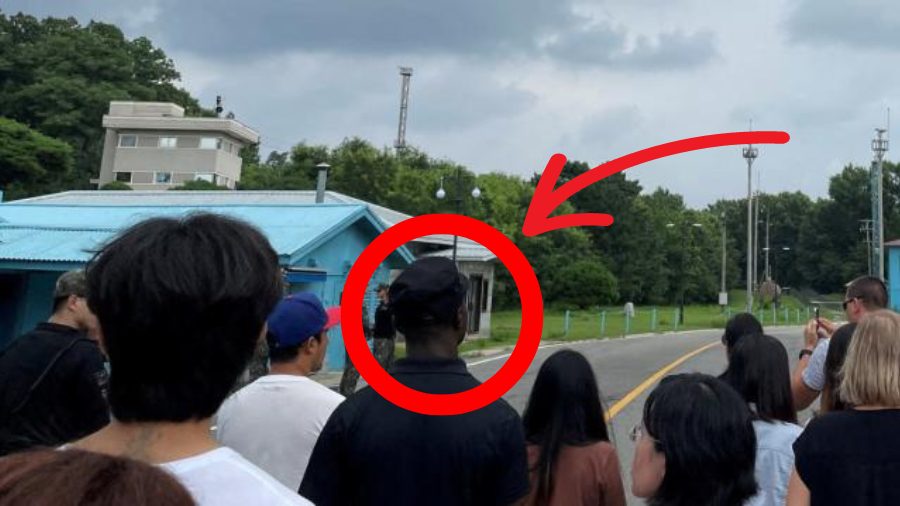 She was among 40 other tourists who walked around capturing photos before the King dashed to North Korea. She said, " I don't believe anyone sane would want to go to North Korea. So I thought it was some stunt. "
"American soldiers and South Korean guards followed him shouting, but he was already on the north side of the border," added Leslie.
Also, read the news about "Judge rejects Trump's request for a new trial in E. Jean Carroll case."
King, 23, joined the United States Army in January 2021 and served as a Cavalry Scout with the Korean Rotational Force, an old U.S. security commitment to South Korea. He won several awards, including the National Defense Service Medal, the Overseas Service Ribbon, and the Korean Defense Service Medal. He reportedly belongs to Racine, Wisconsin.
However, King's posting in South Korea invited legal problems for him. A South Korean court found him guilty of assault and damaging public property. On February 8, he was fined $4,000. The court ruling said King had slapped a man in the face at a club on September 25, but the case was settled.
Also, read the news about "PublicSq. CEO rings NYSE opening bell as company's stock begins trading."
According to the ruling, on October 8, police tried to question King on another case, but he aggressively kicked the door of a police car where he was placed and shouted bad words.
King is expected to be in North Korea now. However, his exact whereabouts are still unknown. King's act of crossing the border to North Korea has raised questions, and the reasons would remain a mystery until the soldier clarifies it himself.
Also, read the news: "Metro by T-Mobile is offering the Moto G Stylus 5G (2022) for just $20!"
King's uncle, Carl Gates, said King talked to him on the phone before he ran into North Korea. Gates suggested that King had been affected by his 7-year-old cousin's death from a genetic disorder earlier this year.
He said, "It seemed like he (King) was breaking down. It affected Travis a lot. Because he couldn't be here."

Subscribe to Email Updates :