On Tuesday, Governor Ron DeSantis held a news conference to discuss Hurricane Idalia's preparations. Major General John D. Haas, FDOT Secretary Jared W. Perdue, and FDEM Director Kevin Guthrie attended the conference.
Ron DeSantis holds a news conference Tuesday ahead of Hurricane Idalia.
According to DeSantis, an evacuation order has been issued for 22 counties, and tolls have been canceled to make it easier for residents to reach higher ground.
Related News – DeSantis pauses campaigning as Florida faces dual crises
DeSantis stated, "This is a major hurricane. There is going to be a lot of debris, particularly in that Big Bend area. You are going to see a lot of power lines that are going to be down. There is going to be a lot of need for all hands to be on deck, so please accept that mutual aid,".
Latest News –  List of Fulton County charges against Donald Trump
The governor claimed that the state and power companies are working together. He stated that as of Tuesday morning, more than 25,000 linemen were already in Florida and that they predict a total of 30,000 to 40,000 linemen to be in Florida by Tuesday's end.
Also, Read – Trump open to Vivek Ramaswamy as vice president
DeSantis added that 420,000 gallons of gasoline had been prepared and staged in case of fuel interruptions. Nearly 600 search and rescue workers from eight urban search and rescue teams have been engaged.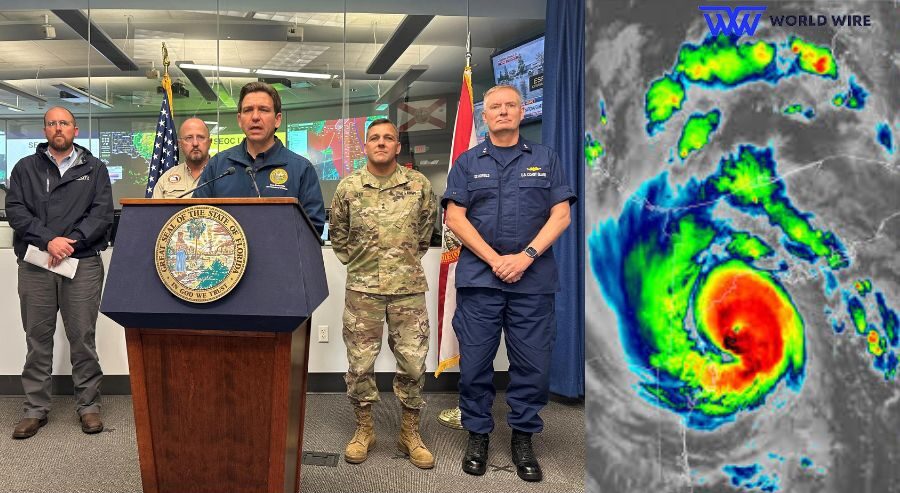 DeSantis claims that more than 500 Starlink internet devices are ready to go and have already deployed close to 250 of them.
Check out other headlines – Trump's Trial Could Be a Game-Changer in the 2024 Election
DeSantis advised people to evacuate if they live in a storm surge-prone location and also asked them to be prepared to face power outages if living in the storm's path.
DeSantis stated that on Wednesday, state employees would continue to work from their homes if Tallahassee is impacted.
What's New – Biden Meets with Costa Rican President to Discuss Migration, Trade, and Democracy
DeSantis also declared that regardless of his presidential campaign, he would respond to Idalia as he replied to Ian.
In a previous press conference, he noted that the Big Bend region had not had a direct hurricane impact in a long time and that "erring on the side of caution is the right thing." He continued, "There may be a significant amount of tree debris due to the landscape of the anticipated landfall area."
READ MORE – Taylor Greene says she will vote for Trump despite the Results.
According to Perdue of FDOT, Inspecting crews for bridges and other crews are ready to respond to storm-related damage and clear the roads. He claimed that 1,100 backup generators are ready to go in case important intersections experience power outages, and bridges could be closed when winds exceed 40 mph.

Subscribe to Email Updates :