Shawn Fain stated in a video that the union posted online, "Autoworkers have waited long enough to make things right at the Big Three. We're not waiting around, and we're not messing around. So, noon on Friday, September 22nd is a new deadline,"
UAW will strike more plants if 'serious progress isn't made by noon Friday
Suppose the parties cannot reach "serious progress" in discussions by Friday at noon ET. In that case, the United Auto Workers union will announce further strikes at the General Motors, Ford, and Stellantis facilities, UAW President Shawn Fain said on Monday.
Also, read – Ramaswamy Addresses Criticism: "People Are Annoyed by My Rise."
Employees from GM's Wentzville, Missouri, midsize truck and full-size van plants, Ford's Wayne, Michigan, Ranger midsize pickup and Bronco SUV plants, and Stellantis' Toledo, Ohio, Jeep Wrangler and Gladiator plants are currently on strike.
The timing of the additional sites would come a little over a week after the union planned targeted strikes at assembly plants for each of the "Big Three" Detroit automakers, engaging around 12,700 workers to form picket lines.
Related News – Democrat Senator Joins UAW Workers on Strike in Michigan
Fain earlier stated that the union planned to increase the work stoppages depending on how negotiations with the employers went. The announcement comes after a union meeting with each automaker since the targeted strikes started on Friday.
Contrary to the initial contract deadlines, Fain said "serious progress" was all needed to stop more strikes, not tentative agreements at the corporations. When asked to comment on what constitutes that other than a tentative agreement, a union official didn't respond.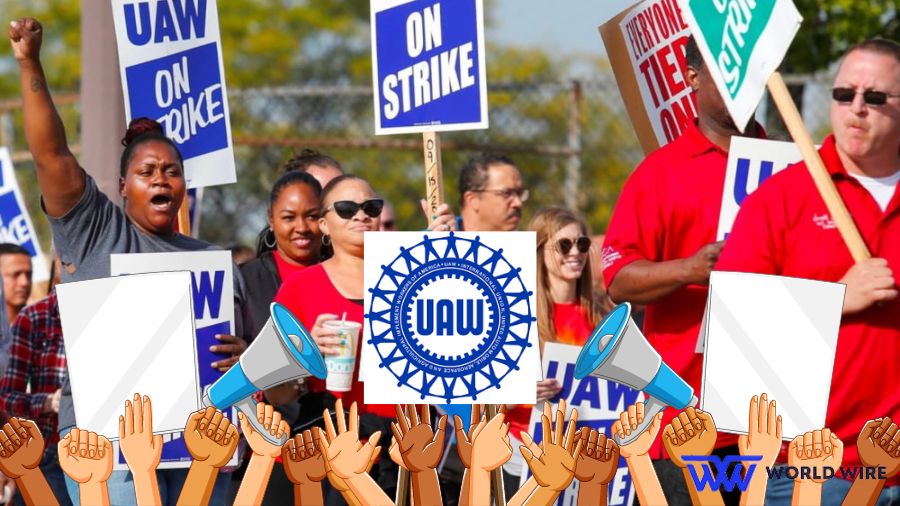 As Fain and other UAW leaders negotiated unusually with all three automakers simultaneously, the union chose the plants as part of targeted strike plans. Targeted attacks frequently concentrate on key plants, which might force other plants to stop producing when they run out of parts.
The UAW Strike main demands have included:
The abolition of compensation tiers.
The restoration of cost-of-living adjustments.
A reduced 32-hour workweek.
A return to traditional pensions.
A 40% rise in hourly pay
The fresh strike preparations come despite automakers offering unions about 20% hourly wage hikes, thousands of dollars in incentives, continuing the union's platinum health insurance, and other enticing advantages.
The work stoppages are called "stand-up strikes," a throwback to the UAW's famous "sit-down" strikes in the 1930s.
Check Out Other News- AOC Joins Climate Rally in NYC, Calls for Bold Action
'The 'Stand Up Strike' is a new way to strike. Select locals have been urged to 'Stand Up' and go on strike rather than shutting down all plants simultaneously.
According to Fain, who spoke on Monday, more people will be encouraged to Stand Up and join the strike if the automakers do not progress in negotiations and continue to bargain in good faith.
READ MORE – Hunter Biden's legal troubles: impact on President Biden
Ford and Stellantis did not immediately reply to requests for comment regarding the new "deadline." Concerning the negotiations, GM issued the following statement: "We're continuing to bargain in good faith with the union to reach an agreement as quickly as possible for the benefit of our team members, customers, suppliers, and communities across the U.S."
Signup For Our Newsletter