On September 17 in New York, Alexandria Ocasio Cortez, Democratic U.S. Representative, joined the protest rally against the end of fossil fuel; this resulted in thousands of people coming to the streets of New York. It is the largest protest of the U.S. climate in the last five years.
Let's read the news and find out more.
Alexandria Ocasio-Cortez joins climate rally in NYC
The protest was held under the banner "March to End Fossil Fuels" to end the supply of fossil fuel will pressure Biden and the government to take major steps against it.
This protest was highlighted before the United Nations Climate Ambition Summit when the UN Secretary-General, Antonio Guterres, "described it as a No nonsense conference meant to highlight new climate commitments."
Also read the latest news, "Trump Slams DeSantis Over Florida Abortion Ban"
In an interview, Alexandria says, "how the climate crisis does not care about the political complexities that we must grapple with in our work. We can celebrate all of these policies that result in reductions, but we also can't erase them with increased oil and gas production."
A 17-year-old organizer, Bree Campbell, said, "We are marching to make it clear to President Biden that he is betraying the very youth who helped him into office in the first place. We are marching to make him see us and act on his promises. We are marching because everyone deserves a clean, healthy, and just future, and ending the era of fossil fuels will help ensure that."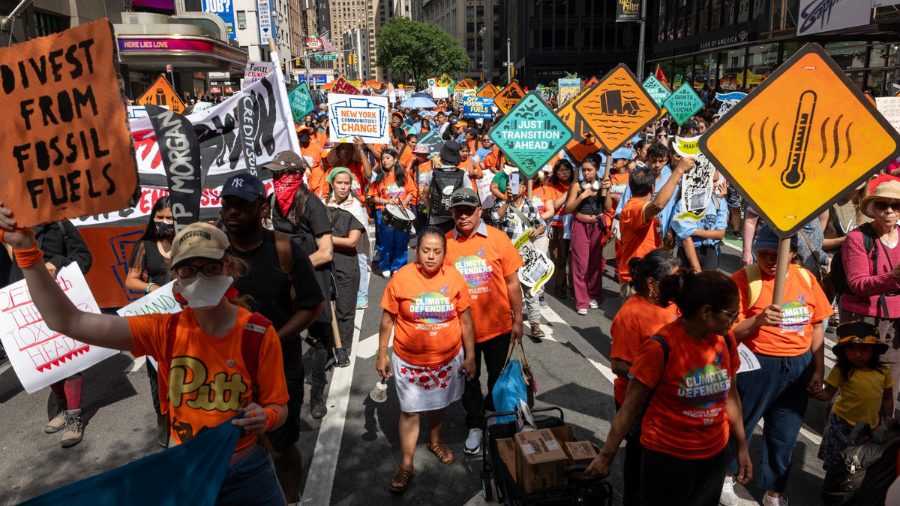 The National security adviser, Jake Sullivan, said on Friday, "President Biden was not currently scheduled to participate in Wednesday's UN Climate Summit. Climate activists have praised Biden for passing a historic $369bn climate law last year but also criticized for approving one of the largest oil drilling projects in recent decades, the Willow project in Alaska."
Also, read the latest news, "Fetterman shows solidarity with striking autoworkers in Michigan"
The co-founder of Third Act and veteran climate campaigner, Bill McKibben, said, "It is true that some of us will be dead before the climate damage reaches its peak, but we can imagine that future, so we want to help head it off while we can, nothing that some activists who will attend have been marching since the first Earth Day in 1970."
In Sweden, the people came together and started protests against the use of fossil fuel, where Sweden's King Carl XVI Gustaf celebrated the 50th anniversary of his throne. The king watches their protest for "climate change" during his golden jubilee celebration.
Also, read the latest news , "Hunter Biden's legal troubles: impact on President Biden"
Also, thousands of people are protesting in the city of Goma, shouting slogans and waving banners to end the use of fossil fuels.
Last year, the Congolese government also caused chaos by putting 30 oil and gas blocks for auction, including 13 blocks in national park areas.
This climate protest will continue throughout the week. Also, it occurs in Zuccotti Park in New York on Monday morning.

Subscribe to Email Updates :