Donald Trump will reportedly speak at the Georgia GOP convention, marking the Republican's first event in the state after the former president entered the 2024 presidential race.
Let's read the news and learn how Trump's addressing Georgia significantly affects his presidential run and other Republicans.
Donald Trump To Speak At Georgia GOP Conference Meeting
Former President Donald Trump will speak at the Georgia Republican Party's 2023 State Convention, scheduled for June 9 and 10 at the Columbus Convention & Trade Center.
Trump's visit to Georgia has been more than a year and is the first time the former Republican president will address the state since he declared his 2024 presidential run. He became the first Republican to officially enter the 2024 presidential race by an announcement from his residence, Mar-A-Lago, in November 2022.
Along with Trump, two other presidential Candidates campaigning for the GOP nomination, former Arkansas Governor Asa Hutchinson and Vivek Ramaswamy, co-founder and executive chairman of Strive Asset
Also, See: Vivek Ramaswamy Says He Won't Let Trump Dodge Debates
Management is scheduled to attend the convention. A U.S. Representative, Marjorie Taylor Greene, will also speak at the convention.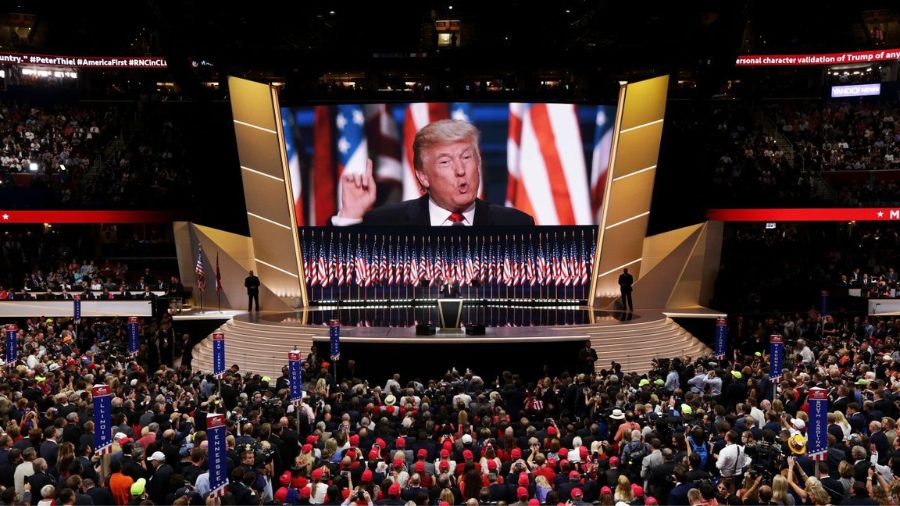 Former Vice President Mike Pence had also been scheduled to visit the convention. However, Georgia GOP chairman David Shafer said Pence canceled because of a televised national town hall event where he would reportedly announce his plans.
Also, See: President Donald Trump Defiant in CNN Town Hall
Kari Lake, a former Republican candidate in the 2022 Arizona gubernatorial election who is mentioned as a likely vice presidential nominee, will also speak at the event.
However, many prominent leaders, including Georgia Governor Brian Kemp and State Secretary Brad Raffensperger, would not attend the convention. These are a few Republicans who have distanced themselves from Trump for his constant claims of stolen presidential election 2020.
Though Kemp has not officially announced his 2024 presidential run and has given no indications to launch a presidential campaign, he has encouraged other Republican donors and party leaders not to 'look in the rearview mirror' referring to Trump as the 2024 presidential election approaches.
Earlier in April, Kemp said, "Not a single swing voter in a single swing state will vote for our nominee if they choose to talk about the 2020 election being stolen."
Also, See: Ron DeSantis Announces 2024 Presidential Bid
Kemp reportedly maintains an active political schedule. He spoke at the Republican National Committee's annual conference last month and at a donor retreat in Sea Island, Georgia, last week, where he asserted that the presidential run depends upon him and his family. He is also expected to visit New York for a speaking event later this week.
Trump's visit to Georgia for a GOP conference came after one of the recent polls showed him leading in the state against Florida Governor Ron DeSantis by a 40%-32% margin.
Amid facing several criminal charges in Georgia and other states, Trump's appearance in the state could probably be a good beginning for the 2024 presidential race, where the former president lost by more than 11,000 votes in a previous election.

Subscribe to Email Updates :