President Joe Biden has moved to Hawaii to watch the extent of the devastation the huge wildfires have caused to the State in two weeks and meet survivors.
Here are the details of the news.
Joe Biden Heading To Hawaii To View Damage, Meet Survivors
United States President Joe Biden and First Lady Jill Biden departed for Hawaii on Monday to view the damage and meet survivors of the deadliest wildfires that had engulfed major parts of the Island State.
Also, Read – Vivek Ramaswamy: 10 Fundamental Truths about His Presidential Run
Although the White House is yet to release the details of Biden's plans in the State, administrator of the Federal Emergency Management Agency (FEMA), Deanne Criswell, has asserted that the President would talk with people and assure the victims of every possible federal help to recover from the damage.
On Sunday, Criswell said of Biden's visit, "He is going to be able to see what I saw when I went to Maui last week and just really experience the complete and utter devastation that this town had experienced."
"But he is also going to be able to talk with people and hear their stories and provide a sense of hope and assurance that the federal government is going to be with them," added Criswell.
Read Other Headlines – Republicans Furious as Biden Sells Unused Trump Border Wall for Millions
Biden's visit to Hawaii came two weeks after the devastating wildfires destroyed more than 2,200 structures in the historic town of Lahaina and killed more than 100 people. Hawaii Governor Josh Green said Sunday that around 1,000 people remain unaccounted for, including many children.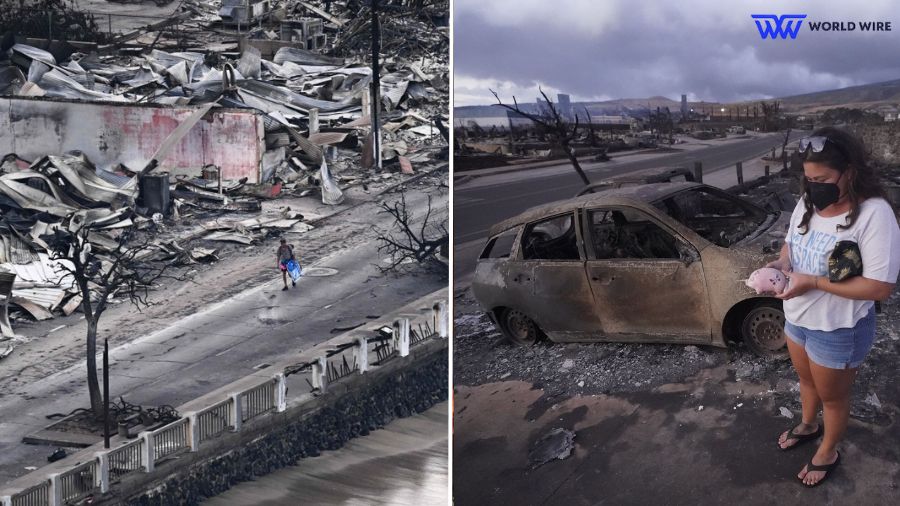 The deadliest wildfire in the United States for over 100 years, reportedly originated on August 8, 2023, first on the west coast of Hawaii's Maui island due to high winds brought out by a nearby hurricane and spread all over the former capital city of Lahaina.
Two days later, looking at its intensity and the damage, Biden announced the wildfires as a "major disaster" and offered federal help for the recovery due to the damage while also deploying the National Guard, Navy, and Army for emergency help in the State.
A day ahead of his departure for Hawaii, the President vowed to provide Maui with every help it needed to recover from the tragedy and rebuild its culture.
Also, Read Latest News – Stuart Delery stepping down as Biden investigations intensify
"I know how profoundly loss can impact a family and a community, and I know nothing can replace the loss of life. I will do everything in my power to help Maui recover and rebuild from this tragedy. And throughout our efforts, we are focused on respecting sacred lands, cultures, and traditions," said Biden in a statement on Sunday.
Despite his words of commitment, many, including survivors of the wildfires in Hawaii and some Republican opponents for the 2024 election, have criticized Biden for his delayed response to the situation and what they felt the federal assistance was "inadequate help."
His major opposition rival, former president Donald Trump has commented on Biden's delayed act as "disgraceful." However, a White House spokesperson has defended the President by saying that Biden delayed his trip to Hawaii to prevent the State officials and rescuers from getting distracted by his arrival. The spokesperson said the President did not want to disturb the recovery process in the State.
Read Latest News – Donald Trump-Melania Divorce Rumors: Are They True?
While a Presidential visit to places hit by major disasters is considered politically mandatory, it also risks criticism. Many past incidents reflect this scenario. One came in 2005 when then-President George Bush visited Louisiana after Hurricane Katrina struck the State. Critics denounced him, saying his arms-length visit lacked empathy due to his pictures of looking out the window of Air Force One when flying over New Orleans.
Another similar thing happened when in 2017, then-President Trump went to Puerto Rico to meet the victims of Hurricane Maria. Critics slammed the former President for his act of throwing paper towels at the crowds by calling his behavior "cavalier" and "insensitive."
Also, read – Eric Adams Complains Migrants Have 'Unjustly' Fallen Into NYC's Lap
As such, it is yet to see what Biden's visit to Hawaii brings for the President, who has already been targeted for his late arrival in the State.

Subscribe to Email Updates :