Technology entrepreneur and long-shot contestant Vivek Ramaswamy, a 38-year-old political newcomer, has steadily risen in recent surveys, putting him next to Florida Governor Ron DeSantis.
Nikki Haley Lashes Vivek Ramaswamy Over Call to Cut Israel Aid
Recently, Ramaswamy declared he will stop funding Israel when a $38 billion deal expires in 2028 during a weekend interview on Russell Brand's Rumble show and that the US should cut back on aid to Israel while trying to set himself apart from other Republican contenders.
Except for Ramaswamy, most candidates supported Ukraine in its conflict with Russia.
Former UN ambassador Nikki Haley criticized Vivek Ramaswamy for his views on foreign policy and recent remarks on cutting off support to Israel in 2028.
Also, Read – Ronna McDaniel, GOP Candidates Debating To Beat Joe Biden
On Wednesday, during the first primary debate of the 2024 US election cycle, Republican presidential contenders Nikki Haley and Vivek Ramaswamy sparred over Israel. At the Fox News debate in Milwaukee, Haley criticized him for his remarks.
Nikki Haley, a longtime ardent defender of the Jewish state, including as the US ambassador to the UN under former president Donald Trump, said: "He wants to hand Ukraine to Russia, he wants to let China eat Taiwan, he wants to go and stop funding Israel. You don't do that to friends; what you do instead is you have the backs of your friends,"
Read More – Mark Meadows Pleads to Judge to Avoid Arrest in Georgia
Haley remarked, "You want to go and defund Israel. You have no foreign policy experience, and it shows."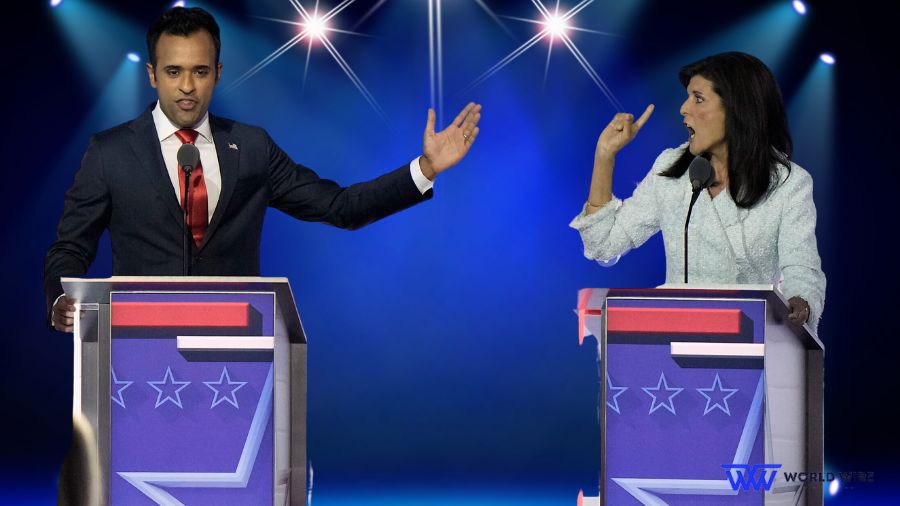 Vivek Ramaswamy replied, "Our relationship with Israel would never be stronger than by the end of my first term, but it's not a client relationship; it's a friendship, and you know what friends do? Friends help each other stand on their own two feet."
Read Other Headlines – Asa Hutchinson Refuse To Support Donald Trump For Presidency
He highlighted his prior trips to Israel and declared, "I will lead Abraham Accords 2.0, I will partner with Israel to make sure Iran never is nuclear-armed. You know what I love about them, I love their border policies, I love their tough-on-crime policies, I love that they have a national identity and an Iron Dome to protect their homeland, so yes, I want to learn from the friends that we're supporting,"
Check Out Other News – Ken Paxton's Impeachment Trial: High Stakes As Evidence Unveiled
Haley remarked, "No, you want to cut the aid off, and let me tell you, it's not that Israel needs America, it's that America needs Israel. They're on the frontline of defense to Iran," which received applause from the crowd.
Read Other News Headlines – Trump Campaign Rips Georgia DA After Grand Jury Delivers Indictment
Trump's decision to skip the debate denied his competitors, who are all heavily lagging him in the polls, the chance to criticize him in front of a live audience.
Trump chose not to participate in the debate, instead conducting an online interview with former Fox News personality Tucker Carlson, published minutes before the debate began. As a result, the debate was overshadowed by Trump.
Mike Pence, the former vice president of Trump, the former governor of New Jersey, Chris Christie, the senator from South Carolina, Tim Scott, the governor of North Dakota, Doug Burgum, and the former governor of Arkansas, Asa Hutchinson, who appeared to be wearing a lapel pin bearing the American and Israeli flags, were all present on stage.
Debate topics included Trump, abortion, education, border security, crime, and domestic issues. The main foreign policy concern was Ukraine.

Subscribe to Email Updates :