Donald Trump's attorney met with Special Counsel Jack Smith and a team in an attempt to prevent Trump's indictment.
Here are the details of the news.
Trump Lawyers Meet Special Counsel As Potential Indictment Looms
Former United States President Donald Trump's defense lawyers met with the special counsel Jack Smith and his team members in Washington on Thursday.
The former President confirmed the meeting on his Truth Social platform by calling the meeting 'productive.'
After the meeting, Trump wrote on Thursday, "My attorneys had a productive meeting with the Department of Justice (DOJ) this morning, explaining in detail that I did nothing wrong, was advised by many lawyers, and that an Indictment of me would only further destroy our Country."
Also, read the news about "Register for Trump Erie, Pennsylvania Rally."
According to the reports, two of Trump's attorneys, John Lauro and Todd Blanche, met with Jack Smith on Thursday to discuss why the former President should not be indicted.
John Lauro recently joined Trump's legal team to handle matters related to the 2020 election and the January 6, 2021, insurrection in the U.S. Capitol. Todd Blanche has represented Trump in his classified documents case and the Manhattan criminal case of hush-money payment.
Also, read the news "Ramaswamy Says Trump Not the Cause of Jan. 6"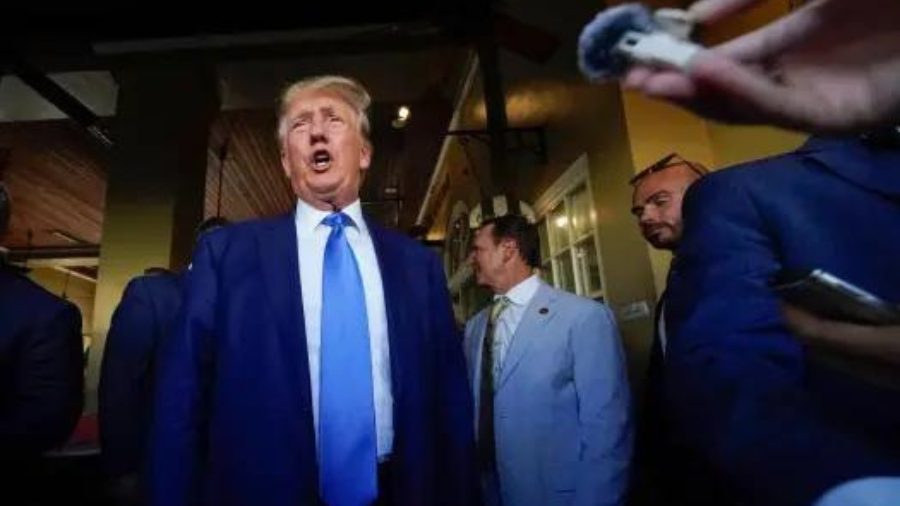 The meeting came after Trump received a special letter from Jack Smith earlier this month informing the former President that he is a target of the DOJ investigation into his efforts to overturn the 2020 election results.
The letter, which Trump said he received on July 16, stated three federal charges against him, including conspiracy to commit an offense or to defraud the United States, deprivation of rights under a civil rights regulation, and tampering with a witness, victim, or informant.
Also, read the news "DeSantis Could Win by Appealing to the Mainstream."
Attorney General Merrick Garland appointed the special counsel Jack Smith in November to investigate Trump's attempts to change the results of the 2020 election and Trump's mishandling of classified documents at his residence Mar-a-Lago after he left the White House.
Smith's spokesperson has not commented on the reported Thursday meeting between Smith's team and Trump's lawyer.
If Trump gets indicted due to an investigation into his overturning of the 2020 election, it would be the third indictment for the former President.
He was indicted last month on 37 criminal counts related to his classified documents case in which he pleaded not guilty to all charges.
Also, read a guide on "How to download and read Donald Trump 49 page indictment."
In April, Trump pleaded not guilty to a 34-count indictment regarding falsifying business records related to a hush payment made to adult film actress Stormy Daniels. No former or current United States President has been indicted before Trump.
However, the former President has constantly denied any wrongdoing calling the investigation a political witch hunt.
Trump, a Republican candidate for the Presidential election 2024, has claimed that legal investigations are to distract his campaigns and stop him from winning the upcoming primaries.
Also, read the news "Donald Trump Loves Cricket, And This Viral Video Is Proof."
As per several polls, Trump is leading the GOP 2024 nomination in key battleground states against most of his rivals despite facing a probe.
Through his lawyers' recent meeting with the DOJ special counsel, Trump is believed to execute his legal and political strategy of pushing or delaying the possible trials after the 2024 Presidential election.

Subscribe to Email Updates :