The most awaited First Republican Primary Debate occurred on August 23, 2023.
Here is the summary of the debate.
2024 GOP Presidential Debate Summary: 8 Republicans Face Off In Milwaukee
Eight Republican 2024 Presidential candidates faced off Wednesday night in the first primary debate hosted by Fox News host Bret Baier and Martha MacCallum in Milwaukee, Wisconsin.
The eight candidates that participated in the debate included Florida Governor Ron DeSantis, Tech-entrepreneur Vivek Ramaswamy, former U.N. Ambassador Nikki Haley, former New Jersey Governor Chris Christie, former Vice President Mike Pence, South Carolina Senator Tim Scott, former Arkansas Governor Asa Hutchinson, North Dakota Governor Doug Burgum.
The front-runner, Former President Donald Trump, did not participate in the debate and, instead, chose to appear in an interview with former Fox News Host Tucker Carlson.
The first GOP debate involved a heated discussion over topics such as China, crime, U.S. border security, abortion, the Ukraine war, the fentanyl crisis, education policy, and many more.
The debate featured candidates clashing over several issues as they presented their viewpoints and explained why they are the most capable Presidential candidates for the 2024 election.
The highlight of the debate was the youngest candidate and the emerging politician, Vivek Ramaswamy, who argued with Mike Pence over his experience, Nikki Haley over foreign policy when she slammed Ramaswamy on his foreign policy viewpoints, saying, "You have no foreign policy experience, and it shows" and Chris Christie defending Trump. Ramaswamy was mostly targeted for being too young to be President.
Also, read the news "Haley Criticizes Ramaswamy for Israel Aid Cut Proposal"
Ron DeSantis, the second leading candidate after Trump, who was expected to shine in the debate, especially after his leaked debate memo strategy, did not speak much on Wednesday night.
He discussed COVID-19 lockdowns and cited his suspension of two Soros-backed prosecutors. He said he does not support Mandatory Military Service and would send Troops to the Southern border, not Ukraine.
Also, read the news "Ron DeSantis Plummets into Third Place in GOP Primary with Bookmakers"
"As President of the United States, your first obligation is to defend our country and its people. You're sending all this money to Ukraine, but you're not doing what we need to do to secure our own border," said DeSantis over the objections of Nikki Haley, who argued "we can do both at the same time," referring to border security and Ukraine help.
DeSantis replied, "Well, we're not handling both."
When DeSantis was asked whether Pence was right to reject Trump's pressure campaign to change the 2020 presidential election result, the Florida governor tried to ignore the question and instead talked about the "weaponization" of the federal government.
Also, read the news  "Ronna McDaniel Touts GOP Candidates' Chances of Beating Joe Biden"
After Pence interrupted, "The American people deserve to know whether everyone on this stage agrees that I kept my oath to the Constitution that day. There's no more important duty, so answer the question,"
DeSantis answered, "Mike did his duty. I have got no beef with him." The Florida Governor appeared to be conscious of his words while answering.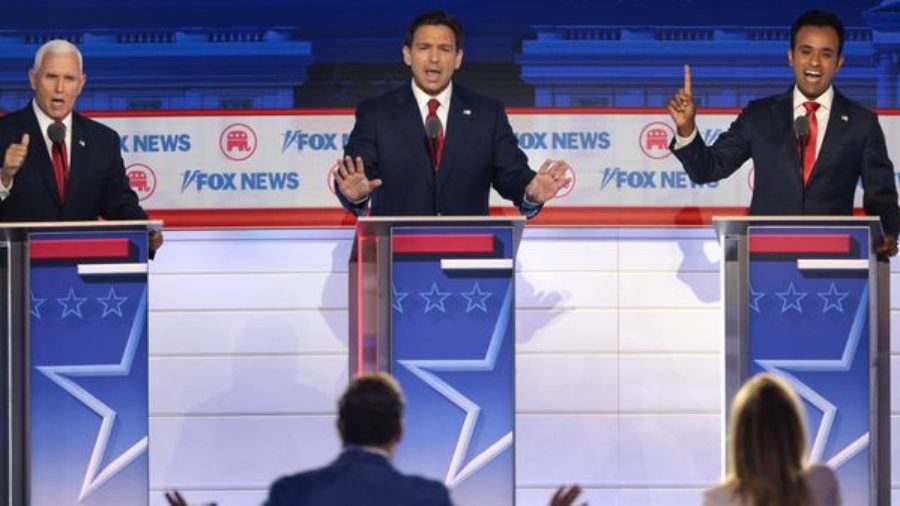 Pence used the stage to defend his actions on January 6, 2021 and said he had no power to contest election results. Some candidates, including Christie, Haley, and Scott, supported Pence over his actions on January 6.
Pence supported American help to Ukraine, but Ramaswamy asserted no more money should be sent to Ukraine and more focus should be on communist China and the southern border.
Also read the news "Joe Biden and NATO to Offer Support for Ukraine, Not Membership"
Pence targeted Trump and Ramaswamy, saying that the American people don't want a president who is too old or young. Pence said of Ramaswamy, "Now is not the time for on-the-job training. We don't need to bring in a rookie. We don't need to bring in people without experience." Ramaswamy said that he thinks a new generation should take leadership and be President.
Pence and Ramaswamy also argued over American Identity when Ramaswamy said Americans have an identity issue, to which Pence replied, "We don't need a new identity, Vivek."
"The American people are the most faith-filled, freedom-loving, idealistic, hard-working the world has ever known. We just need a government as good as our people," added Pence. Ramaswamy said America is in a dark moment and a cold civil war.
DeSantis and Ramaswamy were the only two candidates in the debate who were against the government's help to Ukraine in its war with Russia.
Christie, who was asked about UFOs, joked about New Jersey and unidentified flying objects and said lawmakers should be focused on China.
He talked about the President's son, Hunter Biden, saying Hunter Biden would go to jail for ten years if Christie were President, arguing that the law is equal for everybody.
Christie said Ramaswamy sounded like ChatGPT and called him an amateur by comparing him to the 44th U.S. President, Obama.
When asked if he would support Trump if the former President is the nominee, Christie said, "The party needs to stop normalizing this conduct."
Tim Scott kept himself out of discussion for most of the time. While the other candidates were debating and exchanging their thoughts over abortion, Ukraine, or border policy, Scott kept silent.
He tried speaking about the weaponization of the federal government and crime in the United States, but his comments mainly remain unrecognized.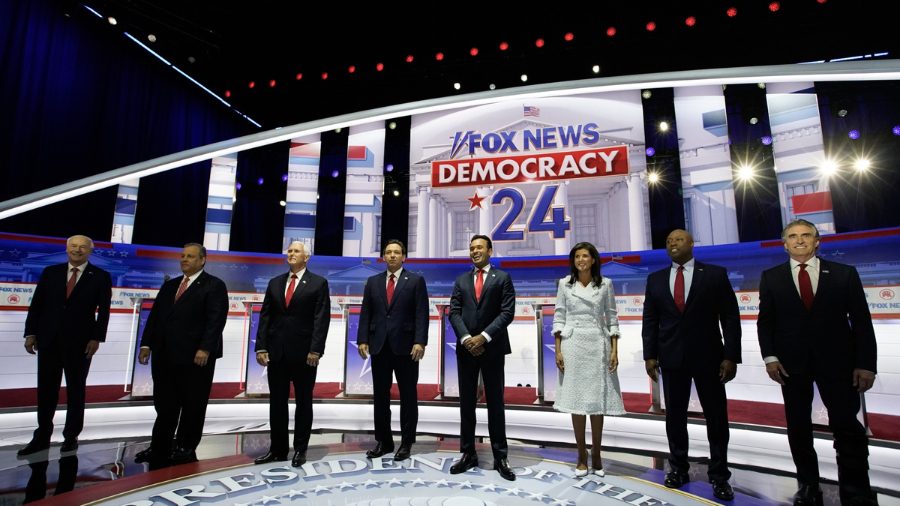 However, he spoke about the southern border when he got the chance. "As the next president of the United States, I will complete that border wall," Scott said.
Burgum, who tore his ACL at a pickup basketball game before appearing in the debate, joked about his accident, saying, "I took the advice to break a leg a little too seriously."
Burgum highlighted the border security issue and talked about drug overdose deaths.
When the host asked the candidates if they would support Trump if he is convicted and then become the GOP nominee for President, most candidates, including DeSantis, Ramaswamy, Haley, Pence, Scott, and Burgum, raised their hands in support while Hutchinson kept his hand down.
Pence led the debate with more than 12 minutes of speaking time, followed by Ramaswamy and Christie. In contrast, Asa Hutchinson scored the least speaking time in the debate.
In conclusion, out of all the eight candidates, some rose to prominence touting their policies for when they would be elected President in 2024, while some candidates with lower polling numbers remained unrecognized for most of the debate.

Subscribe to Email Updates :