Donald Trump explained the reasons behind considering not appearing on the primary debate stage.
Here are the details of the news.
Trump Explains Why He May Not Appear On Primary Debate Stage
In an interview with Fox News host Maria Bartiromo, former United States president Donald Trump indicated he is willing not to attend the first Republican Presidential primary debate in August and explained why he might not appear on the primary debate stage.
When asked whether he will be on the stage facing other GOP presidential candidates meeting the Republican National Committee's requirements in the first debate, the former President said he does want to appear as he has a big lead in the upcoming GOP primary.
The host began with the question, "With now the election over a year away and the first GOP primary debate a month or so away. Will you be on that stage? Are you participating in the upcoming debate?"
Also, See: Chris Christie Calls Trump a Liar and a Coward for Touting Indictments
Trump mentioned his lead, "Well, it is quite an easy question normally. Ronald Reagan didn't do it, and a lot of other people didn't do it. When you have a big lead, you don't do it."
The former President compared his number with his major rival, Florida Governor Ron DeSantis, and added, "And we have a lead of 50 and 60 points in some cases, and some of these people are at zero. Ron DeSantis, as I call him, or DeSanctimonious, is down to. He's in his teens now, and I am at 50 and 60 and 65, and I even saw one today at 70."
Also, See: Around a dozen campaign staffers are dismissed by Ron DeSantis
Trump called it unfair to appear in the debate when being at the top, "And so you lead people by 50 and 60 points, and you say, why would you be doing a debate? It's not. It is actually not fair. Why would you let somebody at zero or at one, two, or three be popping you with questions?"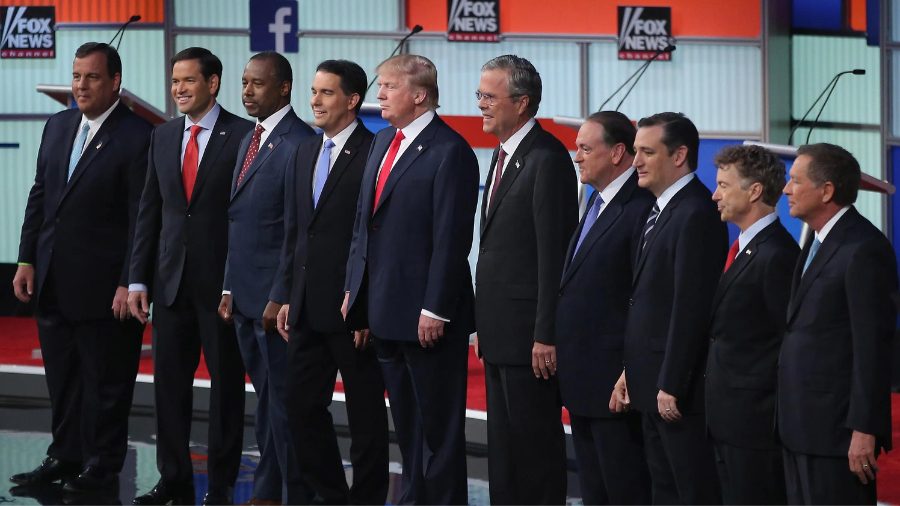 The first Republican Presidential primary debate is scheduled on August 23, 2023, in Milwaukee, the largest city in the key battleground state of Wisconsin.
Also, See: Donald Trump to Appear in Fox News Town Hall with Host Sean Hannity
Trump earlier suggested that he would skip the debate that is to be hosted by Fox News anchors Bret Baier and Martha MacCallum, citing his sour relationship with the network are the reason for not appearing in the debate. He claimed that the network was prejudiced against him.
Piers Morgan, another Fox News host, recently called Trump, a coward and challenged him to show up in the debate arguing that the former President may lose his points if he ignores facing other opponents.
Also, See: Stormy Daniels Makes Critical Admission About Trump in Piers Morgan Interview
However, in his interview on Fox News 'Sunday Morning Futures, ' Trump said that he has yet to make up his mind to be present at the debate.
Bartiromo asked, "Well, do you see any risk that Ron DeSantis has a good night if you don't show up, and it cuts into your lead?
Trump replied, "Or somebody else has a good night and cuts into his lead because that is what's happening. He is going down, and a couple of them are going up. I think Vivek has done a very good job, frankly. Some others have done a good job. So I haven't really made up my mind."
While Trump has not declared his running mate, he was asked whether he considers anyone his potential mate. The host questioned, "Is there anyone on that stage you see as a potential running mate, as your V.P.?"
Also, See: History Behind Kamala Harris Tiebreaking Vote Record
Trump said he has some good and talented people on the stage and is impressed by some. But he wants to avoid taking the name of the person who asked him to be his mate.

Subscribe to Email Updates :