Donald Trump's approaching prosecutions have raised fear among United States law enforcement officials, as suggested by reports.
Here are the details of the news.
As Trump Prosecutions Move Forward, Threats and Concerns Increase
Several sources and records have revealed that as United States former president Donald Trump's prosecutions move forward, the judges, prosecutors, and law enforcement authorities involved in the case face more threats and danger to their lives.
Many Trump supporters have considered Trump's arraignment as the weaponization of the justice system, and several of them have turned to the courtroom to show their anger against the former President's indictment charges, even threatening federal judges presiding over his case hearings.
For instance, a woman at the federal courthouse in Washington called the judge chambers overseeing Trump's 2020 election conspiracy case and threatened to kill the judge, saying, "If Trump were not reelected next year, we are coming to kill you."
Also, read the news "Trump asks judge in federal elections case to step aside"
Likewise, the FBI agents have reported concerns related to harassment and threats being targeted at their families. Referring to Trump's supporters, a senior F.B.I. supervisor said to Congress, "Their children didn't sign up for this."
The top prosecutors involved in Trump's indictment also reportedly need protection.
Judge Tanya Chutkan, overseeing the Trump's 2020 election subversion case in Washington, received a threatening call in her chamber at the Federal District Court in Washington after the former President was charged in the case.
United States Justice Department special counsel Jack Smith, who has filed two indictments against Trump, one in a classified documents case and the other in a 2020 election conspiracy lawsuit, is also supposed to be the main target of violent threats.
In turn, the threats demand protective measures to prevent the former President from harming the legal system or sometimes stop his volatile public statements.
Also, read the news "Federal Lawsuit filed to remove Donald Trump from New Mexico ballots"
In a similar effort, Jack Smith, whom the former President has labeled 'Thug' and 'Deranged,' requested a special gag order against Trump this month after the prosecutor received subsequent threats from others.
The gag order would prevent Trump from issuing any statements related to the identity or testimony of witnesses in his cases or any statements about anyone involved in the proceeding that would be deemed "disparaging, inflammatory, or intimidating."
However, the threats have been regular enough to raise concern among law enforcement officials.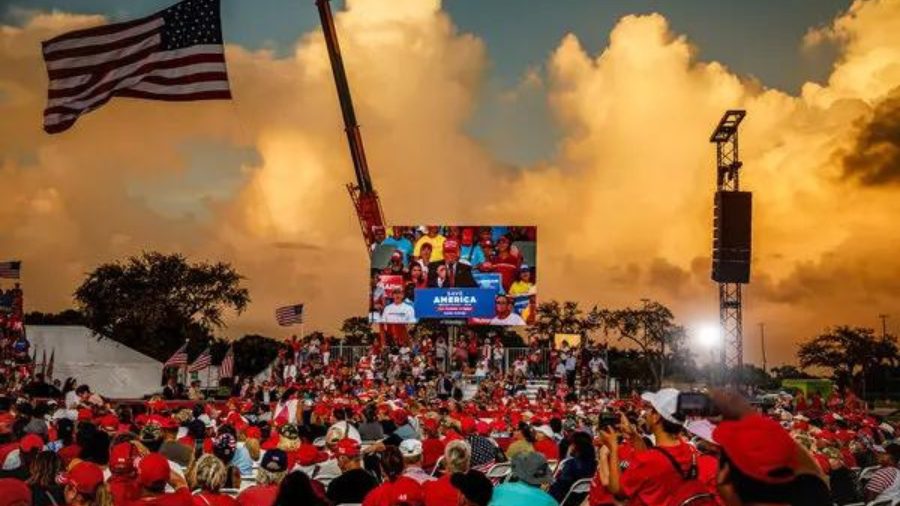 The data shows that 4.5% of American adults supported using force to restore Trump to the presidency before the former President was indicted.
Also, read the news "Letitia James asks judge to fine Donald Trump over 'frivolous' arguments"
After two months of his first indictments, this figure rose to 7%. This indicates that people seem to do everything to bring Trump to power in 2024.
Trump's supporters are more fumed since the Colorado judge overseeing the lawsuit to bar Trump from the State's 2024 primaries issued a protective order prohibiting threats and intimidation in the case, citing the safety of everyone involved in the case as the litigation moves forward.
Besides his supporters, the former President's verbal attack appears to threaten the judges involved in his cases directly.
Referring to Judge Tanya Chutkan when he was charged in Washington, Trump posted on social media, "If you go after me, I'm coming for you."
He has also issued some of the most aggressive statements against Manhattan district attorney Alvin L. Bragg when he was likely to indict the former President in a hush money payments case.
Also, read the news "DA Alvin Bragg's case against Trump updated after federal indictment."
In one post, Trump wrote, "There would be potential death and destruction" if Bragg charged him. Later, Bragg's office found a threatening letter in its mailroom.
Regardless, Trump has denied promoting violence, arguing the First Amendment right to free speech protects his comments.
The former President has said that the gag order is a Democratic effort to destroy his 2024 Presidential election.
Steven Cheung, a spokesman for the former President, has said, "Joe Biden has weaponized his Justice Department to go after his main political opponent, President Trump.
Signup For Our Newsletter