The former President received orders not to intimidate witnesses in his 2020 election subversion case.
Here you have details of the news.
Donald Trump Warned Not To Intimidate Witnesses Ahead Of Trial
A federal judge warned former President Donald Trump not to intimidate witnesses before his 2020 election conspiracy case trials on Friday.
Trump was indicted on August 1 for his alleged efforts to overturn the 2020 Presidential election results with four felony charges, including conspiracy to defraud the United States, witness tampering, conspiracy against the voting rights of citizens, and conspiracy of an attempt to obstruct an official proceeding.
Also, read the news "Trump talks about indictments at a campaign rally"
U.S. District Judge Tanya Chutkan presided over her first hearing in the case in Washington on Friday to discuss with Trump's lawyers and the prosecutors the restrictions to be imposed on Trump before the trials of the case and how much evidence the former President can share in public as he campaigns for the 2024 Presidential election.
District Judge Chutken warned Trump's legal team saying, "Even arguably ambiguous statements by the parties or their counsel, if they can be reasonably interpreted to intimidate witnesses or to prejudice potential jurors, can threaten the process."
Also, read the news "Kari Lake says GOP candidates should rally behind Trump"
The federal judge alerted Trump to making provocative public statements about the cases and said, "I caution you and your client to take special care in your public statements about this case. I will take whatever measures are necessary to safeguard the integrity of these proceedings."
Judge Chutken added, "The defendant and defense counsel shall not disclose Sensitive Materials or their contents directly or indirectly to any person or entity other than persons employed to assist in the defense, persons who are interviewed as potential witnesses, counsel for potential witnesses, and other persons to whom the court may authorize disclosure."
Also, read the news "Trump pleads not guilty to 2020 election charges"
The judge also said the protective order would only cover 'sensitive' materials and not all the discovered evidence in the case, granting limited freedom to Trump to share publicly non-sensitive evidence supposed to be used in the trials.
Chutken said, "Mr. Trump, like every American, has a First Amendment right to free speech. But that right is not absolute."
Chutken's decision to agree with Trump's lawyer on limited protective order went against the prosecutor's demand, who had wanted a broad protective order to prevent the public sharing of all evidence they hand over to Trump's lawyers instead of limiting the order to 'sensitive' evidence since they consider most of the information in the case to be sensitive.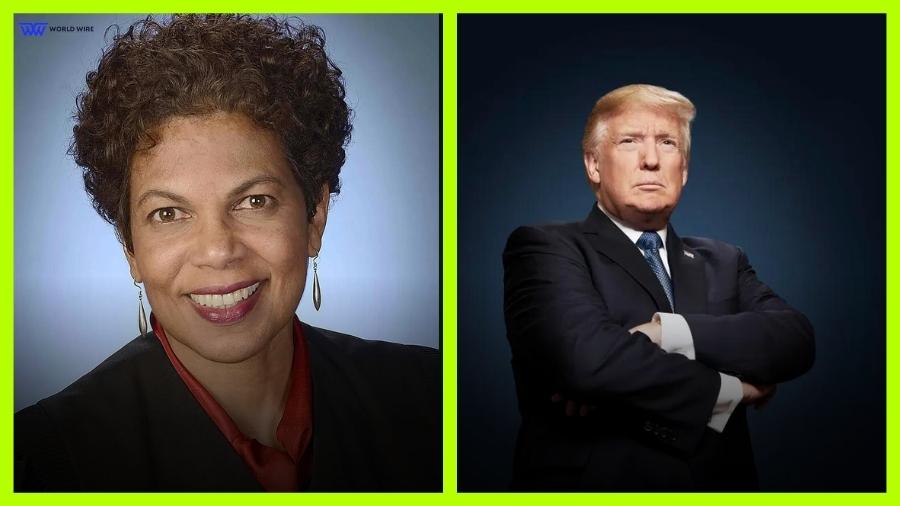 Also, read the news "Trump Attorney Shares Positive Update as Trump Faces Another Indictment"
The prosecutors also pointed to a threatening post of Trump last week on the Truth Social platform where he wrote, " If you go after me, I am coming after you," to explain that Trump could use confidential evidence to intimidate witnesses in the case.
The 'protective order' structure became the key focus of the first hearing of Trump's 2020 election plotting case, where Chutken underlined that political considerations would not guide the case.
Also, read the news "Twitter fined for delayed response to Trump search warrant"
She asserted Trump was subject to the court's rules as a defendant before trials, and his candidacy for the 2024 Presidential election would not influence her decision.
Chutken told Trump's lawyers, "Your client's defense is supposed to happen in this courtroom, not on the Internet."
The prosecutors said the Justice Department is prepared to hand over more than 11 million pages of evidence to Trump's lawyers that hold the former President liable for his week-long conspiracy to remain in power and how his false statements about voter fraud fueled attacks on the Capitol on January 6, 2021.
Also, read the news "Joe Biden seeks Obama's help for 2024 re-election bid against Trump"
The hearing in Washington came after special counsel Jack Smith investigating Trump's attempt to overturn 2020 election results, urged the federal judge to initiate the case trials by January 2, 2024, two weeks before the 2024 Republican presidential primary.
Also, read the news "Trump's Lawyers Meet With Special Counsel Ahead of Potential Indictment"
Trump, a front-runner in the 2024 Republican nomination, is facing a third indictment for his alleged attempt to subvert 2020 election results. If found guilty of all charges, he could face a maximum punishment of 55 years in prison, possibly a life sentence for a 77 years old former President.

Subscribe to Email Updates :