Donald Trump talked about his indictments in New Hampshire as the former President campaigns for the 2024 Republican Presidential nomination.
Here are the details of the news.
Donald Trump Discusses Indictments During His Campaign Speech
Former United States President Donald Trump discussed his indictment during his Tuesday campaign speech in New Hampshire.
Although the former President was to speak on Veterans, he took the opportunity to criticize U.S. President Joe Biden in the early voting state.
In his over-an-hour-long remark, Trump expressed frustration over his recent indictment for his alleged attempt to overturn the 2020 election results.
He blamed the Biden government and the prosecutors in the case for all his legal troubles. Trump attacked special counsel Jack Smith and called the criminal investigation into his attempt to change the 2020 election a 'ridiculous case.'
Also, read the news "Trump Attorney Shares Positive Update as Trump Faces Another Indictment"
Referring to the 2020 election, Trump said, "There was never a second of any day that I didn't believe that it was a rigged election. It was a rigged election, and it was a disgusting, stolen election. And this country should be ashamed. And they go after the people that want to prove that it was rigged and stolen."
The former President continued his claims of a stolen election and said, "They rigged the election in 2020, and we are not going to allow them to rig the election in 2024."
On Tuesday's campaign, Trump began his speech by focusing on veterans' health care issues, proposing to provide them with immediate medical care, reduce veterans' rates of suicide and hopelessness and end 'woke lunacy' in the military, and strengthen the overall system for the development of veterans.
Also, read the news "Joe Biden seeks Obama's help for 2024 re-election bid against Trump"
The former President announced the launch of a new alliance, 'Veterans for Trump,' and touted his achievements supporting veterans during his Presidential tenure.
Trump said, "Joe Biden puts bureaucrats first; I put veterans first."
Biden's campaign spokesman Kevin Munoz has responded to Trump's criticism alleging Trump's failed veterans policy during his Presidentship. Munoz said, "President Biden has delivered where Donald Trump failed – helping create millions of jobs, lowering prescription drug costs, and working across the aisle to rebuild our roads and bridges."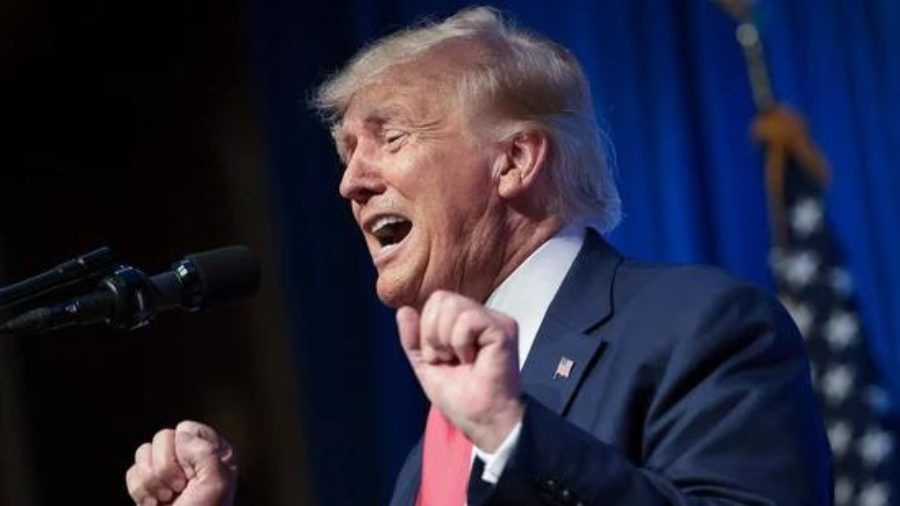 Trump also commented on the temperature in the room he delivered his speech Tuesday after he became sweaty during his long speech about his Veterans strategy and discussing his indictments. "It's about 110 degrees in this room. Nice job with the air conditioning," said Trump.
Also, read the news  "'Kari Lake' Urges GOP Candidates to Suspend Campaigns for Trump"
Predicting the media's reaction to sweaty Trump, the former President added, "The press would say Trump didn't look well. He was extremely wet. It's 104 or five degrees in this room. But we're okay with it, right?"
While a large part of Trump's campaign speech in New Hampshire centered around veterans, Biden and Jack Smith, he also spoke about his other political rival, Florida Governor Ron DeSantis and former New Jersey Governor Chris Christie, who the recent polls show in a tie for second place, 30% points behind Trump.
Trump's visit to New Hampshire came a week after his third indictment with four counts for his efforts to influence the 2020 election results.
Trump pleaded not guilty last week to all four felony charges of conspiracy to commit offense or to defraud the United States, conspiracy to deprive voters of their fair election right, and tampering with a witness, victim, or informant.
Trump faces separate indictments for allegedly mishandling classified documents after he left the White House. He was earlier indicted by Manhattan's district attorney in connection with a hush money payment to an adult film actress during the 2016 election.
The former President has denied any wrongdoing in all the cases, labeling the charges against him as election interference and politically motivated. He claimed that Biden ordered his arrest to distract him from his Presidential campaign.

Subscribe to Email Updates :