In response to Trump's several charges in Manhattan, Fulton County, Georgia, and by special counsel Jack Smith, Vivek Ramaswamy, a businessman and potential 2024 Republican presidential candidate who has steadily risen in the polls, was questioned at an interview on ABC News's "This Week" whether he thought it was "okay for a convicted felon to be president."
Ramaswamy doubles down on voting for Trump if convicted
Ramaswamy, however, refused to fall for the trap and referred to the accusations as "downright politicized persecutions."
Also, Read – Kayleigh McEnany Shreds Chris Christie's Campaign Strategy
The Republican candidate, who consistently polls in third place behind Florida Governor Ron DeSantis and is far behind Trump in most national polls, said, "I do not want to see us become a 'banana republic' where the administrative police state uses police force to eliminate opponents from competition."
READ MORE – White House Doesn't Want Joe Biden Impeached: 'Would Be a Disaster'
He said, "That's not the way it works," he continued. "I will pick who I believe the best next President should be. I'm in this race because I believe I can lead us forward and reunite this country, but if it's not me as the nominee, I still expect that Donald Trump or whoever the Republican nominee is will be better than the alternative."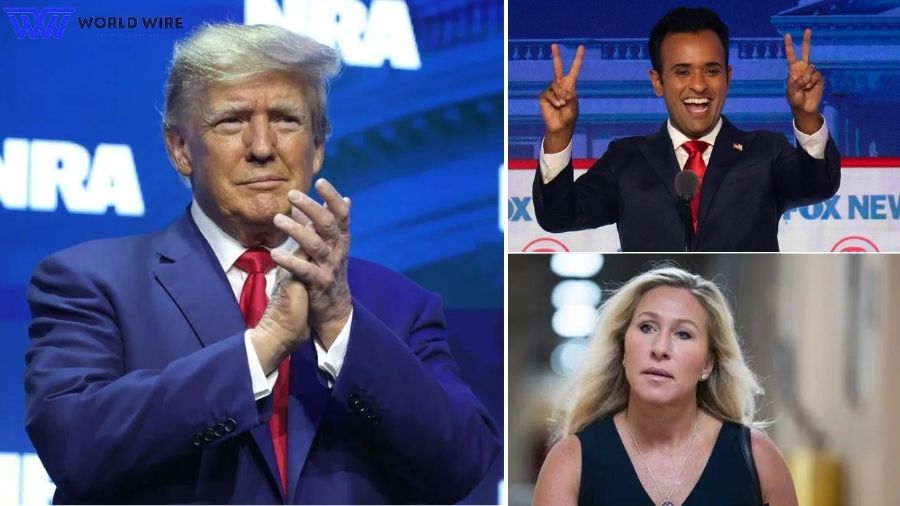 The candidate was questioned further by ABC's George Stephanopoulos, a former press secretary for the Clinton White House, as to why he would back a presidential nominee who had so many criminal charges brought against him and who was suspected of inciting the disturbance at the Capitol Building on January 6, 2021.
Check Out Other News – Kamala Harris makes a BIG ERROR during an interview
Ramaswamy stated, "What I've said is clear: if Donald Trump's the nominee, yes, I will support him. And if I'm the President, yes, I will pardon him because that will help reunite the country, but it's not the most important thing I'm going to do as the next President."
Rep. Marjorie Taylor Greene expressed her steadfast support for the former President of the United States last week while criticizing the Biden administration and Democratic prosecutors for their ongoing prosecutions of him.
What's More – Trump Fires Back at Critics in Exclusive Interview: 'I'm Not Going Away
The Georgia Republican, in a string of social media posts, showed her support for Trump.
In one tweet, Greene referred to the most recent accusations as "a communist attack" on Americans' freedom to elect their own leaders.
She proclaimed: "I will still vote for Trump even if he's in jail. This is a communist attack on America's First Amendment to vote for who THE PEOPLE want for President in an attempt to take Trump off the ballots through a politically weaponized DOJ. People know exactly what this is."
Read Latest News – Biden to Help Hawaii Harden Power Grid After Deadly Wildfires
The Georgia Republican reaffirmed her call for President Joe Biden to be impeached after the indictments, but not out of political retaliation; she claims that the GOP now has a "mountain" of corruption "evidence" that justifies doing so.
She said in a separate tweet, "Republicans need to open their eyes. The media is going to do their best to try to say impeaching Biden is political payback. That's 100% BULLSHIT. Impeachment of Biden is because he's a CRIMINAL, and we have a mountain of evidence proving it and gaining more daily. Don't fall for the stupid plays of media spin and interview pressures. DO THE RIGHT THING. Impeach the CRIMINAL IN CHEIF [sic]!!!"
READ MORE –  DeSantis Faces Major Test as Governor and 2024 Candidate
She has also demanded that the official record be cleared of Trump's impeachments.

Subscribe to Email Updates :